ROOM REFRESH IN 6 EASY STEPS! You too can achieve this look with paint, a new Hunter Fan Company ceiling fan, a few decor pieces, and a super simple wall treatment!
In January, Sadie and I made a commitment to completely refresh one room in each of our homes every month. I'm talking anything from a little refresh to a complete makeover!. This old weight room needed a simple refresh and quick and affordable has been my motto lately. Here is my "ROOM REFRESH IN 6 EASY STEPS THAT CAN BE DONE IN NO TIME" guide! 
Apply these steps to ANY AND ALL ROOMS! You'll be ready to tackle all the boring rooms in your house by the end of this post!! Do it! We're here to encourage and inspire you along the way.
ROOM REFRESH IN 6 EASY STEPS THAT CAN BE DONE IN NO TIME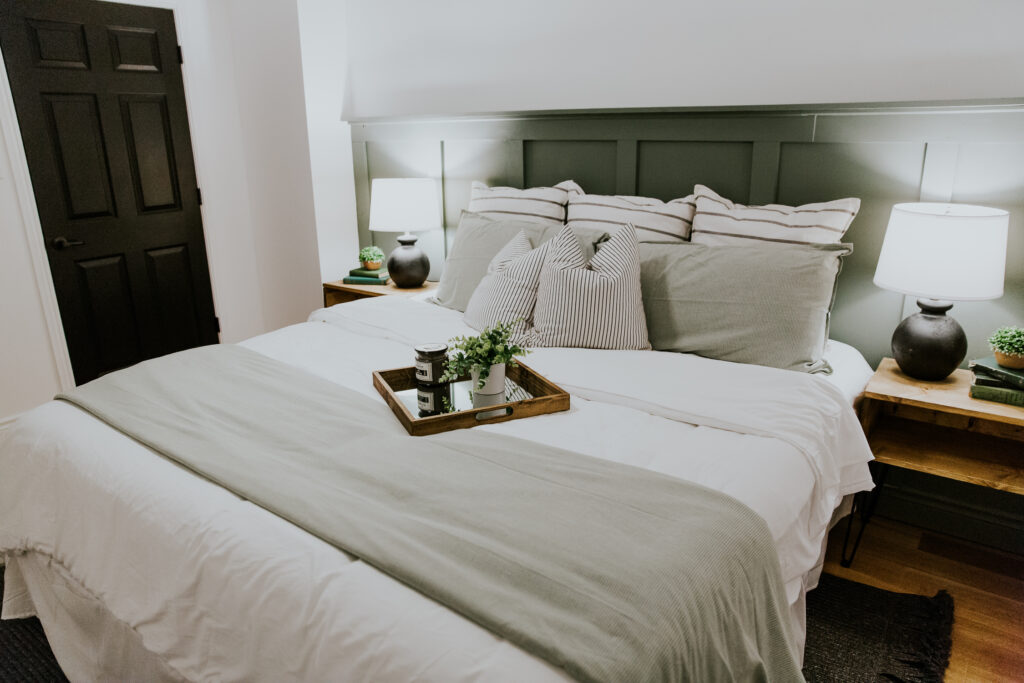 Here are our quick steps to a room refresh!
Quick Steps to a Room Refresh
Let's take a few quick steps and create a room refresh to be proud of!! Six simple steps to turn any space into a sanctuary! Here we go....Paint, Accent Wall, Ceiling Fan/Light Fixture, Budget Furniture, Paint Door, and Decorate.
Before Pictures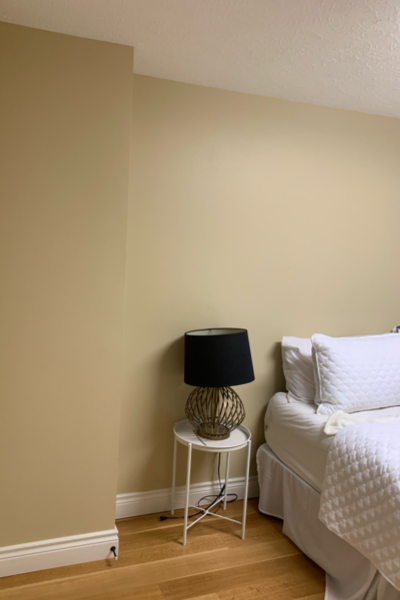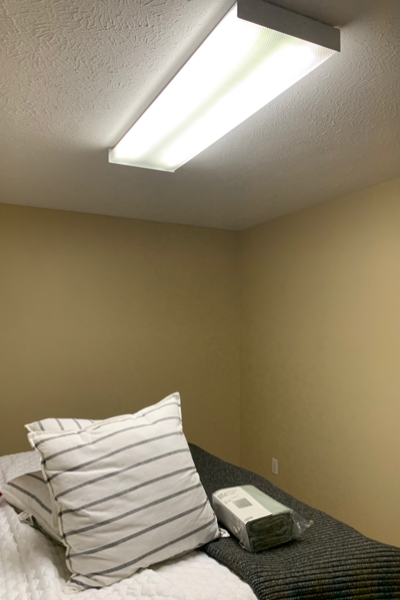 Paint
First and foremost I suggest you paint the room! I painted this room with Behr "Ultra Pure White". Typically I buy this in the 5-gallon container. It's like buying four gallons and getting the fifth for free!
When painting, Frog tape is my favorite tape!
In addition to painting you can always add a fun accent wall!!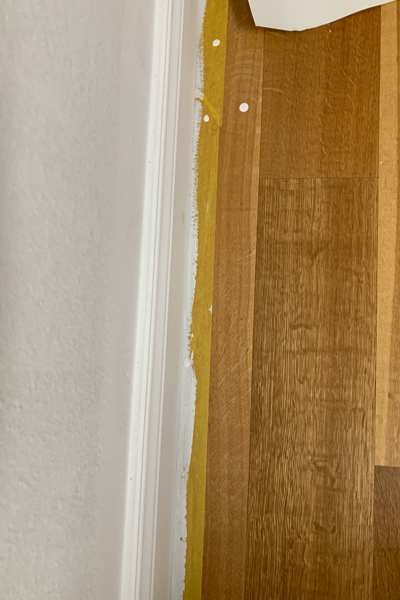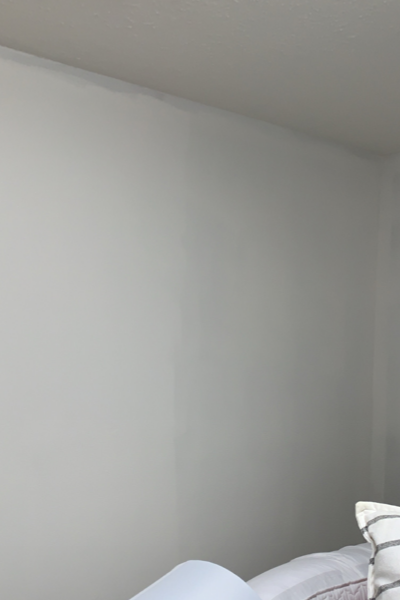 Accent Wall
I added a super simple wall treatment and the total cost for this lumber was under $20! Obviously, a win if you ask me.
Board and Batten How-To
First, purchase (9) 1x4x8 boards and (2) 1x2x8 boards.
Then, cut (7) 1x4x8 boards into 4ft. long pieces. Mine are spaced out along my wall every 19 inches. **This will vary with the length of YOUR wall and personal preference.
Next, add a 1x4 to trim out the top of the board and batten wall.
Finish the wall by adding a 1x2 and another 1x4 to create a shelf.
I used a Dewalt 18 gauge nailer with 2" nails to adhere all of my boards to the wall.
Next, caulk all the seams
Last but not least, paint your wall treatment. I used one coat of "Eden" from the Kilz Magnolia line.
I'm LOVING how this wall turned out! Next up is some new Lighting!
Other Wall Treatment Ideas
Wallpaper, Herringbone, Geometric, or Shiplap are other great options!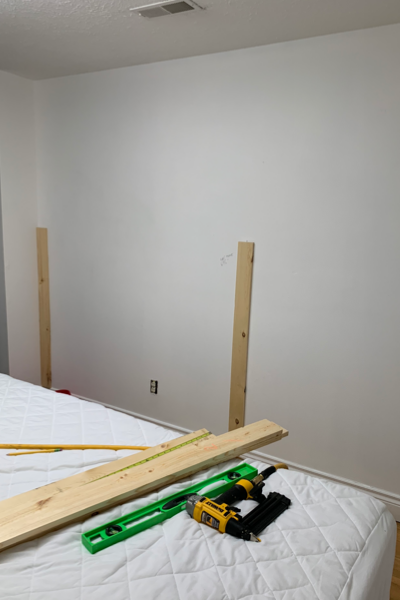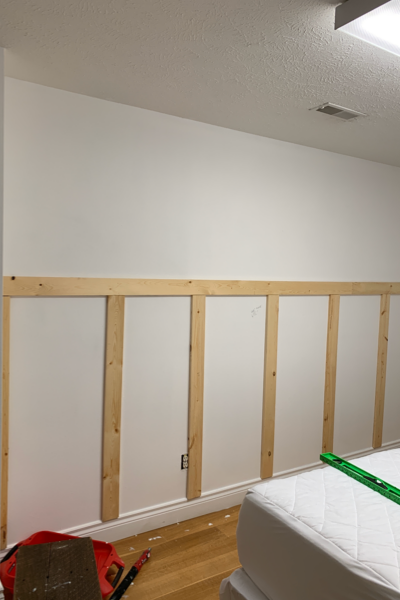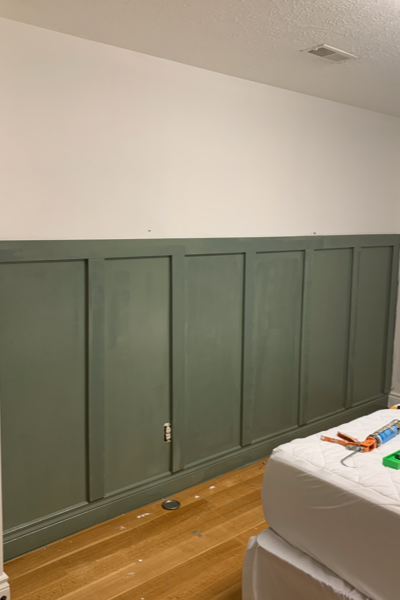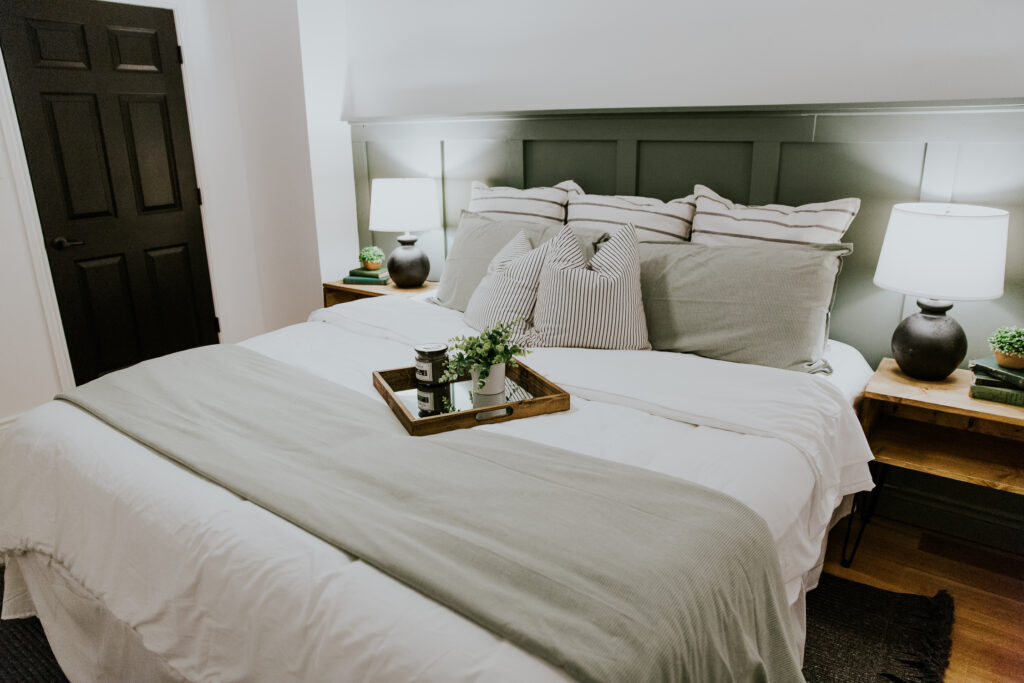 Ceiling Fan or Light Fixture
I definitely needed a ceiling fan for this space. It lacked in air movement since there aren't any windows and I had to get rid of that fluorescent light!
If you aren't familiar with electrical work, we recommend you hire a professional.
The new fan made great improvements to the room, not only with the added air circulation but also aesthetically.
Now, let's talk about furniture!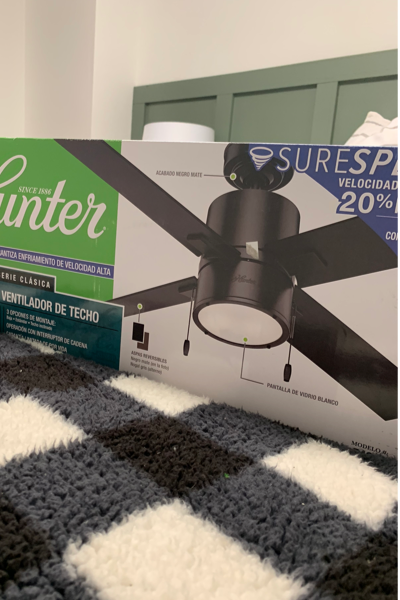 Budget Furniture
Budget furniture can mean many things! This guest room is pretty small so I chose to skip adding a dresser and instead built these super quick and inexpensive side tables. I used 1x8x10 lumber, my trusty Kreg Jig, stain, wax, saw, sander, power drill, and hairpin legs.
Next on the list to my Room Refresh In A Few Quick Steps is painting the door!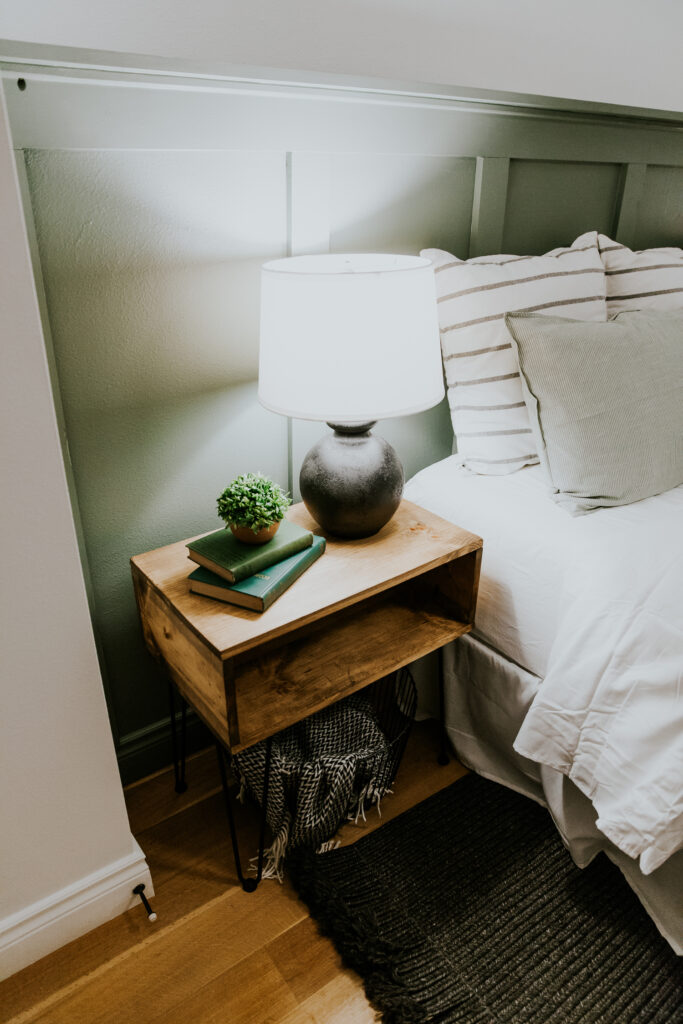 Paint Door
I painted my door black! I love a good refresh that costs zero money! Undoubtedly, this fun change adds a huge impact and a painted door adds so much character to a room! I believe any door can benefit from a fresh coat of paint. Don't be afraid to add a pop of color, too.
Finally, it's time to Decorate!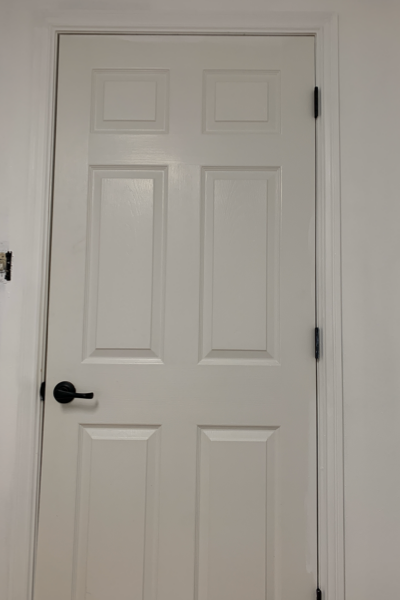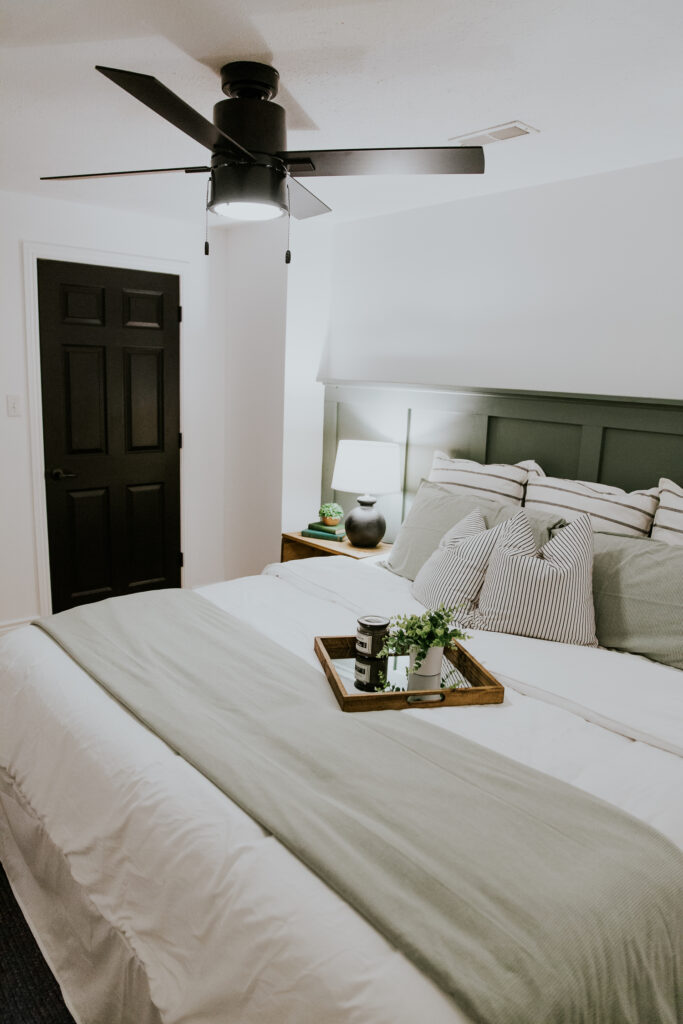 Decorate
Clearly, you can tell that three walls are left bare. There is a reason for this madness. There aren't many things in the world I hate more than when there are too many "things" in a room. Not only do I want this space to be clean but I want it to be simple. The bed, side tables, and decor above the bed become the focus, along with the bedding, fan, and the minimal decorations.
I hope this is a space where guests feel welcome and comfortable because I want my guests to return!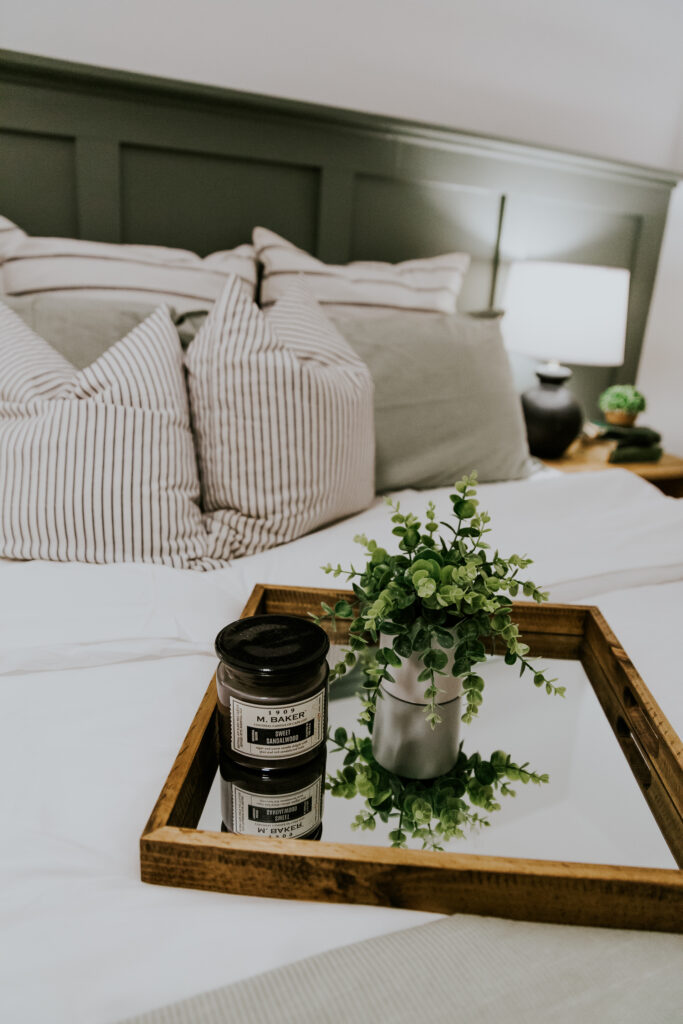 In conclusion, the Six steps to the perfect room refresh:
Firstly, paint. I dare say this is the most important step!
Secondly, add a wall treatment of your choice! This can be something simple and inexpensive like mine (board and batten) or a more detailed design like herringbone.
Thirdly, a new light fixture. Don't underestimate the power of an updated light.
Fourthly, build or thrift a dresser or nightstand(s) to add function and beauty to your space!
Fifth, paint the door to add a little character.
The sixth and last thing is to decorate! It's important to remember less is more! Too much clutter or decor will make the room feel claustrophobic and no one wants that! Enjoy the process and let that imagination of yours run wild and free.
As always please reach out with any questions you may have! I hope you'll find this guide useful and are able to tackle your Room Refresh In A Few Quick Steps.

Always start with paint! It will change the whole feel of your room!
Invest in a good fan or light fixture!
Minimal Decor will help relax.
Good bedding that isn't itchy if refreshing a bedroom!