Welcome to Clover Lane! Our Grandpa use to say he was a jack of all trades and a master at none. We believe we inherited this from our sweet Grandpa Arave! We have an inherit drive to try all the things! They are usually far from perfect, but life is a learning process. We hope to inspire you to jump in, roll up those sleeves, and learn with us!
Here at Clover Lane you will see our DIY victories and fails, all the dirty details on the best paint and stains, the best finish for that great little nightstand you scored off the curb, and the best tools to use on that old dresser you're itching to strip so she can show all her glory!
While you're perusing Clover Lane you'll get a taste of our passion for Home Decor. We are firm believers in making your space what YOU want it to be! It always amazes us what a coat of paint and some new throw pillows will do to a boring room, it's such an easy update!
For those that are new to Clover Lane- you'll quickly pick up on the fact that center of our homes is the kitchen. We live to eat, not eat to live! We're sure you'll enjoy the many family recipes that we enjoyed throughout our childhood and that our kids now enjoy!
We share easy DIY projects to update your home, affordable ways to switch up your Home Decor, and many Recipes that are sure to add some inches to those hips!
Cassie
I'm the crazy, animated, and VERY loud sister! I love my family like something fierce, I love to build, binge watch TV series, and I love to eat all the things! My husband Rex and I have been married over 11 years and we have been blessed with two boys; Hank is 8 and Beck is 7. Rex is a Podiatric Surgeon and loves everything about his job! We are grateful for his hard work and dedication he puts in for our family!
When I'm not in Missouri doing my mom/home school gig, I'm doing Permanent Makeup in Idaho ... I wouldn't trade my crazy life for anything!!! I hope you enjoy reading and doing the many things we'll share with you!
Sadie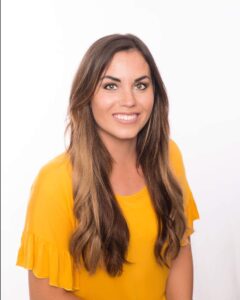 I'm the youngest of 5. They all think I'm quiet, but really I can't get a word in edgewise when we are all together. I married my high school sweetheart in 2011 and we have 2 children and a dog. Bella (our Boxer) was our firstborn!
Our first human is a little boy named Ollie and he is a little sweetheart! He has a congenital heart defect called Hypoplastic Left Heart Syndrome. I have a blog dedicated to Ollie's journey with a CHD. (Click the link below).
Our youngest is Scout and she is SO MUCH FUN! This girl has a huge personality and we are so glad she is part of our family!