Gooey Chex cereal with buttery sweet topping and almonds. The perfect party treat, snack, or Christmas gift for neighbors and friends.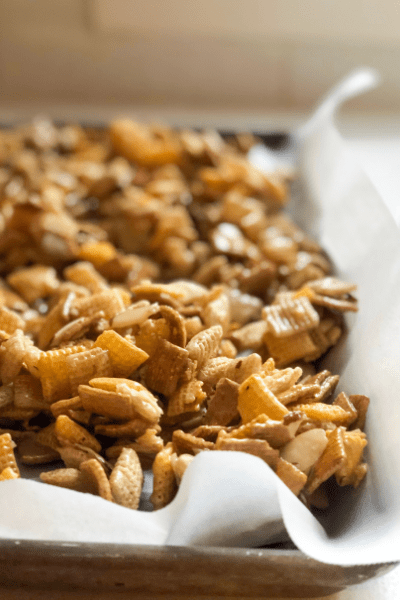 I am being serious when I tell you that this is one of the most addictive treats of all time. This Gooey Chex Mix is a family favorite and on constant repeat during the Christmas season.
Let's be honest, it's on repeat all year!!
Gooey Chex Mix
If you are into fittness and health, this is probably not your recipe. The amount of butter alone is enough to scare people off. I can easily look past the ingredients and enjoy every bite because its THAT GOOD.
Chex Cereal Variations
This are a few different ways you can change up this recipe. The classic recipe which is the Goodman family's favorite is:
Rice Chex Cereal
Golden Graham Cereal
The other option which is the Lish family favorite is:
Rice Chex Cereal
Corn Chex Cereal
Which option to choose? Chances are you'll make this again and again, so try both! The only difference is the sweet cinnamon component the golden grahams offer.
I'll be honest, you can't go wrong!
Jump to Recipe
Print Recipe
How to make Gooey Chex Mix
Line 2 jelly-roll pans with parchment paper or silicone sheets.
In a very large bowl, combine your (2) 12 ounce boxes of cereal and 2 cups of sliced almonds.
Mix the cereal and almonds together with your hands.
In a 4 quart saucepan on medium-high heat, combine 1 1/2 cups of butter, 2 cups of granulated sugar, and 2 cups of corn syrup.
Once you see bubbles forming on the edge of your saucepan, start a 3-minute timer. Your mixture needs to boil at a rolling boil for around 2 minutes. If you prefer to use a candy thermometer, aim for softball stage (225-230 degrees Fahrenheit).
Once you've boiled for 2 minutes or have reached softball stage, pour the mixture of cereal and almonds.
Stir thoroughly until all of your cereal is covered. Turn your bowl and scrape down the sides multiple times to ensure all of the cereal is covered.
Pour the coated cereal evenly between the two jelly roll pans.
Enjoy!
Once the cereal has cooled and set up, store in Ziploc baggies or an airtight container. Chex mix will stay fresh for 3 days but it is best eaten within the first day.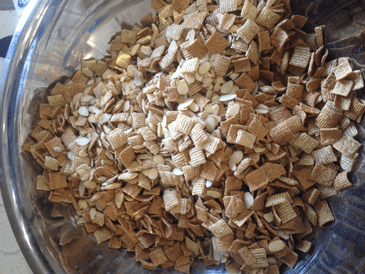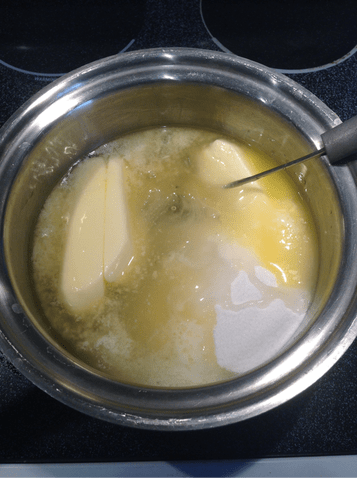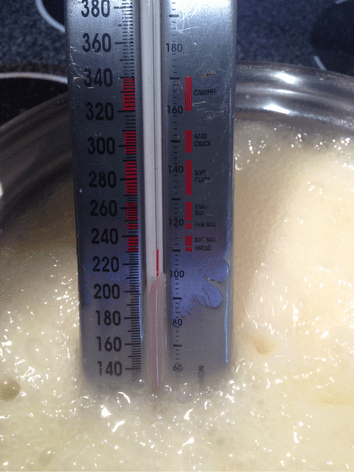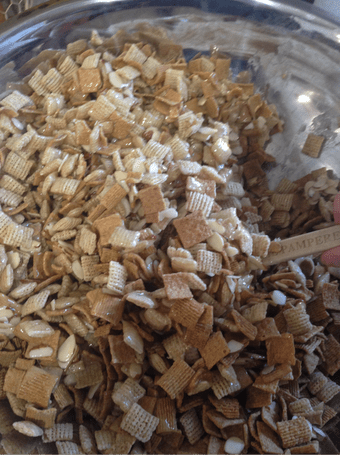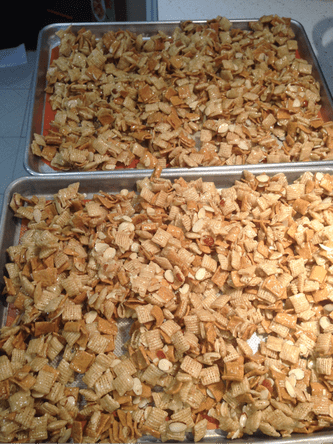 Use an extremely large bowl or 2 large bowls when mixing.
Have jelly roll pans prepped and cereal and almonds in your bowl/bowls before cooking the sauce.
Don't overcook your sauce. Start your 3 minutes timer the second you see bubbling and let it boil at a rolling boil for 2 minutes.
Use regular size boxes of cereal 12 oz. and not the larger family size.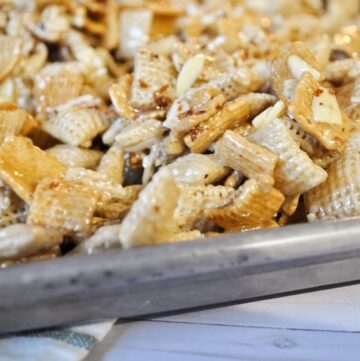 Gooey Chex Mix
Chex mix with gooey sauce that will truly change your life!!
Equipment
2 Jelly Roll Pans

4 Quart Sacuepan
Ingredients
Chex Cereal
1

Box

Rice Chex Cereal

Regular size not family size

1

Box

Golden Grahams or Corn Chex Cereal

Regular size not family size

2

Cups

Sliced almonds
Chex Mix Sauce
1 1/2

Cups

Butter

2

Cups

Karo Syrup

2

Cups

Granulated Sugar
Instructions
Add 2 boxes of cereal and 2 cups of almonds to a large bowl.

Cover 2 jelly roll pans with parchment paper or silicomnebaking mats.

Add butter, karo syrup, & sugar to a 4 quart saucepan.

Cook on medium-high heat, stirring and watching constantly.

Once bubbles start to form, cook for 3 minutes, 2 of those minutes at a rolling boil.

Pour mixture over cereal and almond mix.

Coat evenly and spread out on 2 jelly roll pans to set up.