you come to the right place if you're looking for the Easiest 1 Hour Cinnamon Rolls! These delicious morsels are soft and gooey!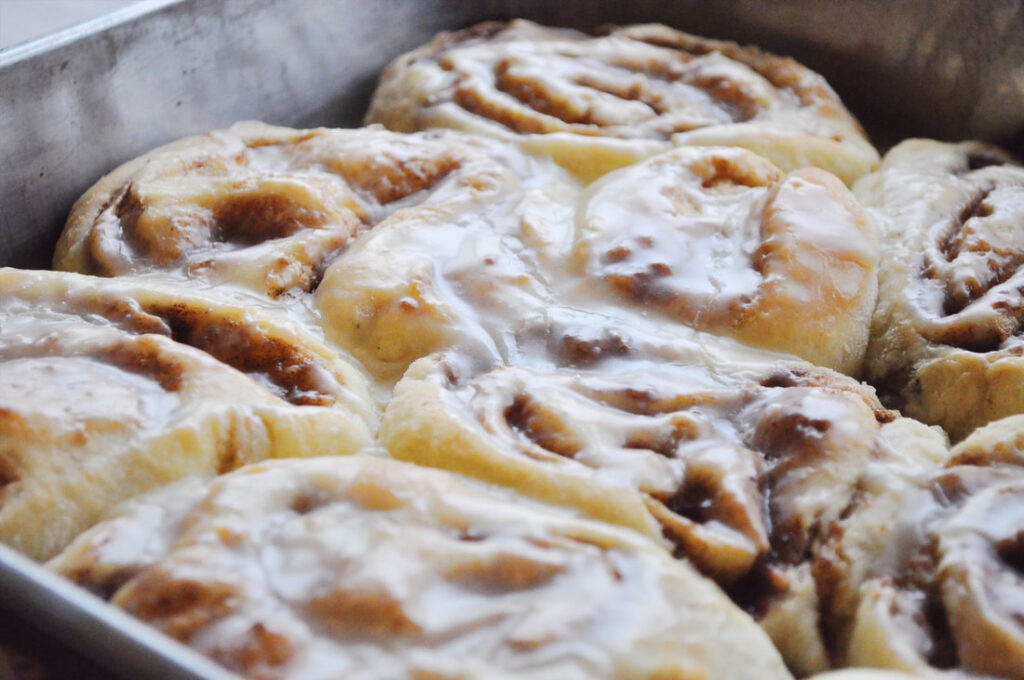 Easiest 1 Hour Cinnamon Rolls
Our Granny taught us to make the Easiest 1 Hour Cinnamon Rolls! They are easy, fluffy, and gooey all at the same time! Don't ask us how its possible, but it is!
Easiest 1 Hour Cinnamon Rolls


Makes 2 jelly roll pans

Dough:
3 ½ C. Warm Water
6 Tbsp. Yeast
1 C. Oil
¾ C. White Sugar
½ C. Butter
2 C. Brown Sugar
2 Tbsp. Cinnamon
3 Beaten Eggs
1 Tbsp. Salt
10 1/2 -11 C. Flour
Instructions: Preheat oven to 400 degrees Fahrenheit.
Add 3 ½ cups of warm water to your mixing bowl. Add 6 Tbsp. of yeast. Add your 1 cup of oil, you do not need to let the water and yeast sit before adding oil….this recipe is fast! Now add ¾ cups of white sugar. Mix and let sit for 15 minutes.
During this 15 minutes of waiting, mix up your filling. In a separate bowl, mix 2 cups of brown sugar and 2 tbsp. of cinnamon.
Now that the water, yeast, oil, and sugar mixture has sat for 15 minutes, add 3 beaten eggs, 1 Tbsp. salt, and flour. You may need to adjust the amount of flour, depending on where you live. Mix the dough for 3 minutes. Occasionally stop the mixer and scrape the sides of your bowl. Flour your counter or pastry cloth. Roll dough out into a nice big rectangle ½'' thick.
Soften your ½ c. of butter in the microwave, and spread it evenly over dough. Now sprinkle and spread out the cinnamon and sugar. Now we are going to roll the dough into a big log.
If you are adding raisins to your cinnamon rolls, make sure to soften them beforehand. To soften raisins, add water and raisins to pan and boil for 3-4 minutes. Sprinkle raisins over cinnamon and sugar layer**.
Cook for 10-15 minutes or until lightly browned.
Icing:
½ C. Melted Butter (melt in microwave until boiling hot about 1 minute)
¼ C. Heavy Cream
¼ Tsp. Real Vanilla
Add Powdered sugar until it is the consistency you want. We do 2-3 cups of powdered sugar.
Instructions: Mix all ingredients until frosting is smooth.
**Frost the cinnamon rolls once they come out of the oven.**
Step by step
Photos below featuring our adorable grandma! I love the shots with her hands. These hands have fed a lot of people and served countless others over the last 86 years!
Please comment below after you make them to let us know what you thought about the recipe!