This SPECIAL DELIVERY BAG WITH CRICUT MAKER is the perfect bag to drop off those special Christmas Pajamas on Christmas Eve.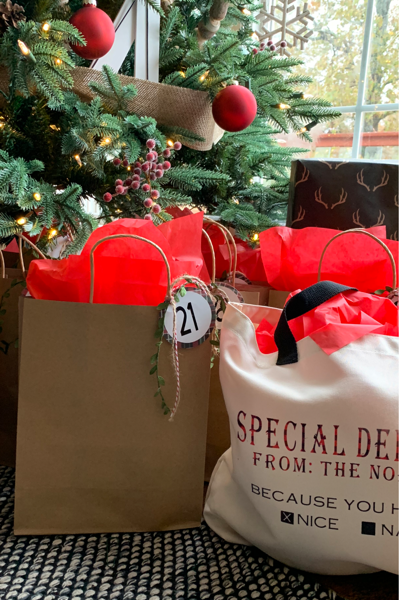 I truly believe this time of year is the happiest and most enjoyable time of the year. I LOVE that the whole season is focused on the birth of our Savior and that all are in the giving mindset. In 2012 my sister Abbie drew my little family's name for our Christmas gift exchange. Abbie started the Advent tradition for our family. What started as a gift from my sister morphed into one of our favorite family traditions. Our advent is filled with giving, gifts, and lots of fun to enjoy the month of December. Without further ado our "Special Delivery Bag" made with my Cricut Maker! 
This is a sponsored conversation written by me on behalf of Cricut. The opinions and text are all mine.
Supplies Needed forSpecial Delivery Bag with Cricut Maker
Cricut Maker
EasyPress 2
Infusible Ink Paper- Buffalo 
Infusible Ink Blank Tote Bag 14x19"
"Special Delivery" Cut File
Start by connecting your Cricut Maker to your computer. 
Open the "Special Delivery" cut file.
Cut your image. I use the Buffalo Check print and Black Infusible ink. 
REMEMBER to mirror your image!
Weed Design.
Place heat mat in your tote.
I ironed my tote quickly with my EasyPress 2.
Place your cut design face down on your tote. 
Once in place cover design with butcher paper that's included in your Infusible Ink Roll.
Lightly Press Design with your EasyPress 2 at 400 degrees for 40 seconds. 
Tag cut files
Just for fun I've linked the cut files for my bags tags. I cut the "Base Tag" with fun scrapbook paper. "Second Tag" with white vinyl. Then the "Tag Numbers" with black vinyl. I simply hole punched each card then attached them to my bags with jute, bakers twine, and greenery. 
Base Tag
Second Tag Cut
Tag Numbers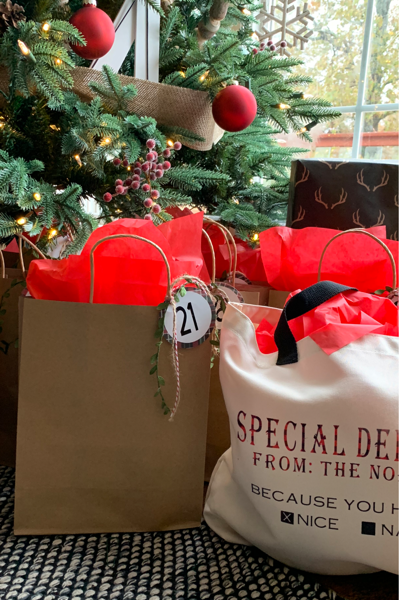 Check out the post I wrote about this a few years back HERE!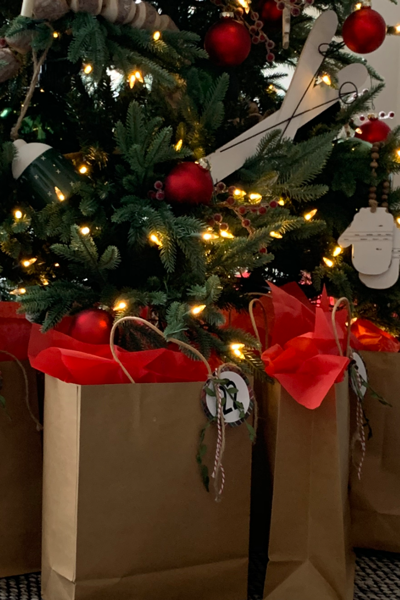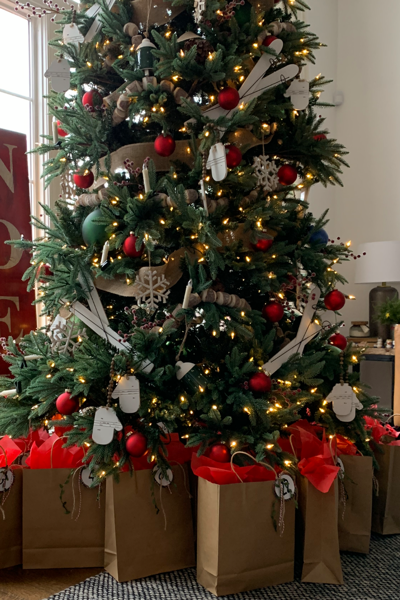 Advent ideas
Here are some of the the items you'll find inside our Advent Bags! They change from year to year in accordance to our kids ages, but one thing remains constant...the memories made are forever!
Service
Tags Explaining Service Projects- Cash for the giving trees around town, serving dinner or making meals for local soup kitchens/Ronald McDonald House, Quarters and a note to pass the cart along at our local Aldi's, Shoveling Sidewalks and Driveways of the elderly, Secret Santa, and Secretly Paying for someones meal at a restaurant. 
Deliver Treats- This one usually takes up a few days. Sugar Cookies, White Chocolate Popcorn, Toffee, Peanut Brittle, Banana Bread, Peanut Butter Ritz Cookies, and Chex Mix are just a few of our favorites. I'll put Christmas Plates, sprinkles, candy containers in the bag; it all just depends on the item we're cooking.
Activities
Christmas List to Santa- Christmas List and Fun Christmas Pencil or Pen.
Gingerbread Kit (We don't eat this so I always buy on clearance at the end of the season for the next year) 
Polar Express- This one started at a very poor time in our lives (medical school days). We've never done the actual Polar Express Train Ride, this is a family favorite for us. We load up in the car wearing our Christmas PJ's with our Christmas blankets in hand. I always make hot cocoa and we drive around neighborhoods looking at Christmas lights. Each of the boys a "Polar Express Ticket and Bell" in there bag  (we actually use the same bells every year!), and I also put the thermal cups and hot cocoa packets in the bag. There are years of great memories from this tradition! 
Christmas Orange Book and Chocolate Orange- I reuse all my books each year. 
Movie Night- A couple days are Christmas movies and a treat. 
Bubble Bath- Red or Green Bubble Bath
Crafts- This takes up several days- I love buying these on clearance at the end of the season and saving for the following year. Here are a couple ideas; coloring books, nutcrackers that the boys paint, stained glass, ornament making, and gift making.
Cookie Exchange- We love doing a cookie exchange and I always have a little station for the kids to make "Reindeer Food" 
Build a Snowman- Though we prefer real snow, that isn't always an option. We've lived in Missouri for a few years so sometimes we make mini snowmen out of play dough! 
The Pajama Elves- On the 23rd of December I always read the book "Pajama Elves" to the boys. It's a story about how the elves stitch your PJ's with magic thread that will put you t sleep on Christmas eve. Its such a cute story. Lastly, on Christmas Eve The "Special Delivery" bag is dropped off with the boys Christmas Pajamas 
Spiritual
Christmas Devotional- (Our church does at the beginning of December.) I just type up a slip of paper with the date and time of the devotional and I include a little treat for each of the boys.
Nativity- I always do a craft nativity and we Read Luke 2 several times throughout the month. 
Christmas Eve- the boys sprinkle their Reindeer Food outside, During dinner the "elf" aka their dad drops off their magic pj's, then most importantly we read Luke 2 as a family. It's such a sweet spirit in our home. 
Christmas Day- we do "A gift for the Savior" we each write down a goal we want to work on for the following year. 
The whole idea behind our advent is to stay connected as a family. We look forward to opening each bag. It's always fun to see what's in it. Starting out this can be expensive the first year. Though the first year cost the most when I did this for our boys, then I started shopping clearance the end of the season for the following year and it's much more affordable!
We have changed from doing an "over the top" Christmas to giving each boy one gift from us (parents), one from Santa (always homemade), and their stocking. Giving them three gifts and the advent has turned our Christmas from crazy and chaotic to a time that we cherish and love.
My favorite is a smaller advent that includes a daily scripture and service idea that our church puts out every year. This is truly the most Magical time of year! We hope you love our "Special Delivery" Bag and advent ideas!
Thanks for stopping by!!
Pin it!