Okay lets talk canker sores. I think I have typed "how to heal a canker sore" or "how to prevent canker sores" more times than I can count. It seems like I ALWAYS have one. Always. The second I get rid of one, another has formed. It is rare that I just have one at a time too. I usually have a minimum of two at a time. I've even had up to 8 at one time! If you are like me, then you get desperate when you have a canker. I get crabby and feel like I can't even talk. I even get swollen lymph nodes if they are really big.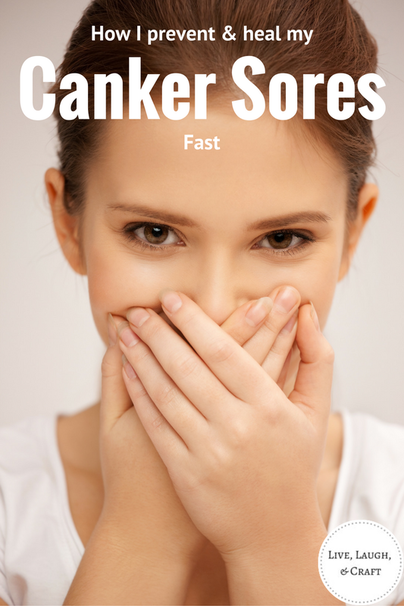 UPDATE****** I have honestly found the product that prevents canker sores (for me). BIOTIN! I lost a ton of hair after my last baby, so I started taking Dr.'s Best Biotin (5000 mcg.) 1 capsule a day. The result? Virtually no cankers. I am not even kidding. I AM SO HAPPY ABOUT IT!!! SERIOUSLY!!!!!! Keep reading for the original post, ooooooor click the link below and start taking Biotin immediately!!!!!!!!
​
The worst is when I bite my tongue or cheek. For me, that means a canker is on its way. That makes me really mad!
I have tried my fair share of remedies for canker sores. Just to name a few: Alum, pressing the end of match to the sore, changing toothpaste, salt water rinse, magic mouthwash (post coming soon), paste prescribed by a dentist, and many many many more. The only one that remotely helped me is the paste from the dentist. It did provide some relief from the pain, but it can only be used at night. At this point, I just try to manage the pain so I'm not rude to every one around me. I take Tylenol and use some kind of topical numbing gel. A few months ago I couldn't find my numbing gel, and I saw my daughters teething oil I had ordered off of Amazon. It is supposed to numb the area naturally. I decided to give it a try. To my surprise, it did ease the pain! The numbness didn't last as long as my typical numbing gel, but I just kept applying it. To my even bigger surprise, my canker healed MUCH faster than normal!!! I thought maybe it was a fluke, but I have had 2 more cankers since then, and they have healed in half the time as normal. Just 3 days ago I bit my tongue. I literally had a hole in the side of my tongue. I almost cried because I just knew it was going to turn into a huge canker. I put my trusty oil on there a few times later that day, and it didn't turn into a canker!!! I was completely blown away. This oil is my new go to treatment for cankers.
The name of my new found canker treatment is........ Punkin Butt Teething Oil. I haven't found it in stores, only on Amazon.
**Note: This treatment works for me! I highly recommend giving it a try, but keep in mind, these are my personal opinions 🙂
​You can buy it here