I know there are people that don't like the smell of lavender….I just don't understand those people. I am obsessed with it! This bath soak does not disappoint. It makes for a very fragrant, relaxing bath. Wouldn't this make a cute gift too?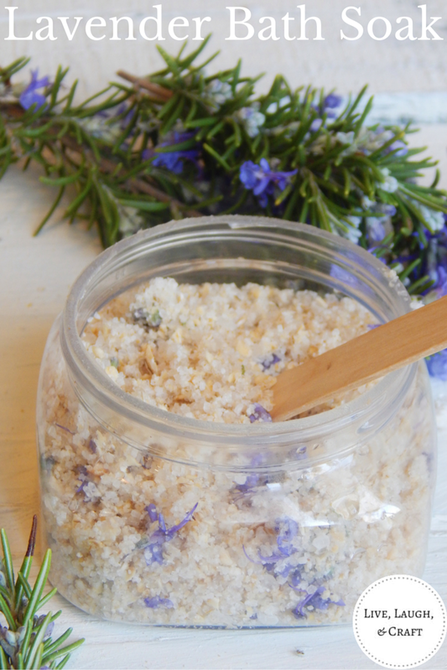 I love soaking in the bath. I think it is so relaxing! My favorite thing to do is add a few drops of lavender oil to my bath water. This lavender bath soak has oatmeal in it too, so it is super calming and relaxing. I love the combo of lavender and oatmeal. It smells DIVINE! This soak will leave your skin feeling silky smooth! The original recipe comes from
here.
 I changed a few things up. Below is my recipe.
Lavender Bath Soak
1 Tbsp. Dried lavender buds
1 Tbsp. Coconut Oil
3/4 C Epsom Salt
1/2 C Powdered Oatmeal (use a blender)
4 drops eucalyptus essential oil (if you choose to not add eucalyptus, then add 10 drops of lavender oil)
6 drops lavender essential oil
Jar to store bath salts.
Mix all of the ingredients together and store in a glass jar. Add 1/4 Cup of the lavender soak to your bath water. A small mason jar would make a pretty gift!!