Short on space? The compact Cricut Joy is the cutting machine that could and does. Here are three project ideas you can complete today with your Cricut Joy cutting machine.
Don't let the compact size of the Joy fool you. This capable little machine can whip up three quick Cricut Joy projects in under 10 minutes each. It can do even more if you want. Here's how I organized 2 spaces and personalized a neighbor gift in just 30 minutes.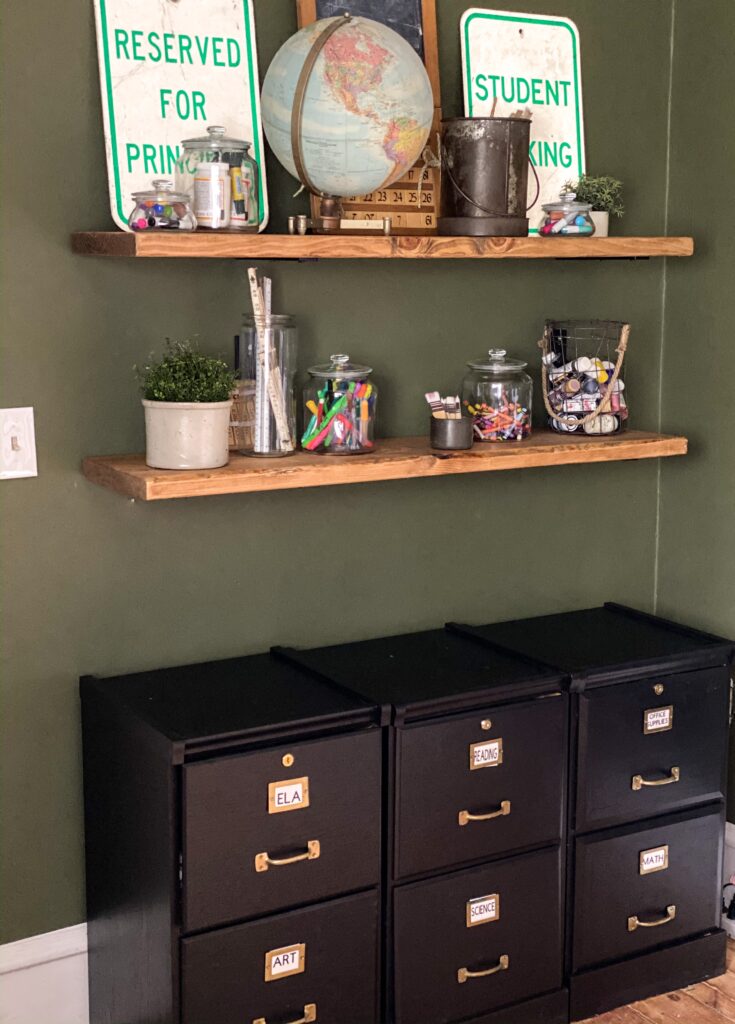 This is a sponsored post written by me on behalf of Cricut. All opinions are 100% mine.
How much is the Cricut Joy?
This machine runs at just $179. A fabulous addition to pair with your other cutting machine OR as a first investment machine.
It's a small cutting machine. Does it really work?
Weighing in at just 6 lbs., the Cricut Joy is small!! The largest it can cut is 4.5" wide and up to 4 feet in length. This does limit you on the size projects you can do but I haven't found that to be a con in the least.
I turn to this machine first when starting a project in hopes I can use it over my larger cutting machines. This is strictly because of its size and ease of use.
How can the Cricut Joy help me organize?
The Joy most definitely can help in the organization department. Let's tackle 2 organization projects together. The first project is these lovely spice jars. I love the uniform look they give to my kitchen. Having to not guess which spice is which would be really nice, too. Let's walk through the steps of making labels!
How to make labels with Joy
Materials Needed:
Cricut Joy Machine
Smart Label Writable Vinyl/Permanent
Cricut Pen in Black
Spice Jars
How-to
The first step is to open Design Space and design your labels. Decide the right size for your jars and work within those dimensions.
Next, click Make It.
Select Without a Mat as your Smart Materials do not need a cutting mat.
Review your artwork to make sure things look as they should.
Click Continue if all is well.
Set base material to Smart Label Writable Vinyl.
Load your Cricut Pen and feed your material into the machine. Note that Joy will automatically sense your material and load it after you have selected your base material.
Select Go once your material and Cricut Pen have been loaded.
You will be prompted to load the Fine Point Blade once Cricut Pen has written your labels. Once the blade is loaded, select Go again.
After your machine stops, select Unload.
At this stage, you will cut out each individual label and apply it to the clean spice jar. Repeat until all of your spices are labeled and you are happy as a clam!!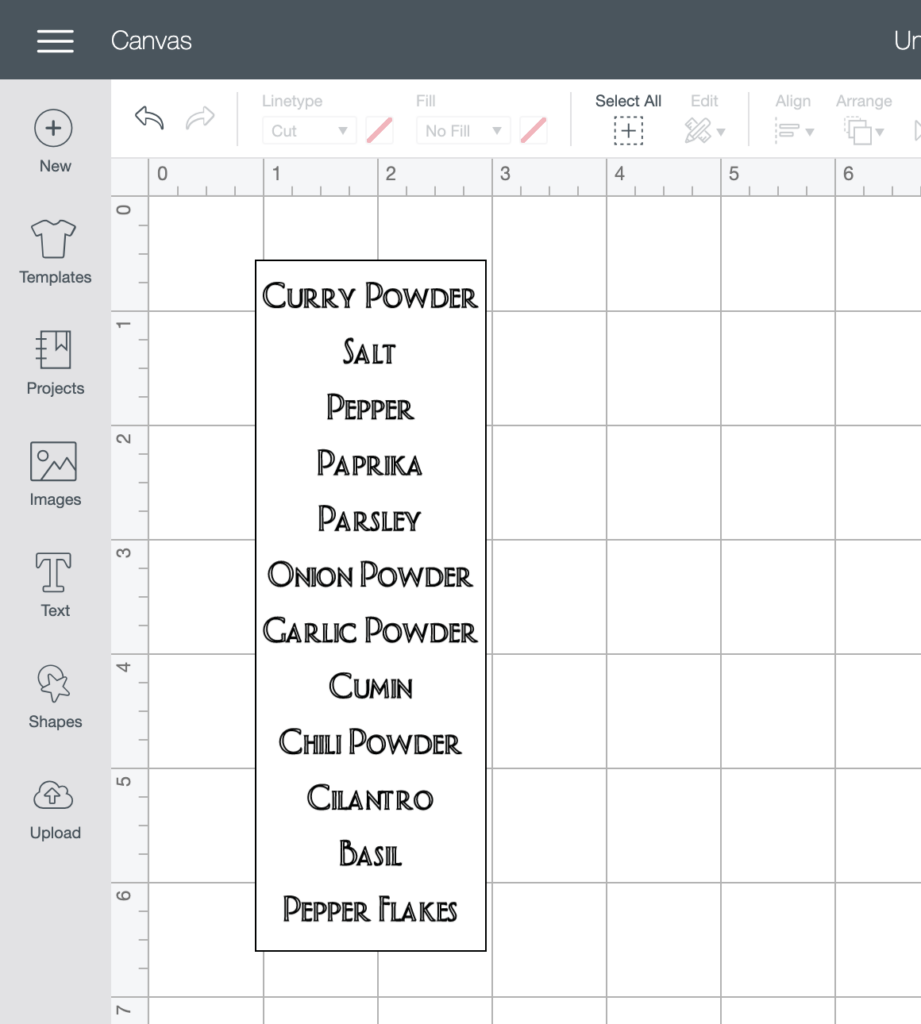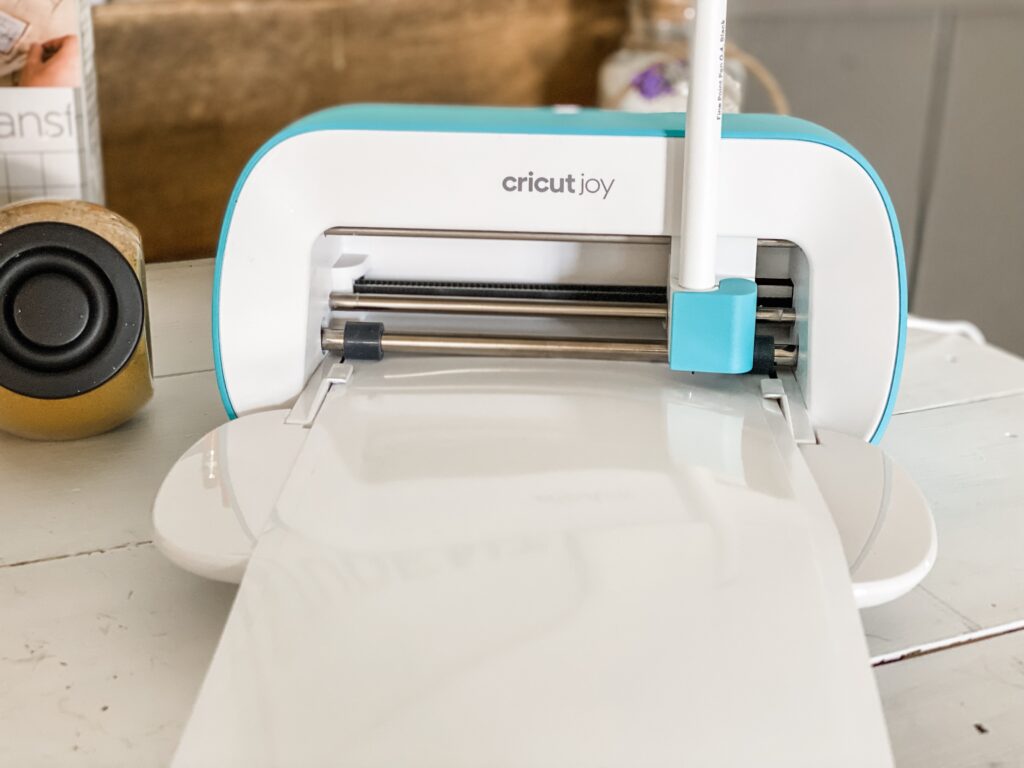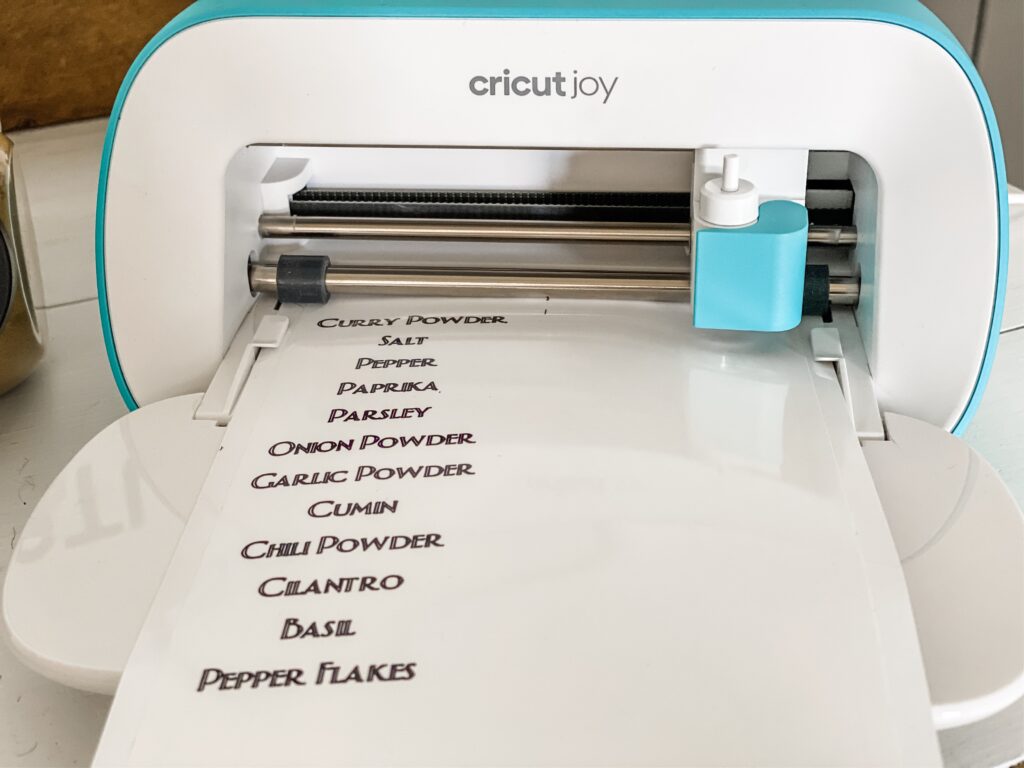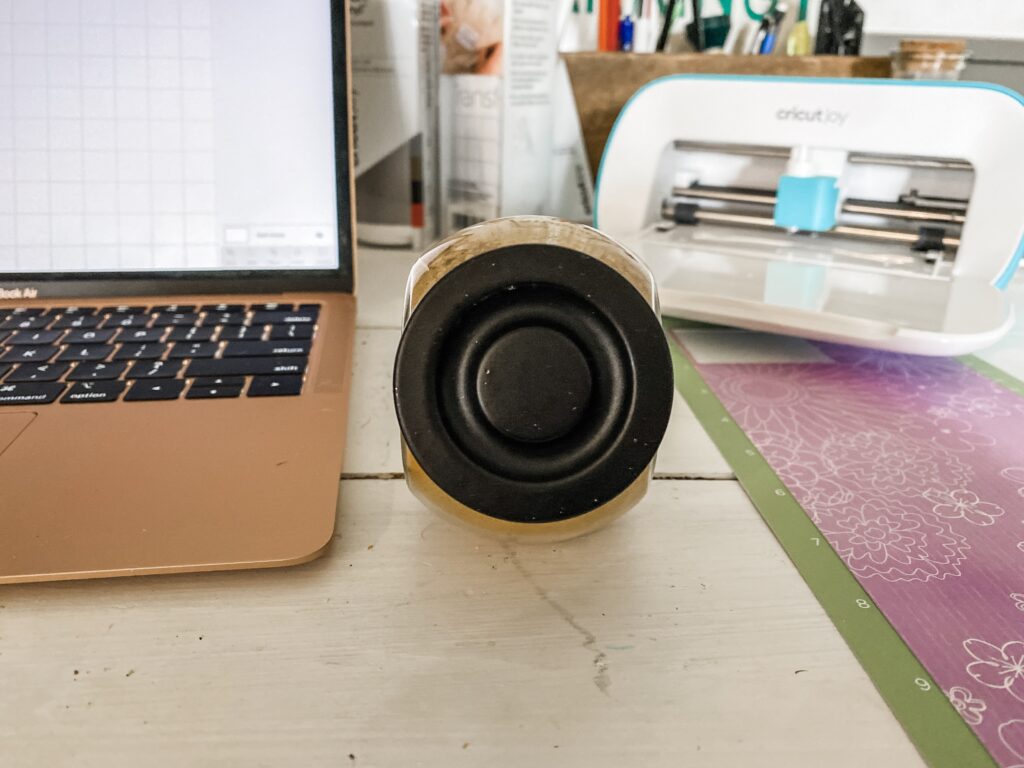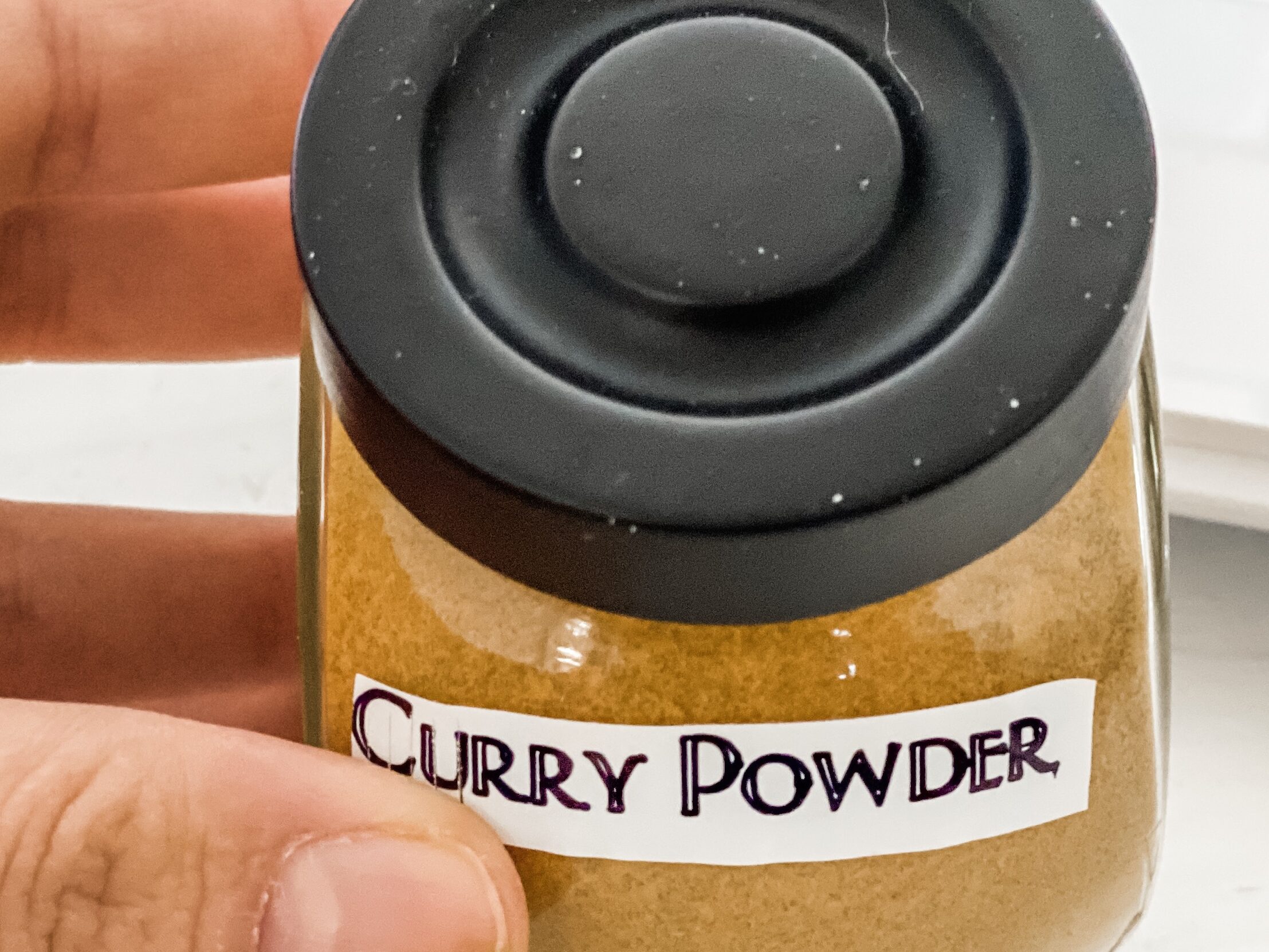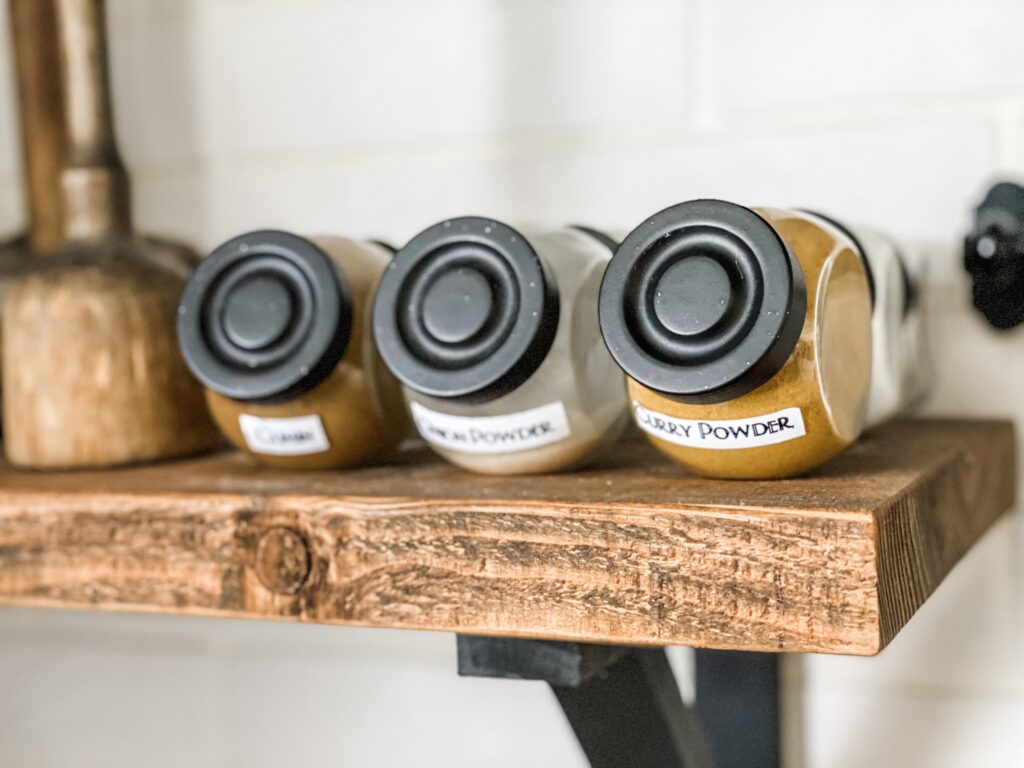 Organizing a Homeschool Room with Cricut Joy
The next organization project I have to share is labeling my homeschool file cabinets. I have 6 drawers in total that need labeling. For the purpose of showing you just how versatile Cricut Joy projects are, we are using cardstock for the base and vinyl for the wording on these labels.
I'm making custom-sized labels to fit the area already designated for labeling on my file cabinets.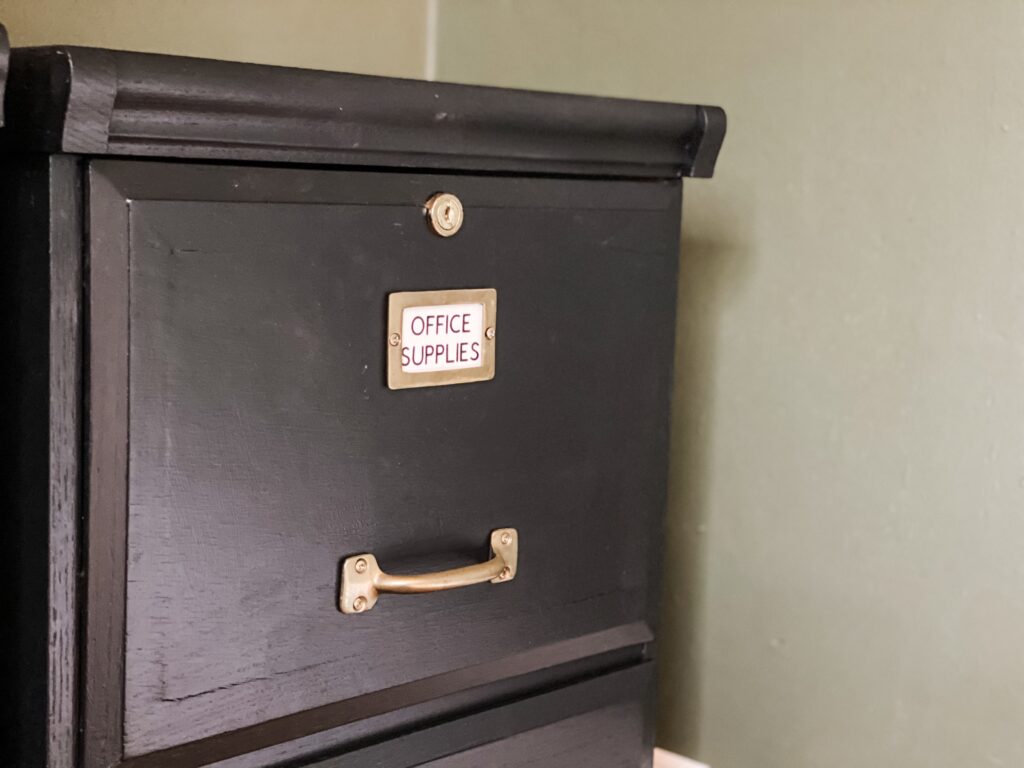 How to make file cabinet labels with Cricut Joy
Materials Needed:
Cricut Joy Machine
White Medium Weight Cardstock
Permanent Vinyl in Black
How-to:
Begin by designing your labels.
Click Shapes on the far left of Design Space and select the square.
Adjust the square to be the exact same size as your label. This made mine a rectangle.
Type your label wording over the rectangle.
When you are ready to cut, click the eyeball icon on the far right to hide the label words. We are going to cut the labels out first.
Apply your cardstock to your 12" Cricut joy mat.
Select your base material as Medium Cardstock.
Load your Fine Point Blade.
Load your material.
Press Go.
Once your labels have finished, select Unload and set the labels aside.
Now go back to your design and un-hide the words and now hide the label rectangles.
Click Make It, select no mat, select your base material as Smart Vinyl Permanent.
Insert your black Smart Vinyl and press Go.
Once the cutting is finished, Unload.
Weed your vinyl.
Cut out a few small pieces of Transfer Tape.
Apply the Transfer Tape over your first label and apply it to the cardstock.
SO happy that our homeschool books now have a permanent home and I am very pleased with how organized it looks with the new labels!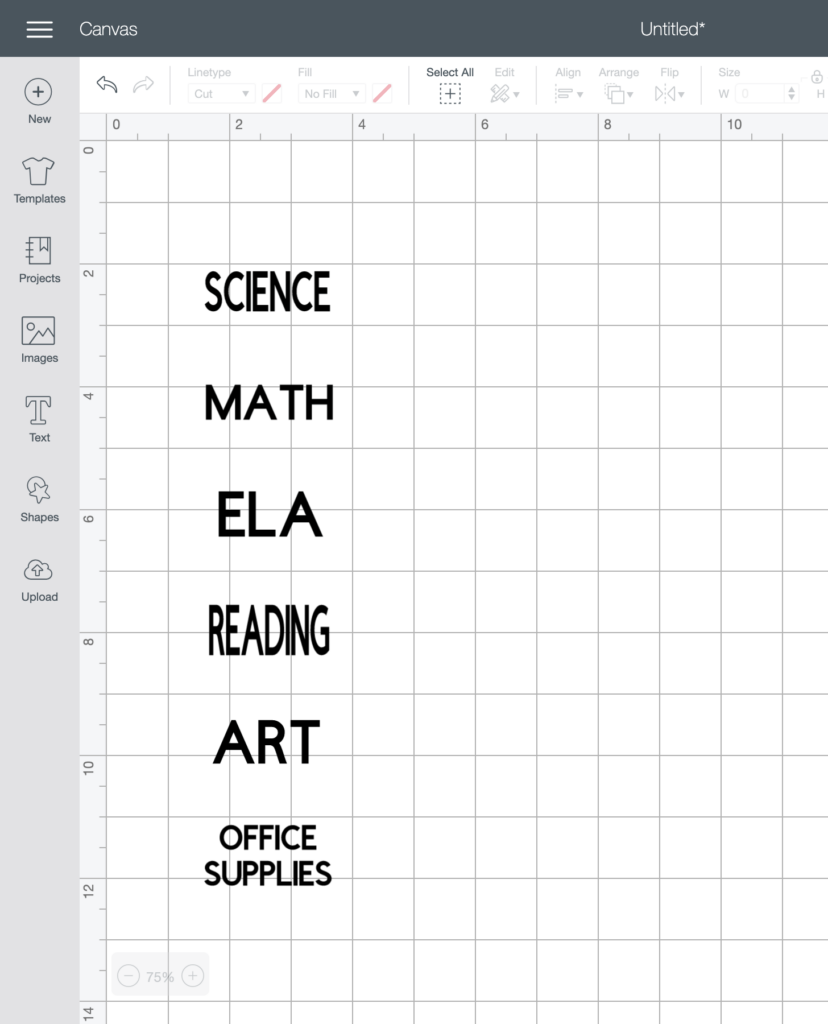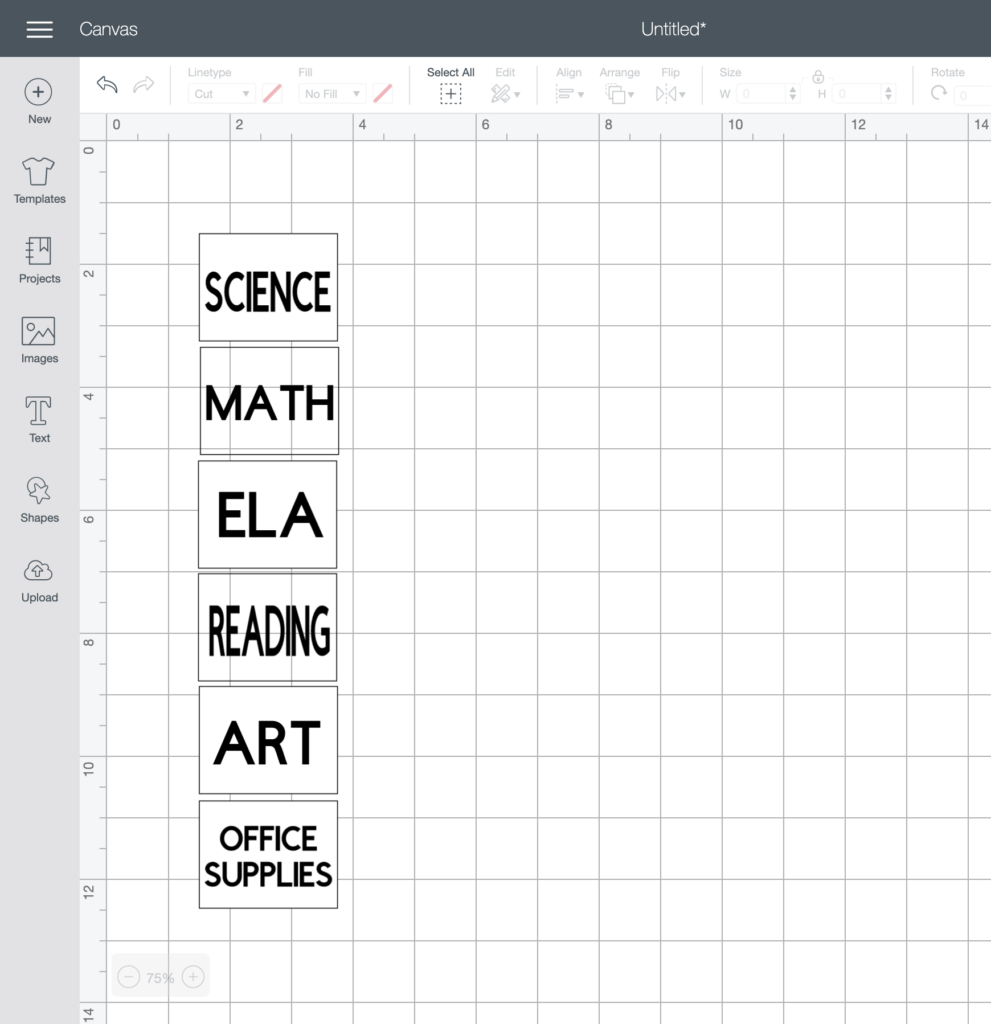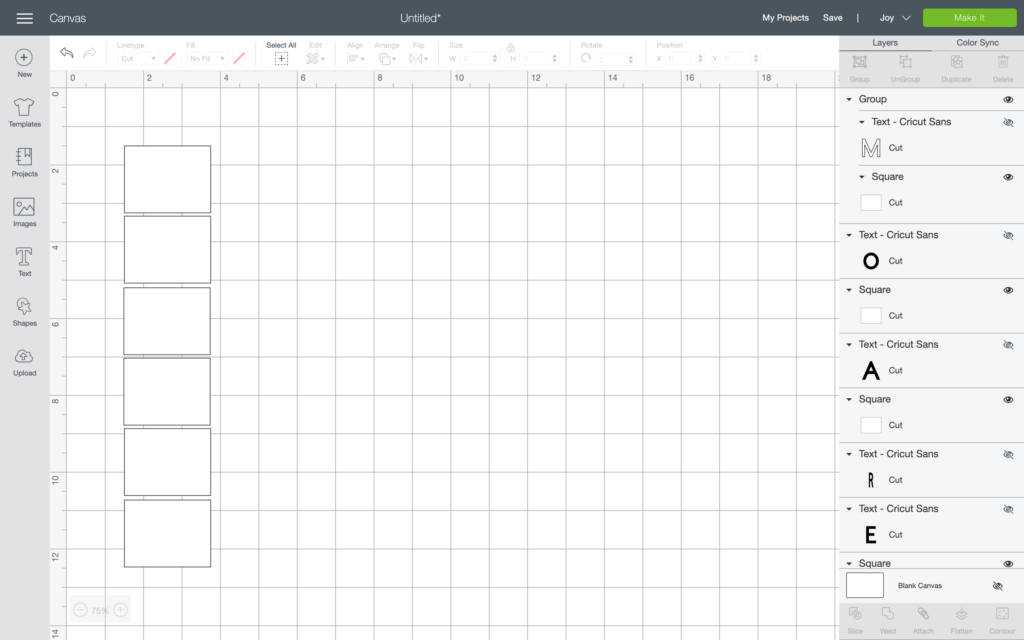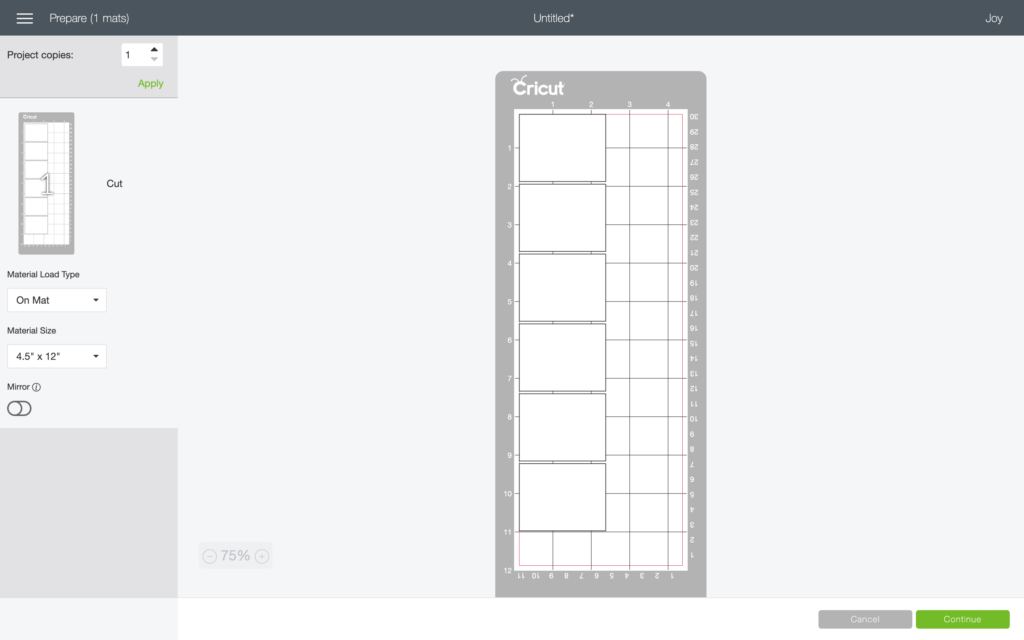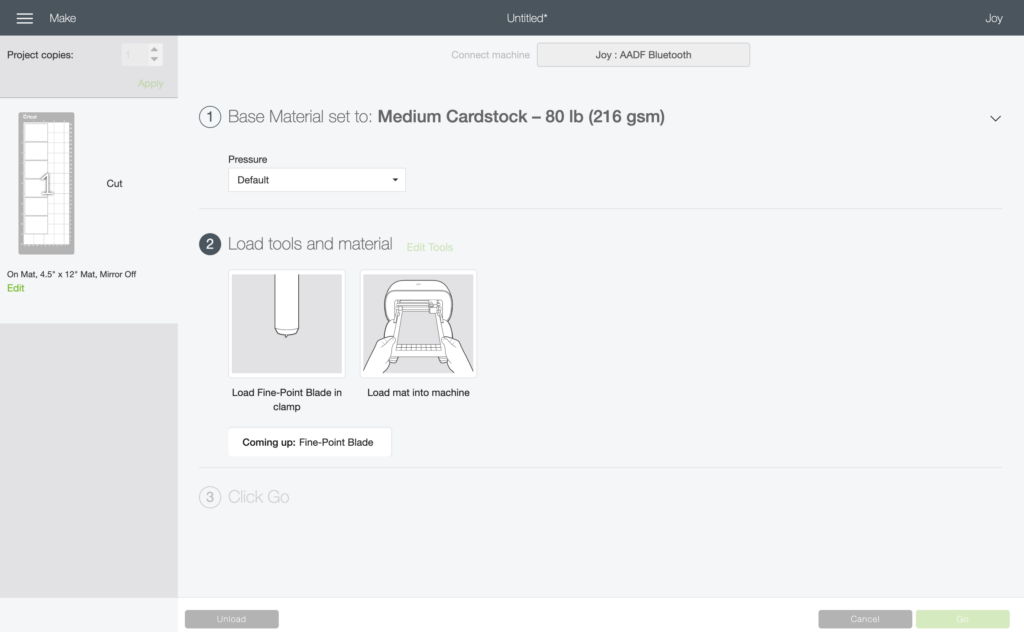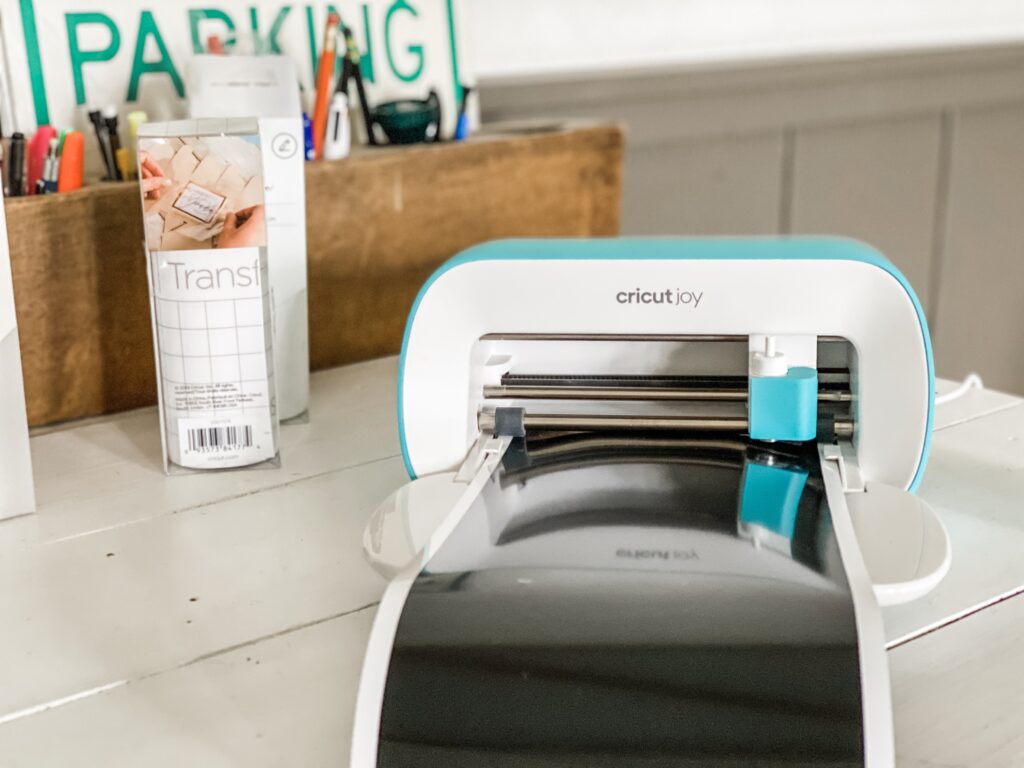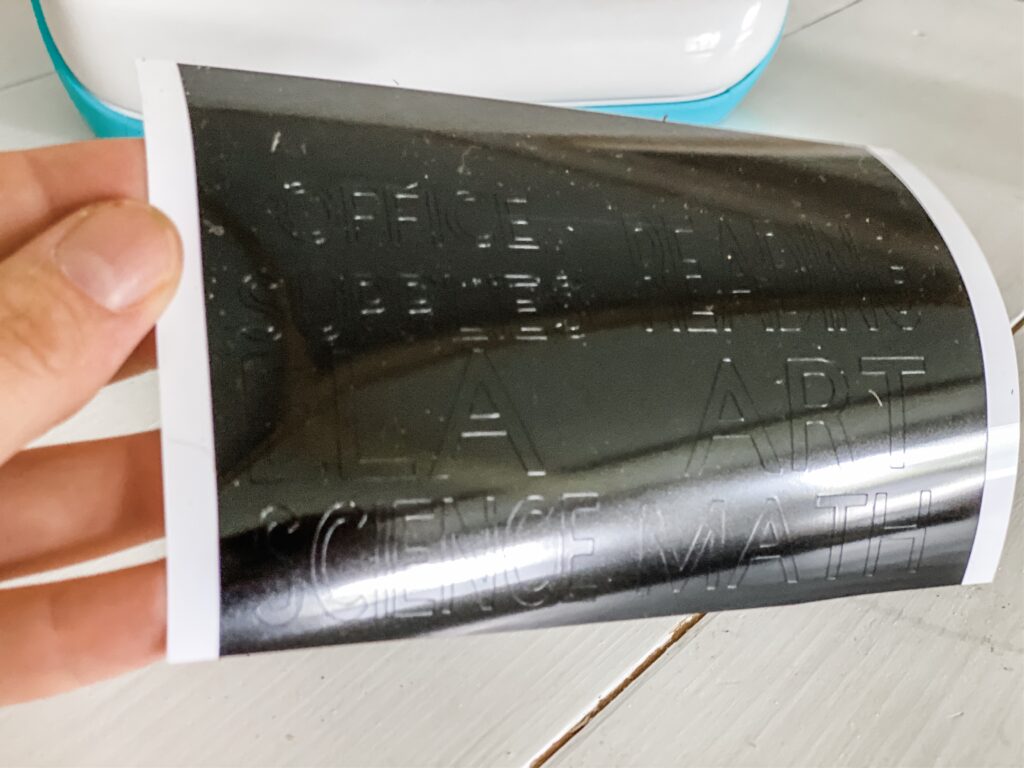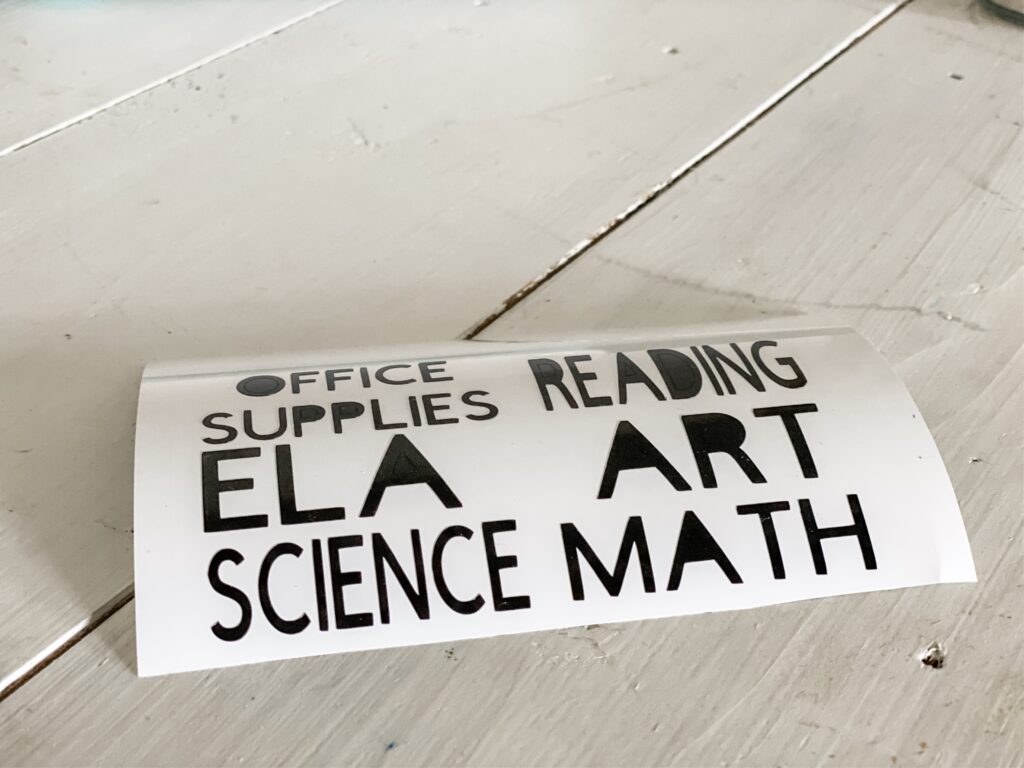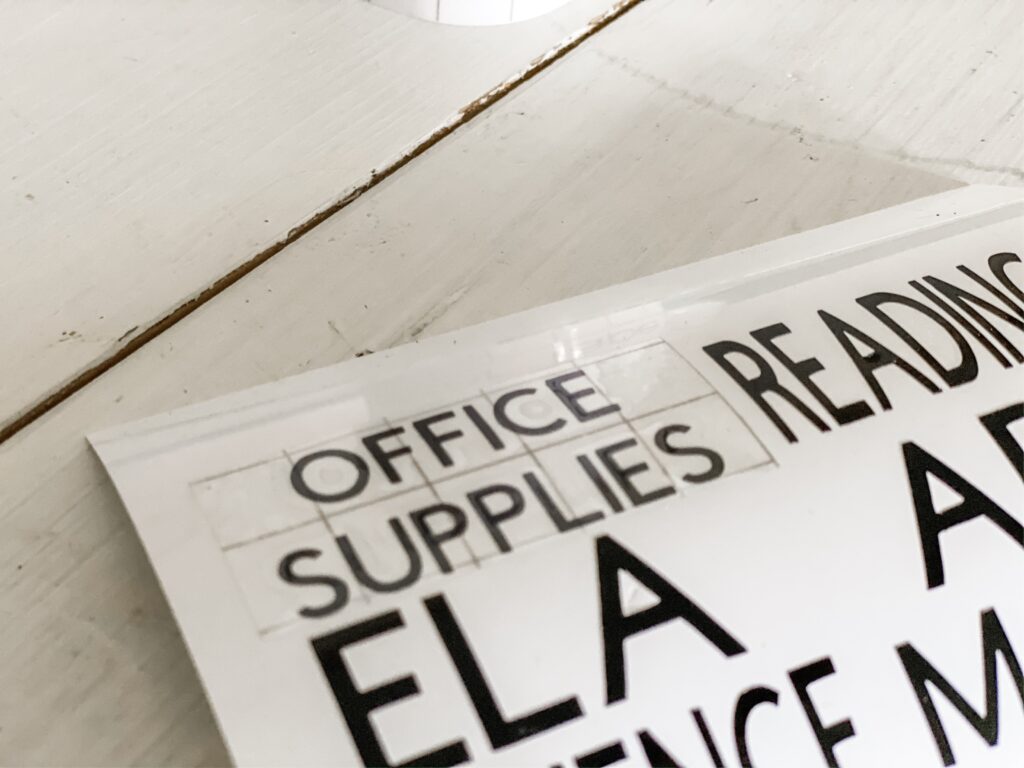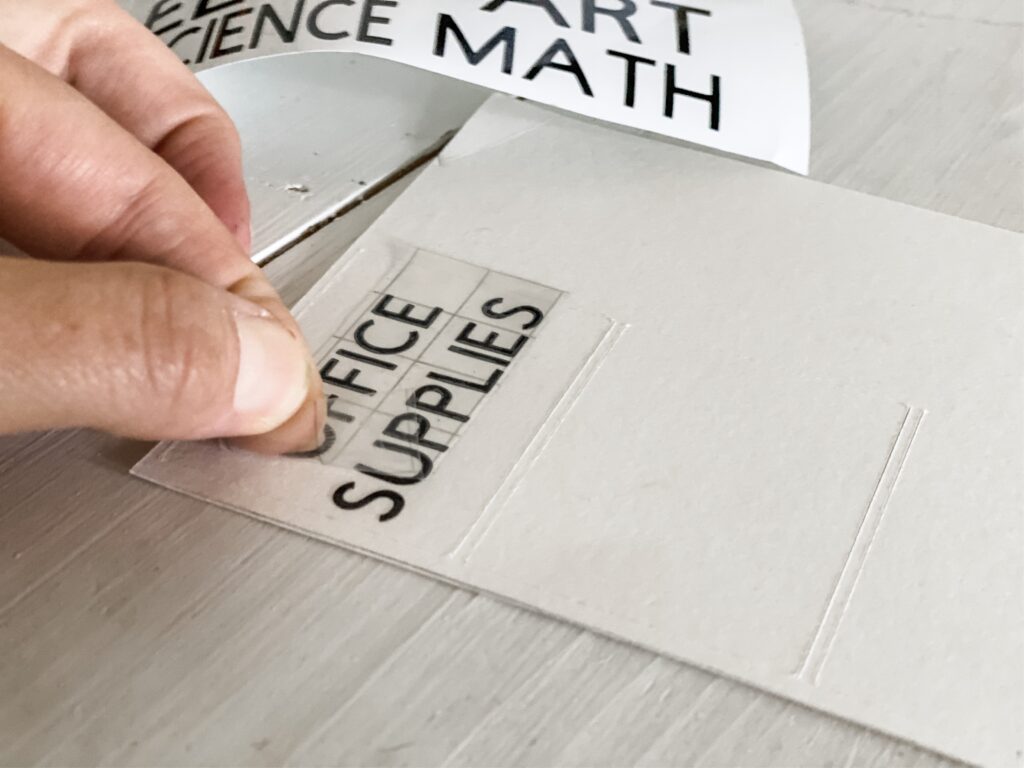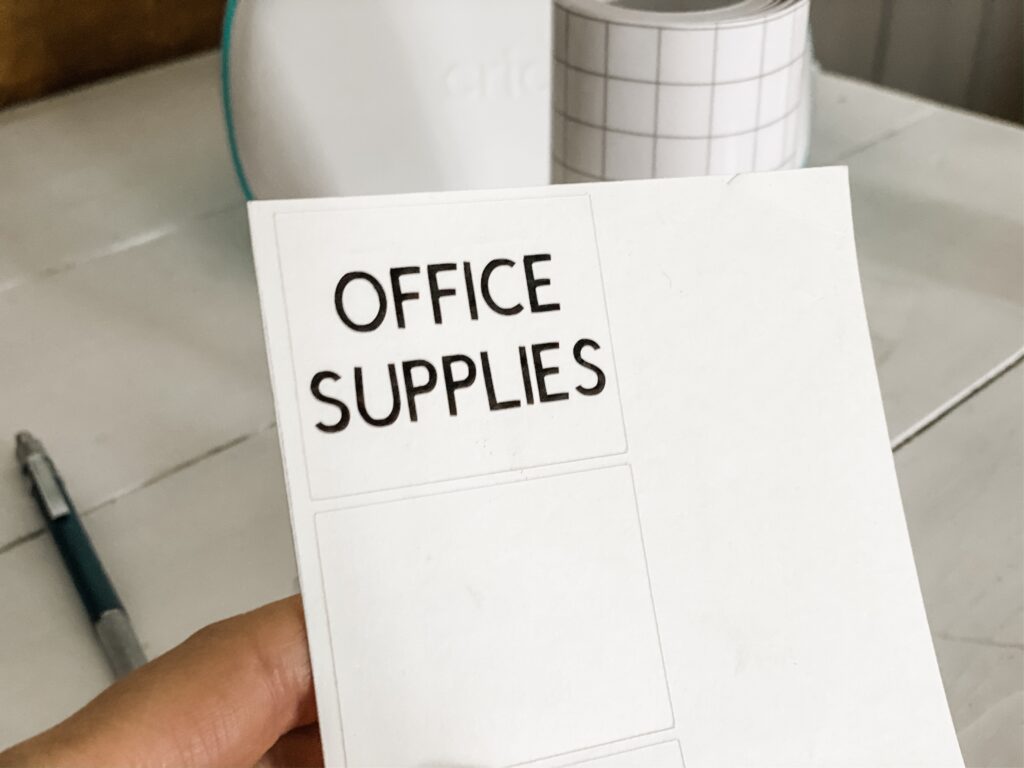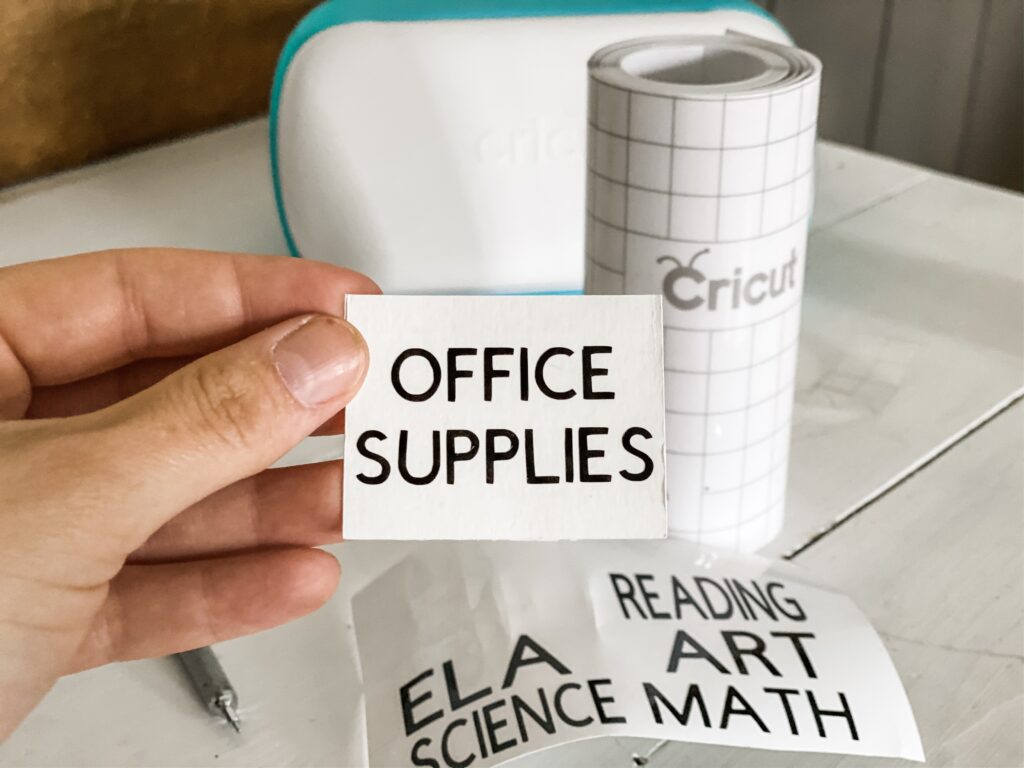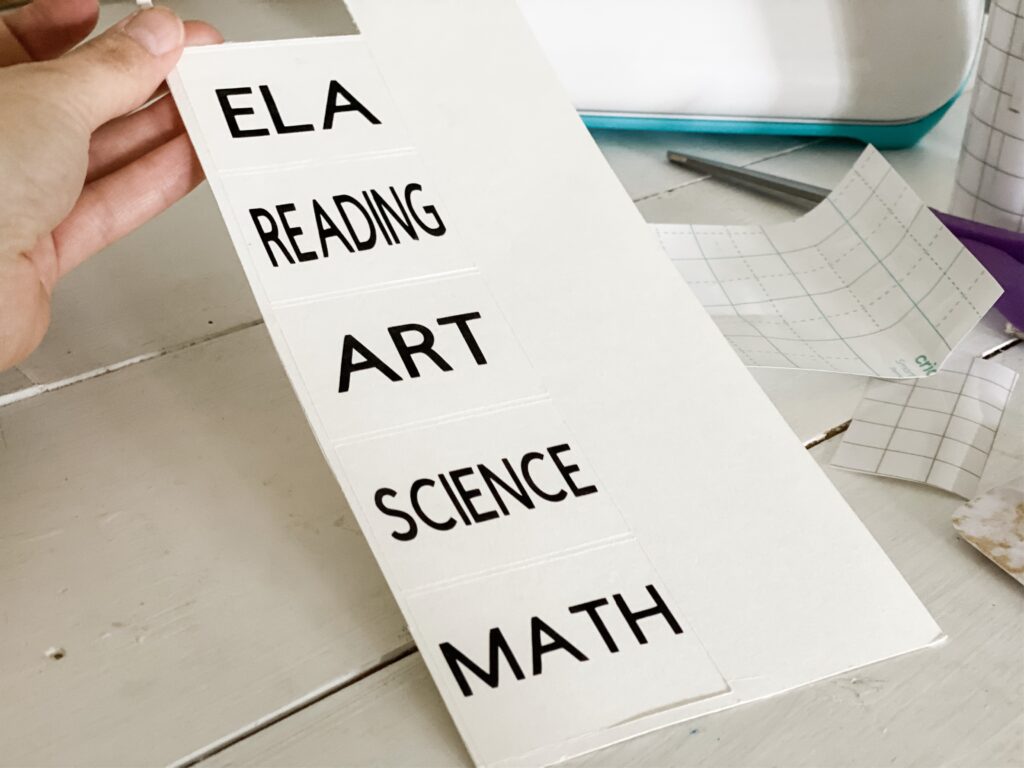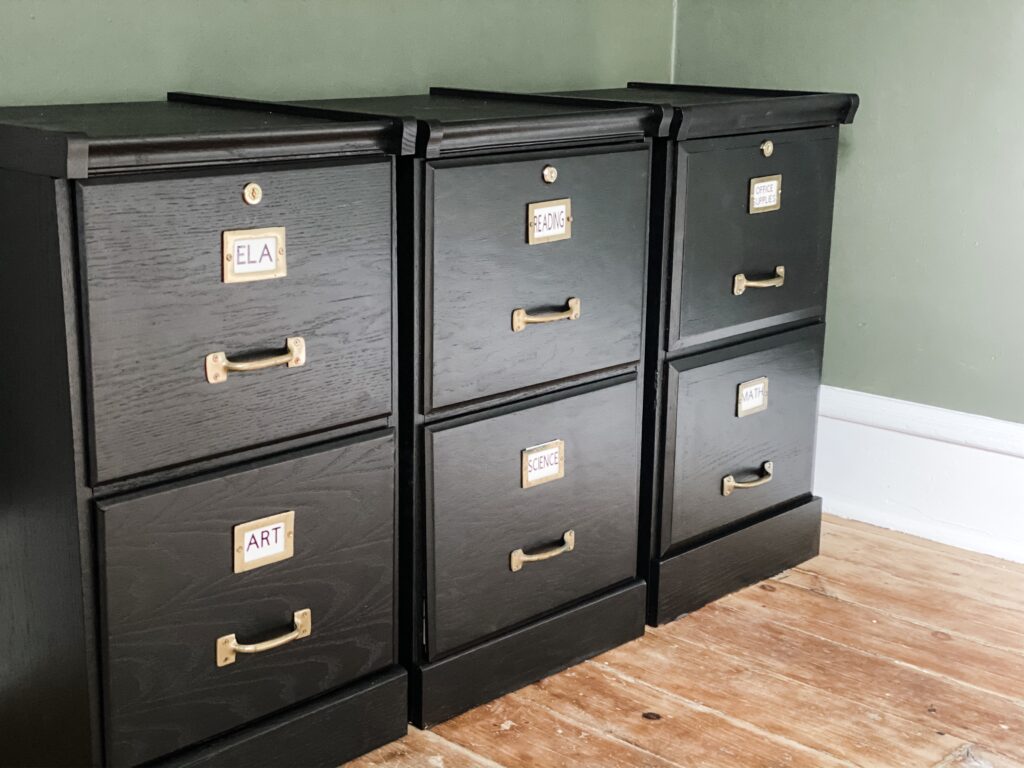 The last project I have to share is labeling a homemade bath scrub I love to give as neighbor gifts!
How to make gift labels with Cricut Joy
The process here is very similar to the Spice Jar labels.
Materials Needed:
Cricut Joy
Deluxe Paper Adhesive backed
Cricut Pen in black
Jar or gift to apply the gift label to
How-to:
Design your gift label in Design Space.
Select Make It.
Click Mat.
Next, select your Deluxe Paper base material.
Load your Cricut Pen first, then your mat.
Click Go. Once the Pen is done, you will be prompted to load your Fine Point Blade.
Click Go.
Once the cut is done and you have clicked Unload, remove your stencil and apply it to the clean bath scrub jar (or whatever surface your gift is).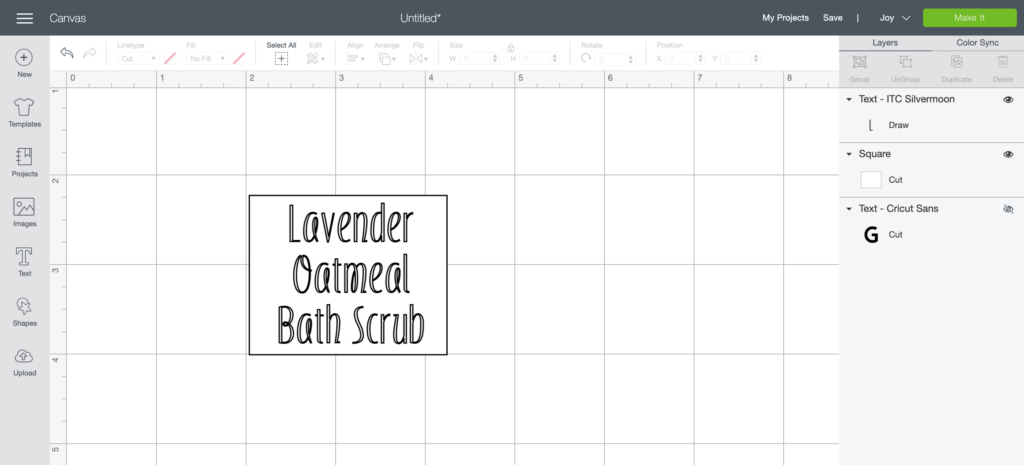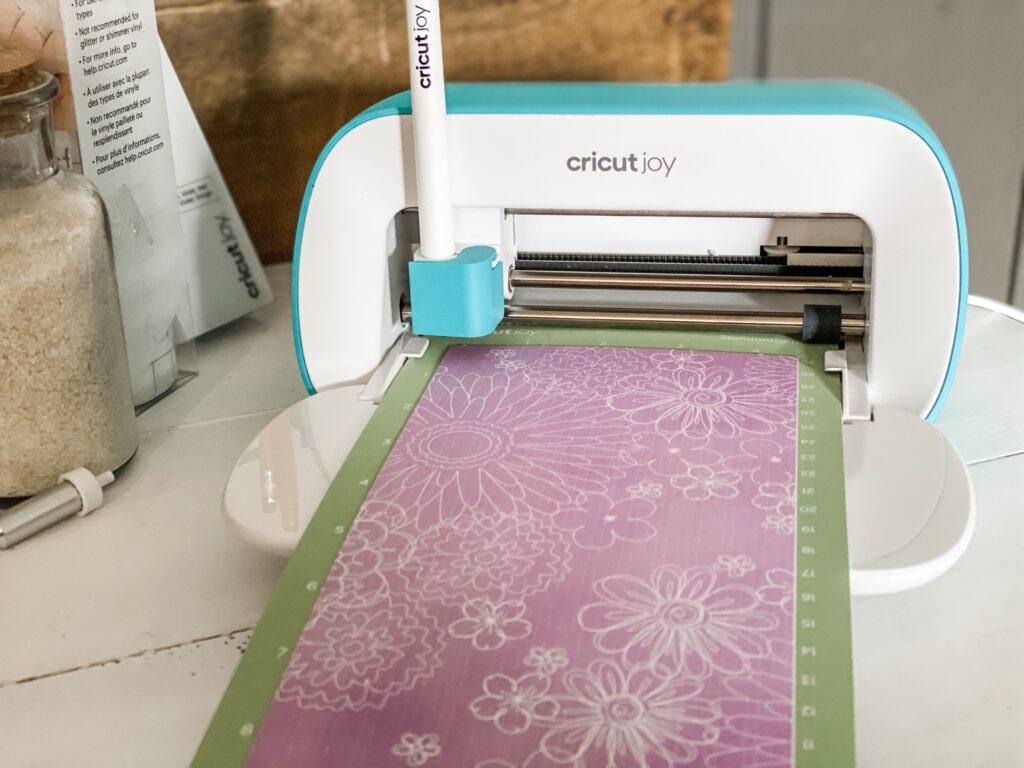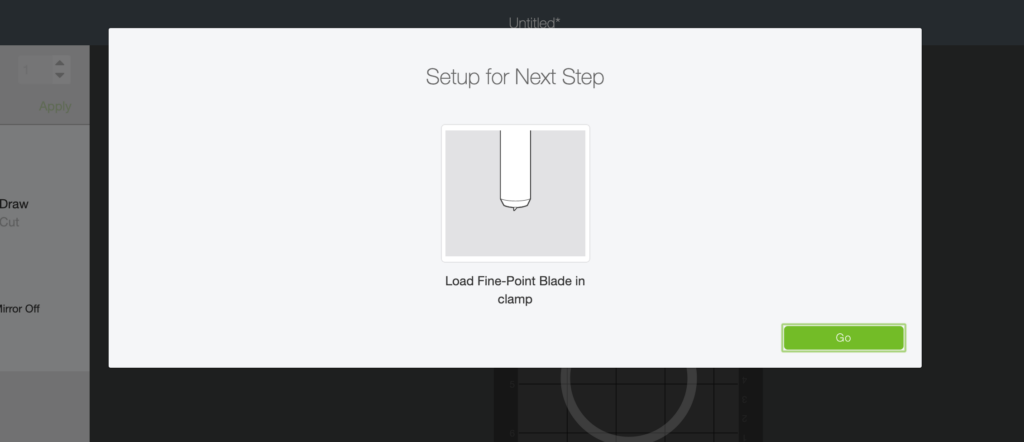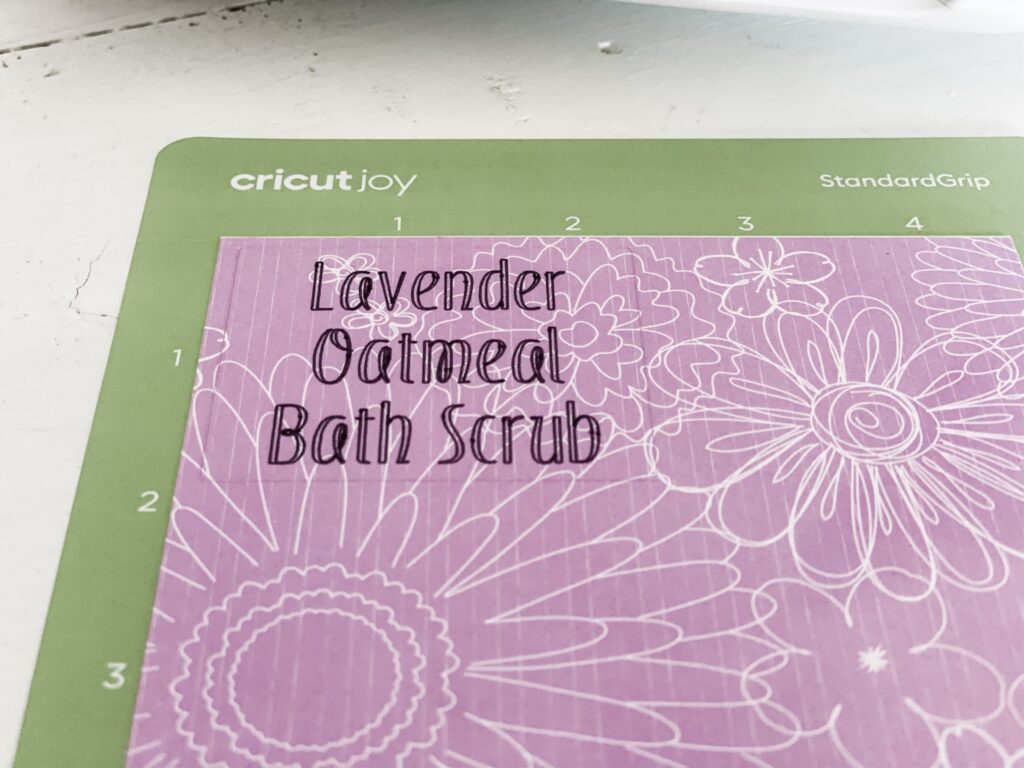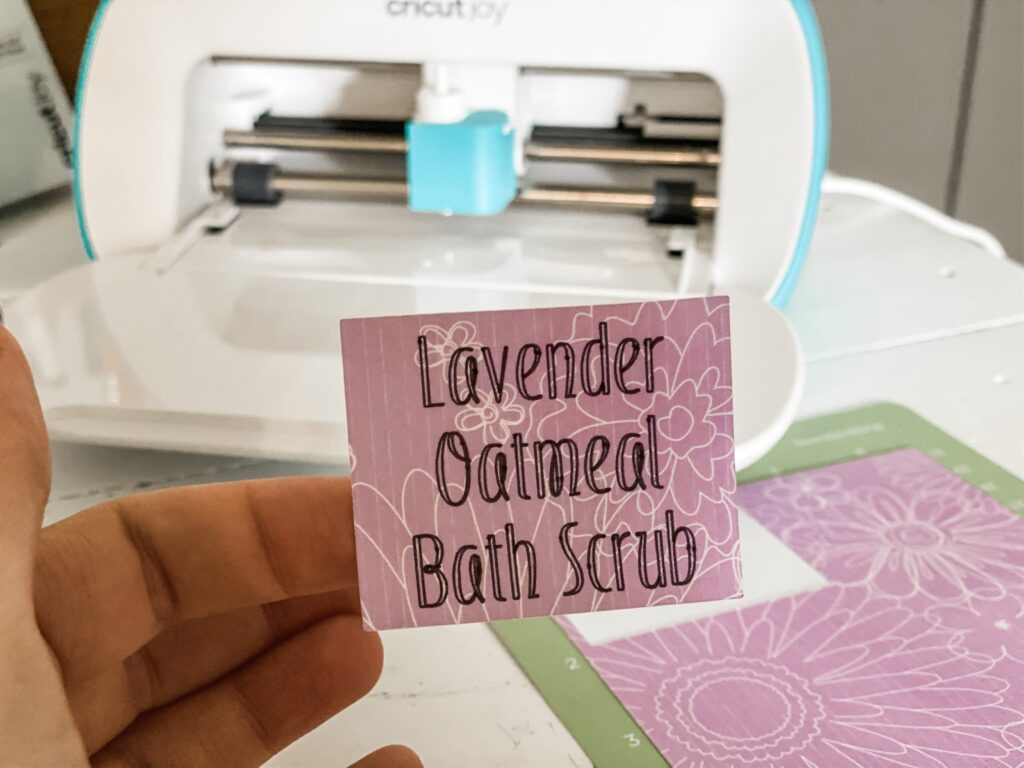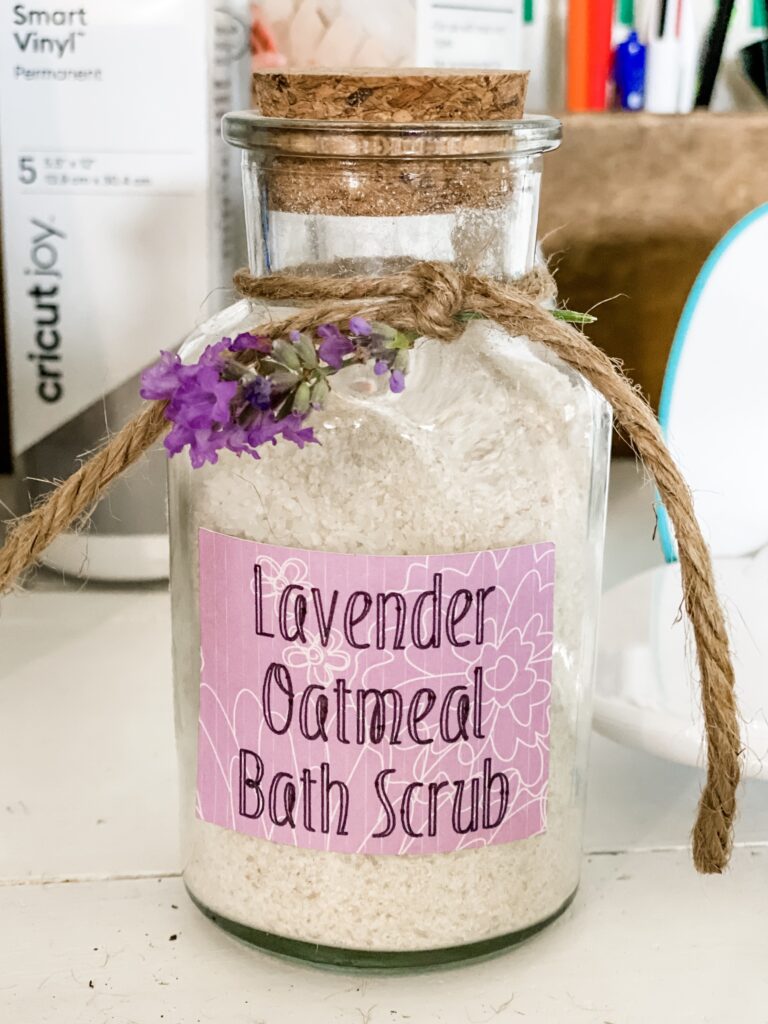 This is a great way to add customization to a homemade gift! Think of all the possibilities.
You'll love this machine. I've shown you only three quick Cricut Joy projects. There are infinite possibilities here!! Truly organize or customize any project quickly with your newest little cutting machine.
I give this machine 5 out of 5 stars! I absolutely love mine.

For the Cardstock Labels, you can reuse your Transfer Tape for a few label transfers before it loses its stick.
Keep the essentials around so you can easily do a last-minute project. For example Cardstock in neutral colors, black vinyl, white vinyl, and a variety of patterned papers.


Pin it!