If you need a delicious cookie to serve at your Halloween bash, give these a try! We combined two of our favorite recipes to bring you this one! They are so soft and yummy!
​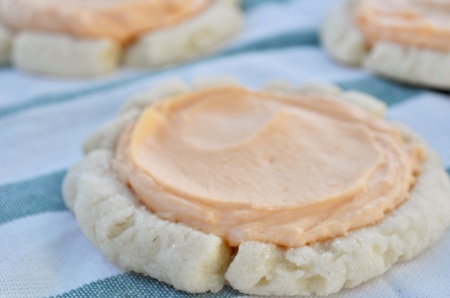 Sugar Cookie
1/2 cup butter, softened (I always use salted)
3/8 cup vegetable oil (1/4 cup plus half of a 1/4 cup)
1 cup sugar
1 egg
1/8 cup sour cream
1/2 tsp vanilla extract
1/4 tsp almond extract
1/4 tsp baking soda
1/2 tsp salt
2 3/4 cup flour

​Instructions: Cream together butter, oil, sugar, eggs, sour cream, and extracts. Mix in soda, salt, and flour until incorporated. Use a cookie scoop or roll 1 inch pieces of dough into a ball. Roll in sugar and place on cookie sheet. Dip a flat bottomed cup in granulated sugar then press the dough ball. The edges of the cookie will crack a little. I use a small mason jar (8 oz. jelly jar and it works perfect!) then bake at 350 degrees for 8-10 minutes. Your cookies will not brown. Let cool for a few minutes on your baking sheet then transfer to a cooling rack. Frost with recipe below!
Buttercream Frosting
1 cup butter, softened
1 tsp Almond flavored extract
4 cups powdered sugar
2 Tbsp milk or cream
This will make about 2 1/4 cups frosting
*Add food coloring for desired color of frosting
Instructions: Whip all ingredients together until fluffy!
Pin Me!