If you follow our social media channels then you know all about our rv reno we are in the thick of. We are going for a white clean slate on this rv. All white walls, neutral furniture, and light flooring. Our favorite way to decorate is by mixing the old with the new. We love a bit of rustic charm with new details. This stool adds a tiny bit of "glamping" to our camping.
​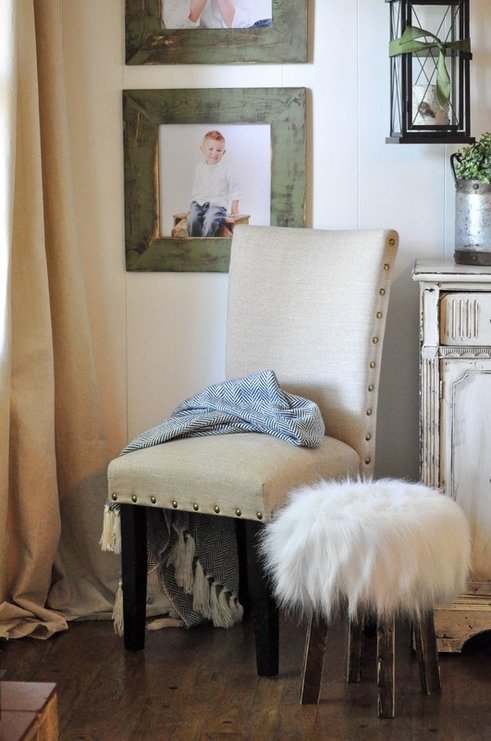 You can easily make this stool with the right tools. We chose to use
Fairfield World foam
for our seat. Fairfield makes a superior foam product that you'll love! You can purchase their products online or at many stores across the country (including Joann's). 
We also wrapped the foam in Cushion Wrap Batting which is also a Fairfield World product. You can purchase it here.
We also chose a higher quality fabric for this project. Our faux fur came from Shannon Fabrics. You can purchase at small boutique shops around the country, or online at retailers like fabric.com. For a complete list of retailers and to locate the nearest to you, click here.
Supplies Needed:
(4) 2x2 boards cut to 12" long (each end cut at 8 degrees)
1 round piece of pressed plywood 12" in diameter
Stain of choice for legs and bottom of round piece- We used Minwax Dark Walnut
Quality foam cut to the same diameter as the pressed plywood or you can buy a precut circle
here
Small piece of Cushion Wrap batting cut to wrap around the foam circle -Buy
here
from Fairfield World.
White Faux Fur Arctic Fox- cut to wrap around the foam and batting
Staple gun (air or just a handheld)
Instructions:
Cut 4 2x2 boards to 12" long make sure you set saw to 8 degrees. Stain the legs, distress if desired, and seal with spray poly-acrylic finishing spray.
​
Cut circle out with jig saw or buy pre-cut from your favorite lumber store (definitely the easiest choice)​. Stain the bottom of board if you'd like. Not necessary but it does add a more finished element to projects. 
​
Pre-drill your stool legs, and then drill them to the stool with a 2" long screws. your stool should feel very secure.
​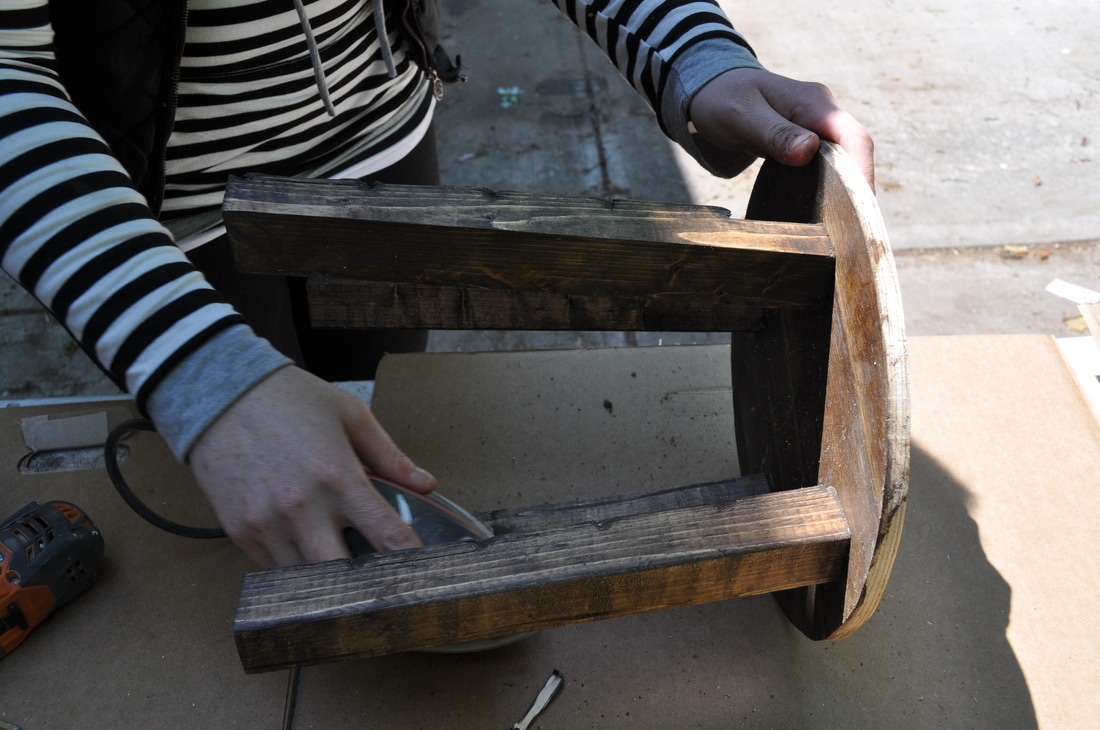 Now you'll need to cut your foam. We wanted this project to be as simple and "do-able" as possible for all of you DIY-ers. So....we used a razor blade. The foam wasn't perfectly cut, but the fur fabric leaves room for imperfections like this. To cut foam the correct way it is recommended that you use an electric kitchen knife if you have one!
​
Next, spread your fabric fur side down with your batting on top of it. Generously spray your wood circle with spray adhesive. Place your circle of foam on sticky surface and gently press.
​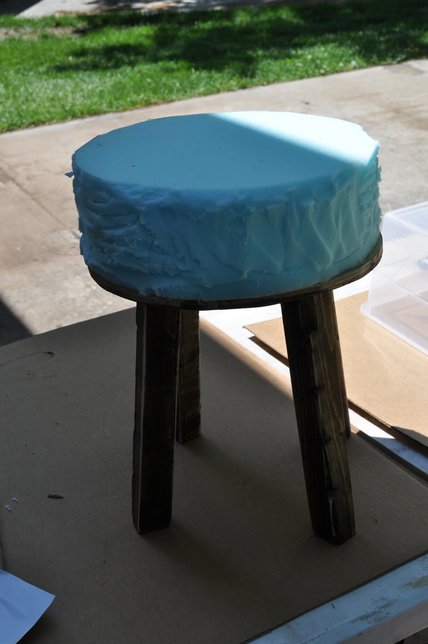 ​For this next part you will want to watch our video!
Flip the stool over onto the batting, and staple to the bottom of the stool. If you have any pieces of foam that are too long, trim them as you go.
​
Once your foam is covered with batting, cover it with the fur. Again trim any pieces that are too long. Roll the fur so your stool looks more "finished".
​
That is it! Truly an easy no sew project. Watch our video for more details and to see a step by step in action! If you have any questions feel free to ask! 
​To purchase Support Foam 4" thick click >>
Fairfield World
 , to purchase Cushion Wrap batting click >>
Fairfield World.
To purchase Arctic Fox Faux Fur, click
here
to find your nearest retailer.

​Pin it!!