My Mother-in-law made this cranberry salad a few years ago for Thanksgiving and I literally crave it! It's a must try!! The best cranberry salad recipe I've tried!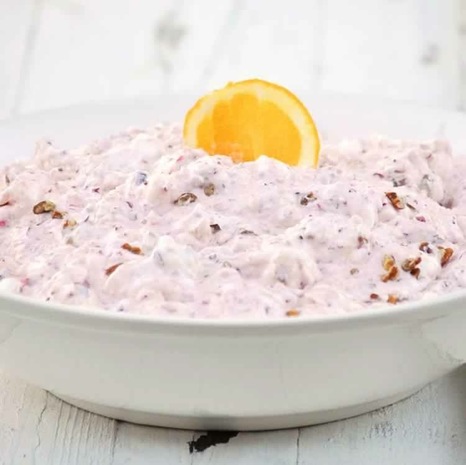 Cranberry Salad
1 lb. fresh cranberries. chopped
1 orange, peeled and chopped
1 cup sugar
2 cups mini marshmallows
1 can crushed pineapple
2 cups whipping cream, whipped
1 cup pecans, chopped
Directions: Mix all together in large bowl. We think it's best if it overnight in the refrigerator.
Step-by-step
Wash and chop one bag of fresh cranberries. I just pulse mine in the vitamix.
Peel one orange and pulse it in your mixer.
Add 1 cup white sugar and a can of crushed pineapple.
Measure 1 cup pecan halves and chop them. My sister-in-law Becky bought me this little gem from pampered chef and I LOVE IT!! Get one!
Add 2 cups of miniature marshmallows.
Whip 2 cups of whipping cream in your KitchenAid mixer.
Fold in whipped cream.
This salad is best if it sits overnight so the marshmallows fluff up! Enjoy!