BYU-Idaho is a school in Rexburg Idaho. They have a fabulous cafeteria and their Spinach Salad the best i've ever had!! I am so happy to have the recipe and to be able to share it with all of you.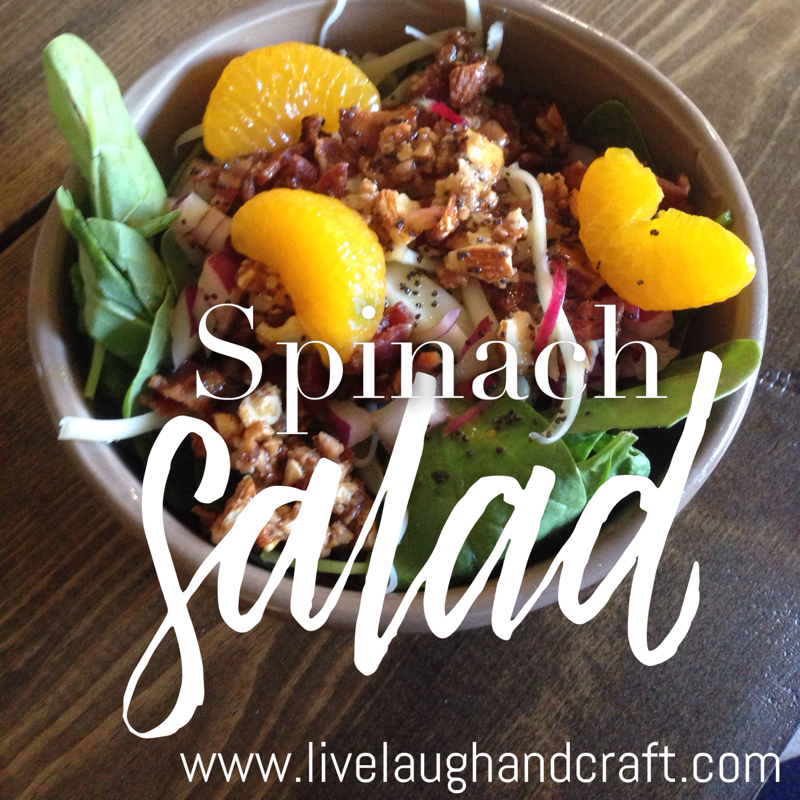 This is possibly one of my favorite salads! If you aren't familiar with the BYU-Idaho catering department do yourself a favor and never start! They make the most incredible food!
Seriously, I haven't tried anything from there that I didn't love! So here's where the love affair started...my mom ordered from the catering department on several occasions for weddings and parties, so the addiction began! I would call and place an order on Wednesday so it would be ready for Friday pickup before I headed back to Blackfoot for the weekend. I truly only did this a couple times and the order was always the same..... a 1/4 sheet cake (wedding cake, rosettes and all! haha) and either this delicious salad or a snickers salad (stay posted, recipe coming soon!) Seriously, I hope you love this salad as much as I do!
Spinach Salad

Spinach, large container
1 lb. Swiss cheese, grated
1 purple onion, finely chopped
1 lb. bacon, cooked and crumbled
1 can mandarin oranges
Candied almonds-Recipe below
Poppy seed dressing-Recipe below
Instructions: Mix all ingredients right before serving. Adjust any of the ingredients as you please!
Candied Almonds
¾- 1 cup Almonds, chopped
5-6 Tbsp. sugar
Lay a piece of parchment paper on your counter. Stir chopped almonds and sugar over medium heat until sugar is melted on almonds and they are browned. Pour on to parchment paper. When cooked break pieces of almonds into smaller chunks. Store in an air tight container.
Poppy seed Dressing
2 Tbsp. Poppy seed
1/3 c. white vinegar
¾ c. oil
1/2 c. sugar
2 Tbsp. purple onion, grated
1 tsp salt
2 Tbsp. prepared mustard
Mix all ingredients and store in an air tight container in the refrigerator.  Mix well right before you pour it on the salad.
Printable Version Here:
spinach_salad.docx
File Size:
14 kb
File Type:
docx
Download File
Enjoy!!!
***This makes a huge salad for a large crowd. It easily served 20 family members at a reunion this summer. I doubled the salad but not the dressing.