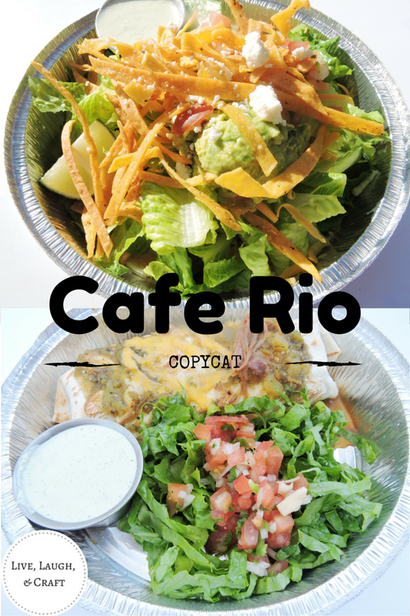 My love affair with Cafe Rio started when my three older siblings lived in Utah for college. I was terrified the first couple of times I went because the line workers talked so fast!! The panic was all worth it once you were able to attack the massive burrito!
Here are some of our favorite copycat Cafe Rio recipes! ENJOY!!!!​
Sweet Pork
5-6 lbs pork (I use "bone-in Boston pork butt")
2 cans Dr. Pepper
1 c. brown sugar
1 tbsp garlic powder
1 tbsp salt
1/2 c. water
Blend in blender
3 cans diced green chilies
1 large can red enchilada sauce (I use medium spice)

Put meat, blended sauce in the crock pot and add:
1-2 c. brown sugar
1 can Dr. Pepper

​Put pork, 2 cans of Dr. Pepper,  water, garlic, and  salt in crock pot on low for 8 hours- 10 hours. Remove pork from crock pot and drain any liquid left in the pot. Clean fat off pork and shred.
In a Blender, blend chilies and enchilada sauce.
Put shredded pork, blended sauce, 1 can of Dr. Pepper, and brown sugar in crock pot and cook on low for 2 hours.


Adapted from Fav Family Recipes


**You can also use coke instead of Dr.Pepper
Now that I've lived in the Midwest for 5 years, I've had to make Cafe Rio on my own to satisfy the craving! 

​Cilantro Lime Rice
1 c. uncooked rice (white rice)
1 tsp. butter
2 garlic cloves, minced
1 tsp. lime juice
1 can (15 oz) chicken broth
1 c. water
Pour over rice after it's cooked
1 Tbsp. lime juice
2 tsp. sugar
3 tbsp cilantro, chopped

​ In a saucepan combine rice, butter, garlic,  lime, chicken broth and water. Bring to a boil. Cover and cook on low 15-20 minutes, or until rice is tender. Remove from heat. In a small bowl combine lime juice, sugar and cilantro. Pour over cooked rice and mix in (fluff the rice.) *I double this recipe.
Pinto Beans
(step-by-step here!)
3 lbs. dry pinto beans, soaked overnight and rinsed
3-4 whole jalapenos, washed
1 lb. bacon, diced
1-2 white onions, chopped
1-2 bulbs garlic, peeled and left whole (around 15-20 cloves)

Boil your pinto beans or soak over night in a bowl. You will want to give them a good rinsing. You'll think you got all the grime off, but you haven't….keep rinsing!
Next you'll throw the beans into your pressure cooker. If you don't want to use a pressure cooker, you can certainly cook these in a crock pot but I recommend you try this way! Add in jalapenos, bacon , onions, and a ton of garlic! Finished filling with water until it's just over your beans and veggies/pork. Put the lid on and bring to a boil. Once you've got it to boil, steam will start to come out and you'll add your pressure valve! When the valve is whistling set your timer for 45 minutes. When done, turn off the heat and very very carefully slide your pot over so it's not on the hot burner. If you don't want to move it then cook your beans for 30 minutes and leave on the burner. Once all the pressure has been released (you'll know because it won't be loud and whistling) remove the lid. Take out the whole jalapenos and set aside.  Add salt to taste. It will take a bit but remember it's a lot of beans you just made! I usually add one or two jalapenos back in and mash it up for a little more flavor. 

​Creamy Cilantro Ranch Dressing
This recipe is from my friend Kim, I do add ranch seasoning to mine, but you can leave it out if you choose.
1 cup mayonnaise
1 cup sour cream
10 sprigs of cilantro
2 green tomatoes, peeled, washed, and quartered
1 green onion, washed and chopped
1/2 jalapeno, washed (leave seeds)
1/2 lime, juice only
1/2-1 tsp. salt
2 Tbsp. ranch powder
Blend all ingredients in blender until smooth.

​Mild Enchilada Sauce
1 large can diced green chilies
1 14 oz. jar Salsa Verde (green salsa)
1 c. chicken broth
4 tsp. sugar
2 tsp. salt
Combine all ingredients in small sauce pan. Bring to a boil, then reduce heat and let simmer for at least 20 minutes. Serve warm. You can refrigerate and reheat in the small saucepan- I always make mine the day before. 

Adapted from "Food is a Blessing"

​Guacamole
(step-by-step here!)
2 ripe avocados
1/2 of a ripe tomato, diced
1/4 white onion, diced
1/4 cup cilantro, chopped
cumin, to taste
salt & pepper, to taste
Fresh Garlic, to taste 

Cut avocados in half-length wise and remove seeds, take a spoon and scoop the inside of the avocado into a bowl. Mash the avocado with a fork and leave some chunks. Add onion, cilantro, and tomato; gently stir all together. Add spices according to your preference and enjoy!!!
Burrito Assembly
Flour Tortilla
Pork
Rice
Beans
Cheese
Roll up and cook
Smother burrito in the mild enchilada sauce and sprinkle with cheese. Broil in the oven until the cheese is melted.
Top with Shredded Romaine lettuce and Pico de Gallo.
Salad Assembly
Place the cooked flour tortilla on a plate or in an aluminum dish. Then layer with:
Pork
Rice
Beans
Romaine Lettuce
Shredded cheese
Guacamole
Pico de Gallo
Tortilla Strips
Lime wedge
Cotija cheese
​Cilantro Ranch