This is a sponsored conversation written by me on behalf of Cricut. The opinions and text are all mine.
We've compiled a roundup of our favorite 25 holiday signs made with Cricut. These DIY signs would make a great gift for any person on your Christmas list.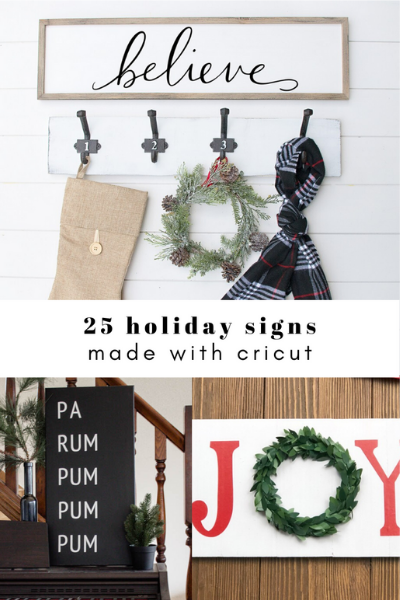 TOP 25 HOLIDAY GIFTS AND DECOR USING CRICUT
Boy have you hit the jackpot! We've compiled a list of 25-holiday signs made with Cricut that you can make TODAY!!
I don't want to get all cheesy on you here, BUT, you can't put a price on a homemade gift. A homemade sign is a great gift for anyone, even that impossible person to shop for on your list that already has everything.
Not in need of any gifts and just here for the decor? Great! This roundup is for you too!!
Merry and Bright
By: Laura's Crafty Life
I'm loving the bold colors on this sign. If you don't add much color into your everyday decor, Christmas is a great month to bring in those bright reds and greens. This sign does that perfectly!!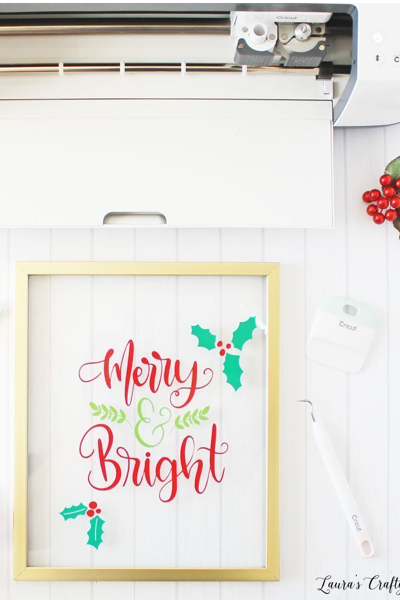 Elf Bake Shop
By: Over The Big Moon
Ok....how cute is this cookie frosting bar?! I mean, really!! Pam from Over The Big Moon knows how to throw a mean party. I personally love how signs add a certain element to parties (and cookie bars in this instance) that takes party decor WAY up a notch.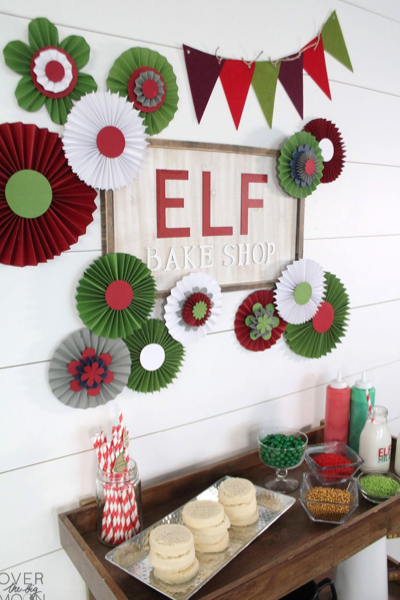 Merry Little Christmas
By: Natalie Shaw
Every time I see these lyrics on a sign, I can't just read it. ALWAYS singing it. Wood slat signs have that certain rustic feel that is so popular right now. Also, the felt elements here?! LOVE!
Elf Parking
By: Over The Big Moon
Elf Parking....ADORABLE! This is a sign kids AND adults will both love. And the little hooks add an extra element for hanging even more Christmas decor! Win win!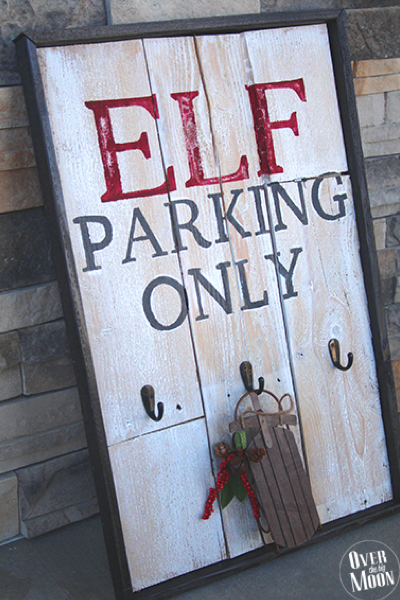 Bed & Breakfast
By:Kingston Crafts
Look at all of the detail on this Bed and Breakfast sign!! Now THAT is a showstopper. I love the neutral sign colors paired with the bright holiday decor.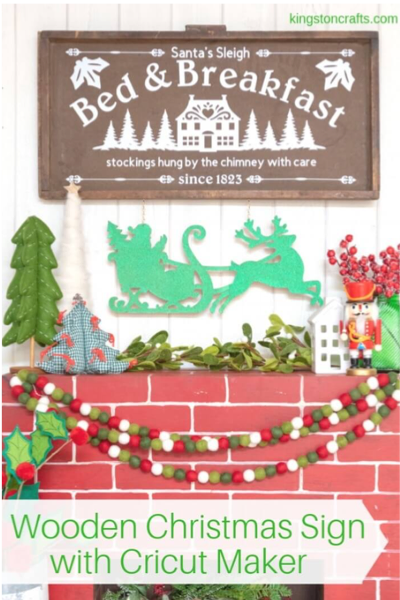 Farm Fresh Christmas Trees
By: Leap of Faith Crafting
Alright, chalkboard signs are king. Really though, I love them. How cute would this sign be paired with some small fresh or faux Christmas trees?! You could even take it a step further and put the trees in a vintage crock, bucket, or basket.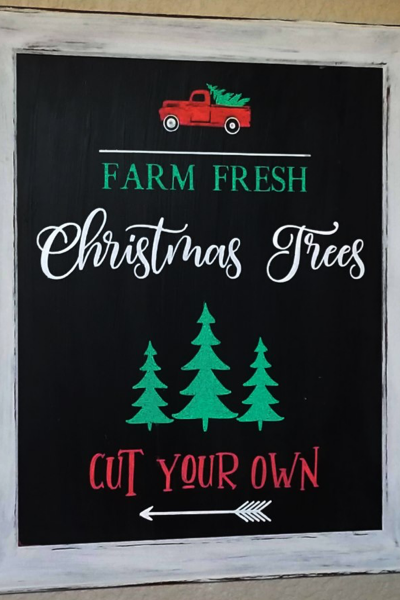 Baby It's Cold Outside
By: Amber Simmons
Now here is a sign idea I've yet to do but TOTALLY can get down with. Framed sign ornaments?! SO cute!! You could run hog wild with this idea. Even objects instead of words would be adorable...like mittens, skis, snowmen, stars, etc. OR if you go all out with decorating a have a "theme" for the year....this would be a cute way to display that theme with a single sign on your tree.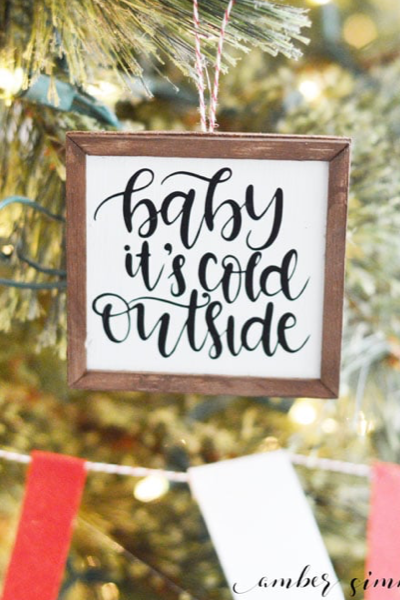 Fresh Cut Christmas Trees
By: Paula Biggs for Frog Prince Paperie
Again with the fresh-cut Christmas tree!!! Notice how different this is than the last? That is the FABULOUS thing about DIY decor. You get to personalize every single detail to match your home and taste. This rustic brown against the bright red is amazing.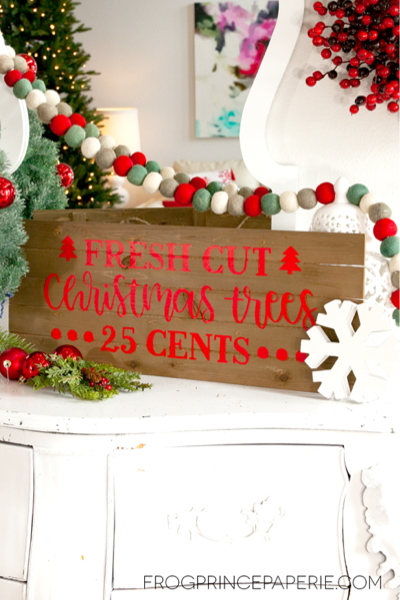 Believe Sign
By:Pineapple Paper Co.
How beautiful and simple does it get with this Believe sign? It's perfectly displayed above coat hooks that also offer functionality and a great place for more Christmas decor! Score!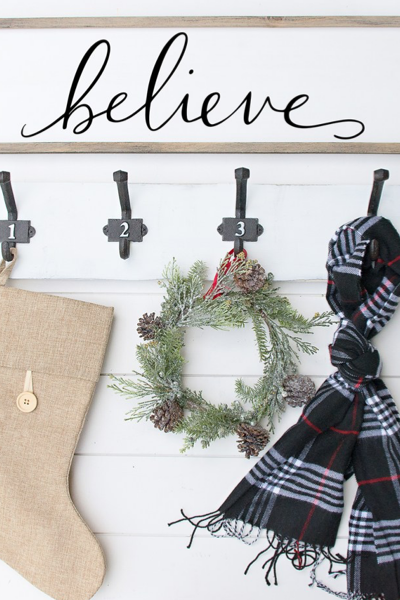 Joy Wreath Sign
By: 5 Little Monsters
Listen, anywhere you can add greenery to something...I'm there for it. You can't go wrong with a simple JOY sign (LOVE THE RED) and a wreath in place of the "O". It's perfect.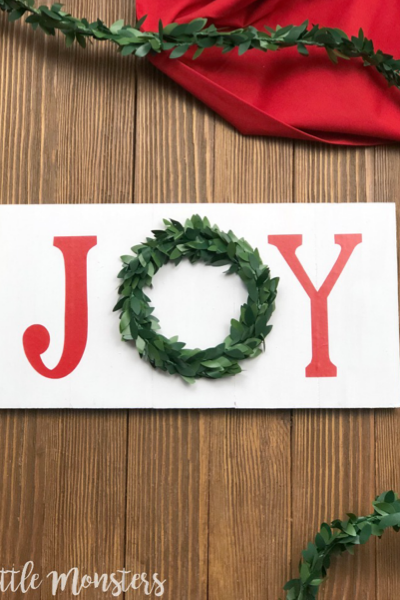 Double Sided Porch Sign
By: Over The Big Moon
Vertical porch signs are perfect for all year round, but especially Christmas. We always like to make our porch signs double-sided too. Some favorite combos of mine are Thankful & Believe (Thanksgiving and Christmas), Welcome & Merry Christmas (Year-Round and Christmas). Here are only 2 ideas but the possibilities are endless. I don't watch or get involved in sports of ANY kind, but if I did, I'd display my favorite sports team on one side of my porch sign.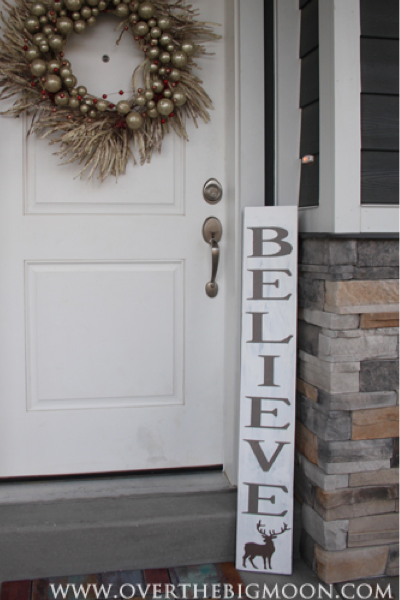 Joy to the World Sign
By: Hazel + Gold Designs
Here's a combo you don't see very often and it's beautiful! A wood sign with a white frame. It has a nice clean rustic look to it. I also love throwing in religious phrases and lyrics to my Christmas decor so this is a great way to do that.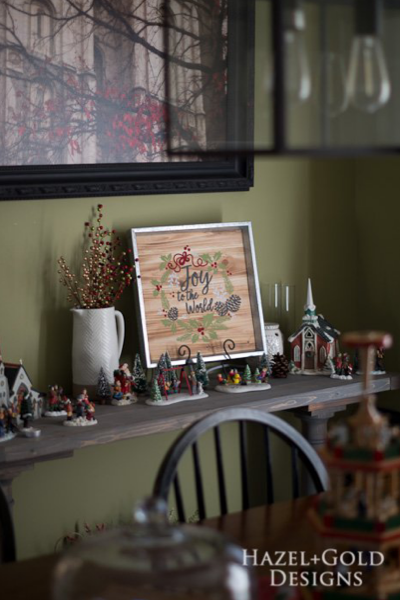 North Pole Sign
By: Over the Big Moon
I LOVE all the different elements of this sign. So much to look at and adorable. Also, you could totally use scrap lumber for this project so that's amazing.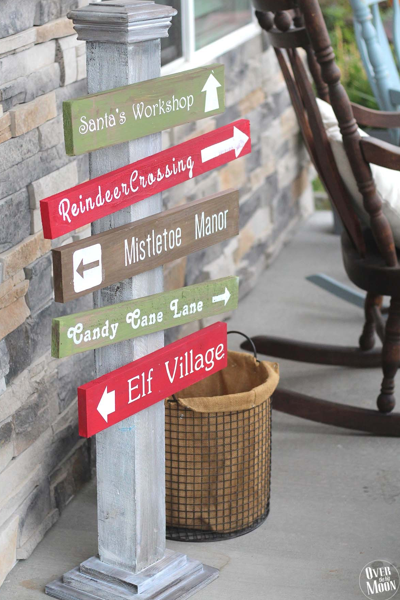 Modern Christmas Sign
By: Love Create Celebrate
Freaking CUTE! So simple. Love the block font and that you never see this saying on a sign. It's perfectly moody and classy enough for any room/style!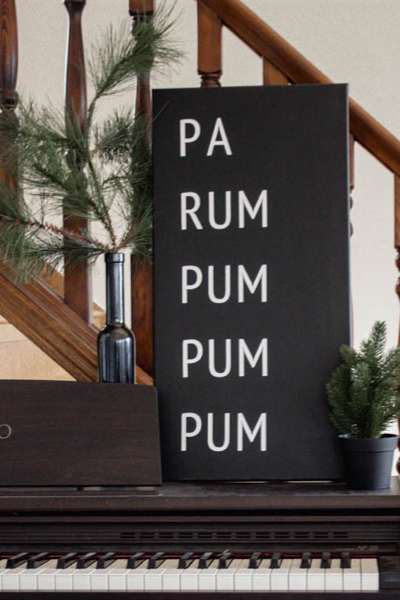 Noel
By: Love Create Celebrate
The black and gold here are really speaking to me. I love a little gold in my holiday decor. I also think it's worth mentioning that a majority of these signs aren't framed and they still look great! The painted edges on this sign give it a nice finished look without the extra steps of framing.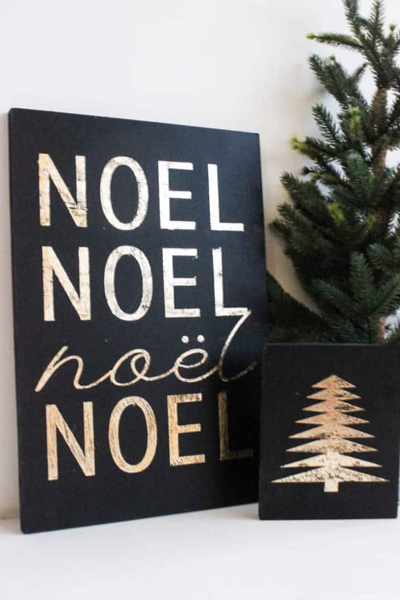 Joyful
By: Love Create Celebrate
FREAKING LOVE THIS JOYFUL SIGN. I am a sucker for this color combo. It's also unconventionally layed and I love that!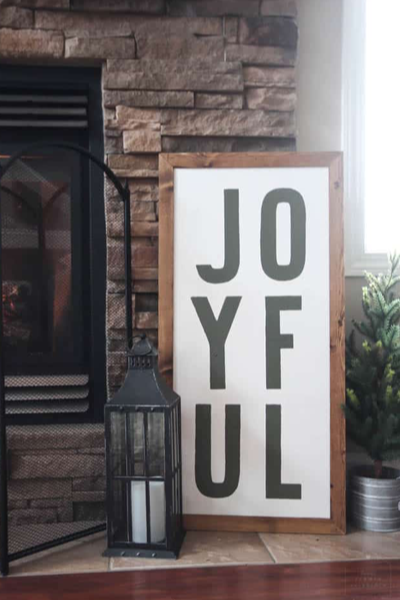 O Holy Night
By: The Idea Room
Holy smokes is this sign beautiful! Wow! The script font and beautiful lyrics make for a stunning piece. This would look great in any home!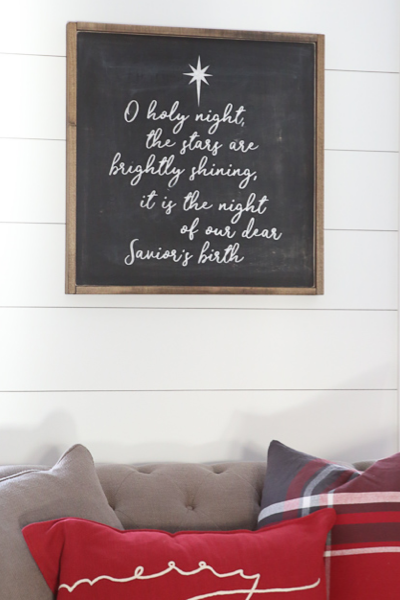 Pallet Board Nativity
By: Poofy Cheeks
One year my sisters made about a million of these and let me tell you, they make great gifts! Super easy to make and if you do a lot of woodworking projects, chances are you have scrap lumber laying around you can use.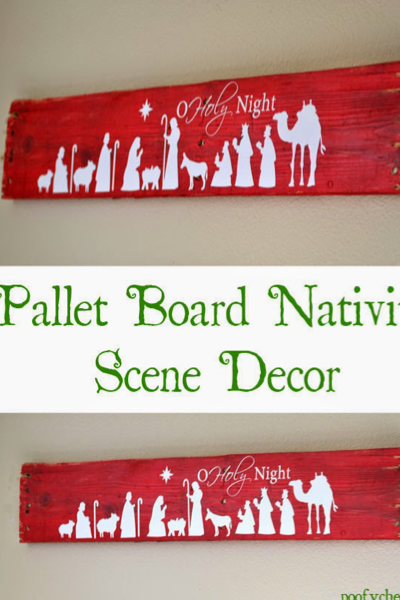 Countdown to Christmas
By: 5 Little Monsters
A perfect little countdown to Christmas sign on a chalkboard so you can easily write in the "days until".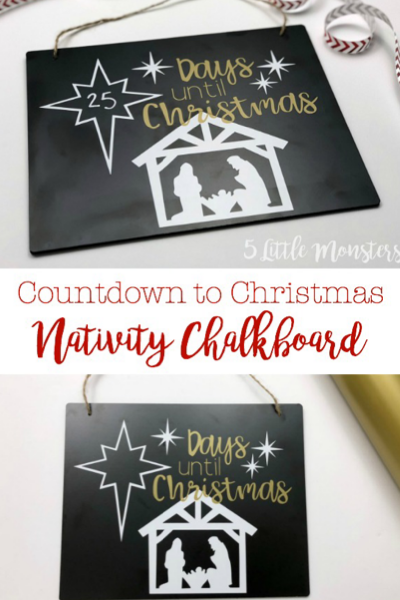 Buffalo Check Believe
By: 5 Little Monsters
Any day of the week I'll gladly display buffalo check anything at my house...especially at Christmas. Here's another spin on "believe" and believe it or not, it's a completely different look than the last! The sky is the limit!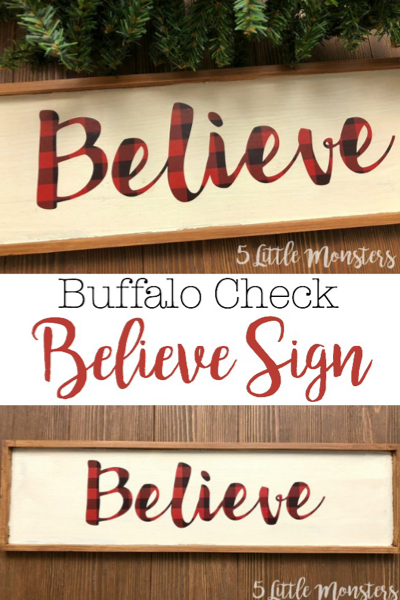 Quick Joy Sign
By: 5 Little Monsters
Quick and craft might be my two favorite words to put together. This is a cute little sign that would make a fabulous gift! You can make multiple at one time and cross a slew of people off your Christmas list.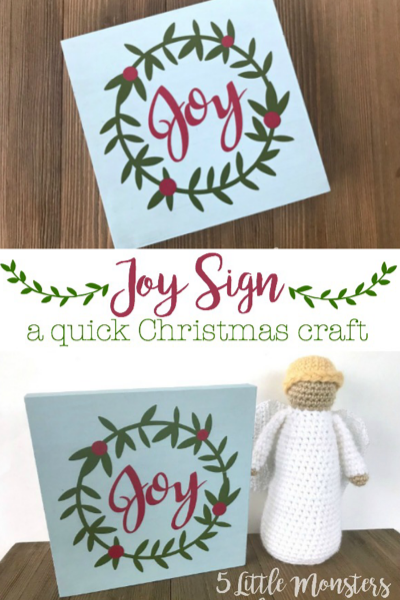 Believe in the Magic
By: Happiness is Homemade by Heidi Kundin
Homemade signs don't have to be made out of wood. Check out this canvas banner!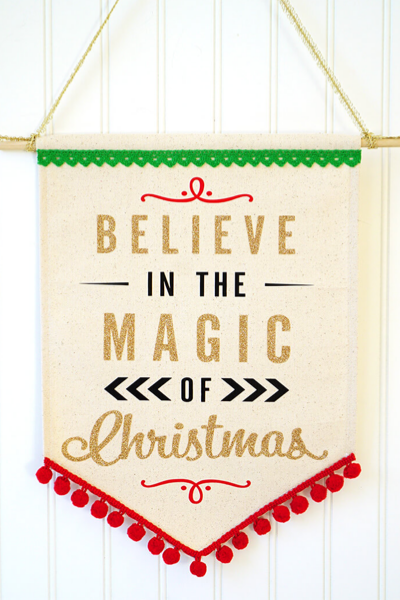 DIY Advent Calendar
By: Sweet Red Poppy
Here's a little different spin on the holiday signs we've shared so far. An adorable advent calendar!!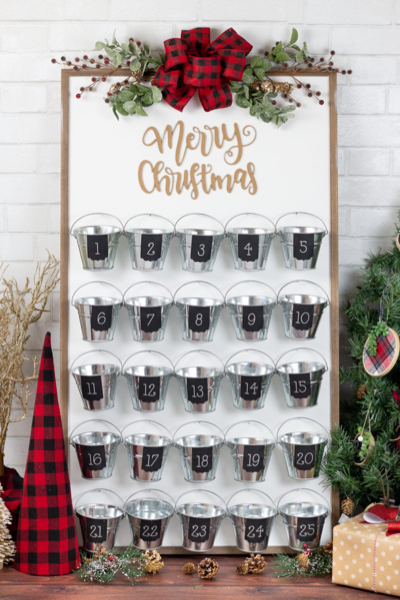 DIY Advent Calendar
By: PMQ for Two
Continuing on with the advent calendar, look at this colorful, cute tree design!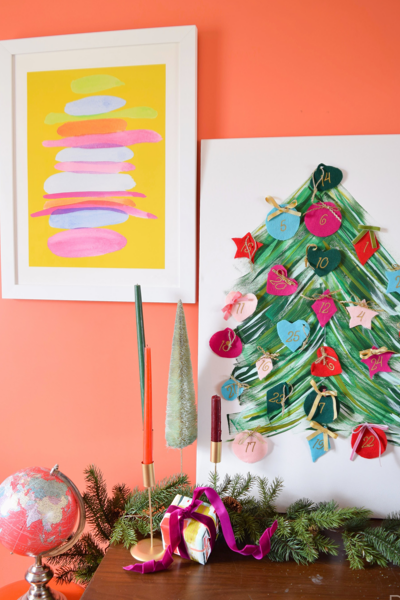 Warm Up Here
By: The Crafted Sparrow
Here's a cute cocoa bar sign "warm-up here"! Who doesn't love a cocoa bar? How cute to hang the sign on the front of the buffet instead of a wall too!!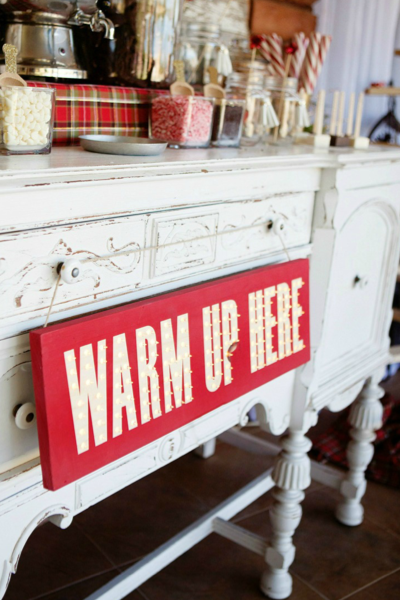 We hope you've been inspired to get out your Cricut Maker or Explore Air 2 and get to creating! You can truly make anything you want!! A customized sign to match your taste this very Christmas!
Happy Crafting, friends!
Pin it!!