Do it yourself Restoration hardware industrial shelves are a simple and inexpensive way to dress up your home! In just 5 easy steps you can add these shelves to your home as well!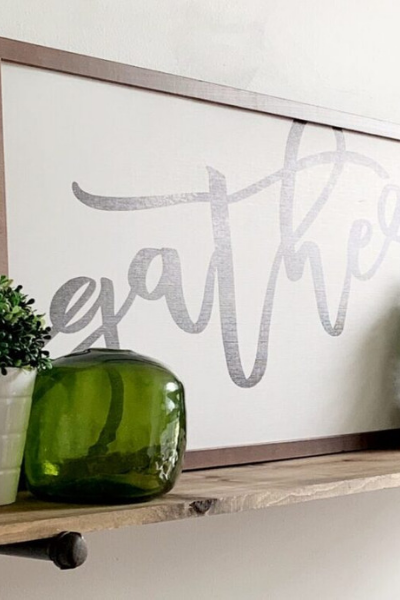 DIY Restoration Hardware Industrial Shelving
There aren't many stores I love more than Restoration Hardware. That is where I found the inspiration for these shelves! They are dreamy to say the least, but let's be real here....who can really justify spending over $500 on shelving? Not me and you don't have to either! Follow these 5 easy steps to achieve a similar look with these DIY Restoration Hardware Industrial Shelves.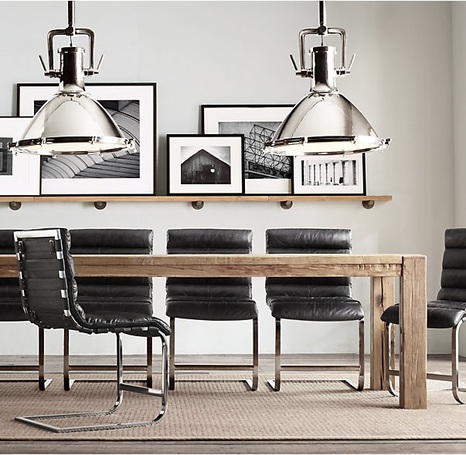 Supplies for DIY Restoration Hardware Industrial Shelves
*These supplies will make 2 shelves that are 10" deep and 3 feet long
1 Board 1 x 10 x 6 ( this is a pine board that is 1 inch thick, 10 inches wide, and 6 feet long)
Paint; optional
Varnish
Screws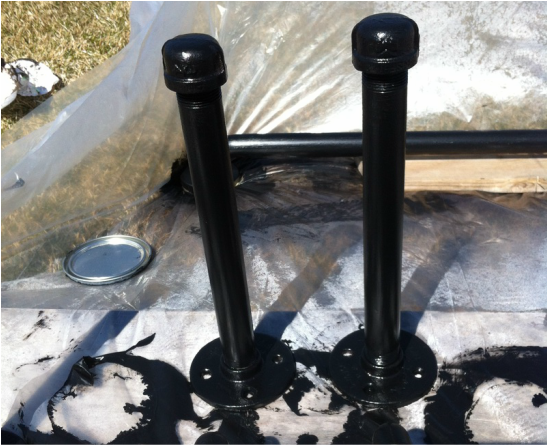 First things first with your DIY Restoration Hardware Industrial Shelves, Assemble Galvanized Piping and remove any bar-code or other stickers. I hated this part the most, it was the biggest pain!
Next you'll paint all pieces if you desire! I've done both painted and not painted. It all varies by the color if the pipes. If they are all the same color I leave them, but a galvanized pip mixed with a black piece is no good friends! Makes my "self diagnosed OCD" kick in high gear! HIGH GEAR I TELL YOU!
While your pipe pieces are drying you'll cut your 6 foot board in half and sand the edges with 120 grit sandpaper. The purpose is simply to remove any splintered wood and smooth the surface. Now is the time to varnish or paint your lumber. We LOVE Varathane Wood Stain that is made by Rust-Oleum.
Now spray the dried pipes and board with an acrylic finishing spray. Once dry attach to your wall! I enlisted the help of my husband for this. Make sure you hit studs so they stay in your wall.

Last but not least, my most favorite part....decorating your new DIY Restoration Hardware Industrial Shelves!!
Below you'll find a few places and ways we've changed up our Industrial Shelves!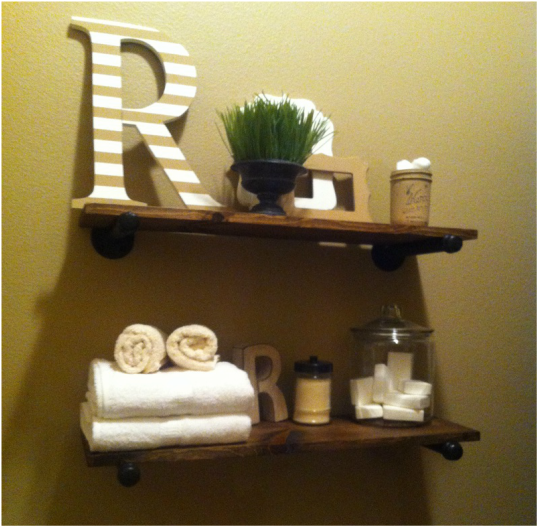 These Industrial Shelves that we did at our Day Spa in the Bathroom!
**There are various Diameters of pipe you can purchase and use and well as thicker board. We chose 3/4" Piping and 1 inch board thickness initially because of the cost. Now that the project is finished we are so glad we made the decision we did! They are perfect for the space they were made for!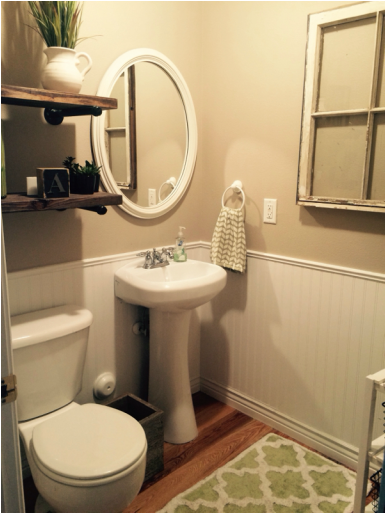 We love the simplicity of these shelves! You can check them out here! These particular DIY Restoration Hardware Industrial Shelves are in our sister Amanda's powder room. Here we went with the thicker 2" wood and we love it just as mush as the 1" thick wood!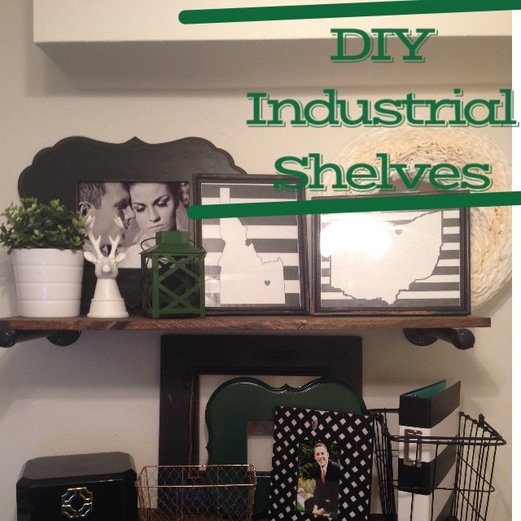 Love the DIY Restoration Hardware Industrial Shelves in our office. I love the rustic feel they bring to the Crisp white and black room.
Caring is sharing, don't forget to pin it!