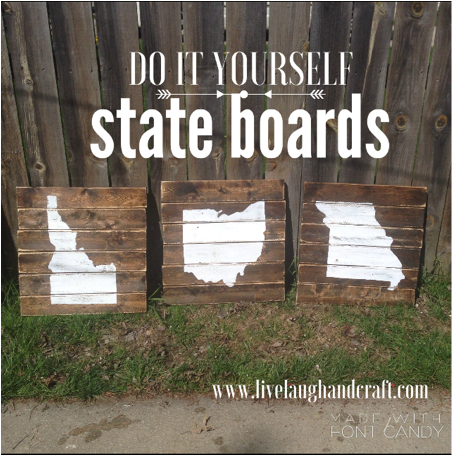 These planked signs are as easy as it gets! I wanted to create these to take up some wall space. I decided I'd paint the states we've lived in as a married couple!
Idaho (where I'm from and where Rex wishes he's from) is where we met! We lived there for 2 1/2 years. In 2012 we packed our little family up and headed to Ohio!
I don't think there are many place more beautiful than Ohio-it will forever have a piece of my heart!
My hubby graduated from medical school in May and we are now in Missouri while he completes a 3 year surgical residency! So there you have it!
This is why I have Idaho, Ohio, and Missouri hanging on my wall!
These signs are roughly 20×21 inches. Feel free to adjust and make your own!
I picked up some furring strip boards that were 1x4x8 and cut 20″ pieces. Cut 2 20″ 1x2x8 furring boards per planked sign (I made three signs so I cut 6).
Each sign took roughly 2 furring boards.
Flip the cut boards over so the side you don't want showing is facing you.

Lay out 6 pieces and the other 2 pieces will be the support pieces in the back.

Lay the 6 pieces running horizontal then take the other two pieces and run them vertical at the edge of the horizontal boards.

Nail them in place with your nail gun and you're good to go!
If this doesn't make sense you can check out pictures here!