This chocolate frosting is reminiscent of my childhood. My mom and grandma both made it many times! It has such a rich chocolate taste and it's so thick and fudgy.
OLD FASHIONED CHOCOLATE FUDGE FROSTING
Old Fashioned Chocolate Fudge Frosting is the cure all to sadness! This simple and rich frosting with be a crowd and family favorite!
I also included an awesome chocolate cake recipe at the bottom. It's fantastic!​
​
​Old Fashioned Chocolate Fudge Frosting
3/4 C. Evaporated Milk
2 C. Granulated Sugar
1/2 C. Butter
Dash of Salt
3/4 C. Milk Chocolate chips
1 Tsp. Vanilla
Walnuts (optional)
​
Instructions: Put the evaporated milk, sugar, butter, and salt in a saucepan on medium high heat. Boil for 5 minutes. Remove from the heat and add chocolate chips and vanilla. Spread over cooled cake and enjoy!
I failed to get a picture of the chocolate chips melted completely in the frosting....but the photo belows shows what it looked like when I took the frosting off of the heat and added the vanilla and chocolate chips.
Caring is sharing! Use any of our share buttons, or hover over the photo below and click Pin It to Pinterest!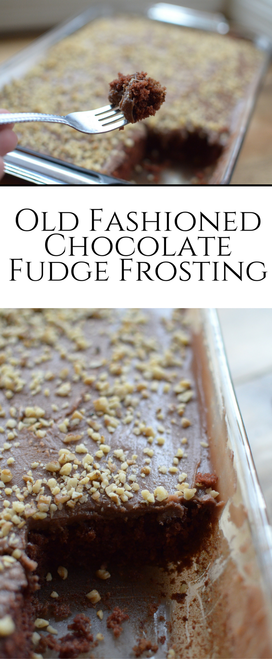 ​This chocolate cake is also an old recipe we found in our family cookbook. It has a great taste and texture! A recipe definitely worth saving!
Buttermilk Chocolate Cake
1 1/2 C. Granulated Sugar
3 Tbs. Cocoa Powder
1/2 C. Shortening
2 Eggs
1 C. Buttermilk
2 C. Flour
1 Tsp. Vanilla
1/2 Tsp. Salt
1 C. Hot Water
2 Tsp. Soda
Instructions: 
Cream Sugar, cocoa, and shortening together. Add remainder of ingredients and mix well. Bake in a greased 9 X 13 pan at 350 degrees for 25-30 min, until a toothpick inserted into the center comes out clean.