We are so excited to be participating in this Fall tablescape blog hop. There is so much inspiration to see. Visiting us from
Mint Candy Designs
? Welcome to Clover Lane!!
​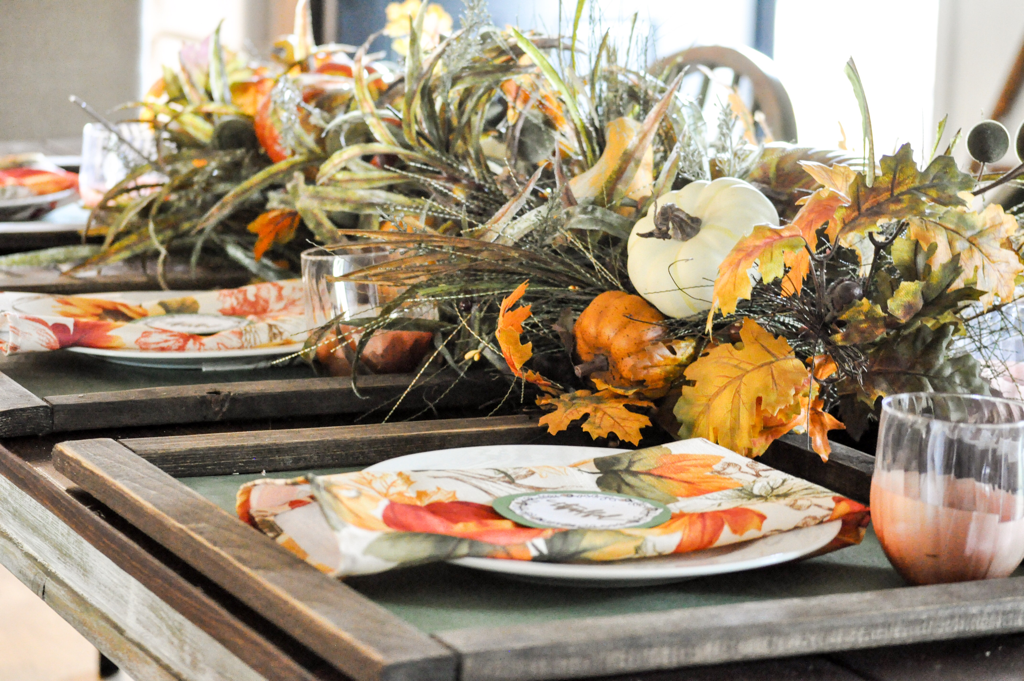 ​There is something so magical about Fall. I get giddy just thinking about it. The way the earth looks as the leaves change colors….simply breathtaking!Not only do I love the scenery around me, but I love the activities associated with Fall. School back in session, Halloween, Thanksgiving. Oh Thanksgiving! Don't even get me started! It really is such a special time of year. We get the opportunity to reflect on all of the many blessings in our lives. A big one being family.
I am thrilled to share my Thanksgiving tablescape with you today as this is such a special holiday. I love spending time with my family and doing of my favorite activities….baking and eating!
I wanted a big focal point of this tablescape to be my farmhouse table. I made this table large so my family and friends could gather together for special events such as Thanksgiving. I didn't want to cover it with a tablecloth, so after a bit of brainstorming, Sadie and I came up with the idea to make green square chargers.
​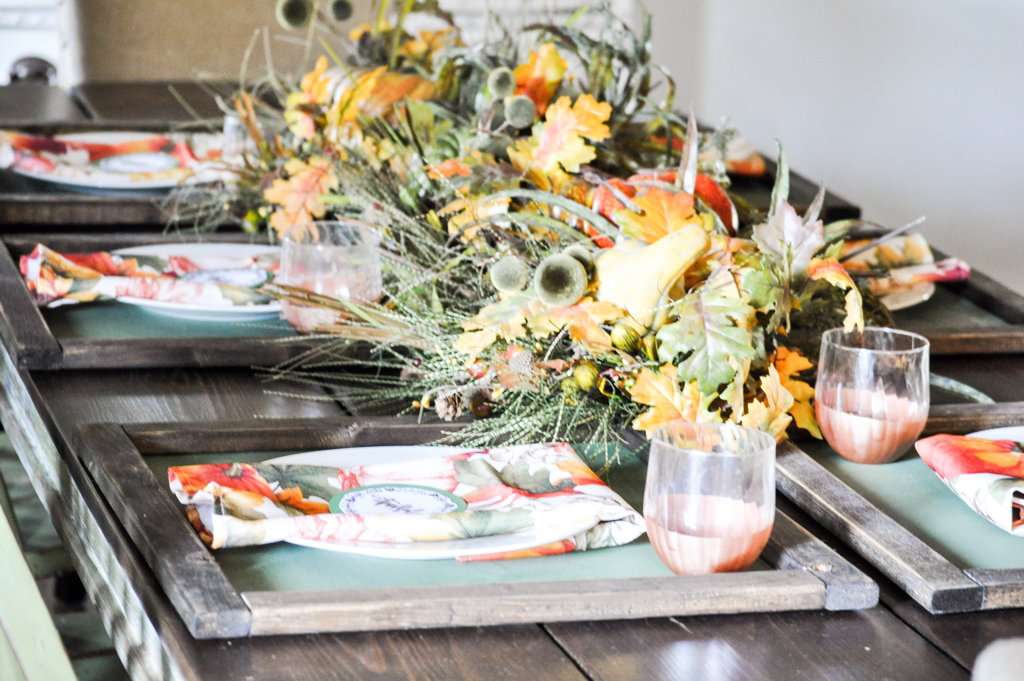 These chargers turned out even better than planned. They just might be my favorite part of the whole tablescape.
​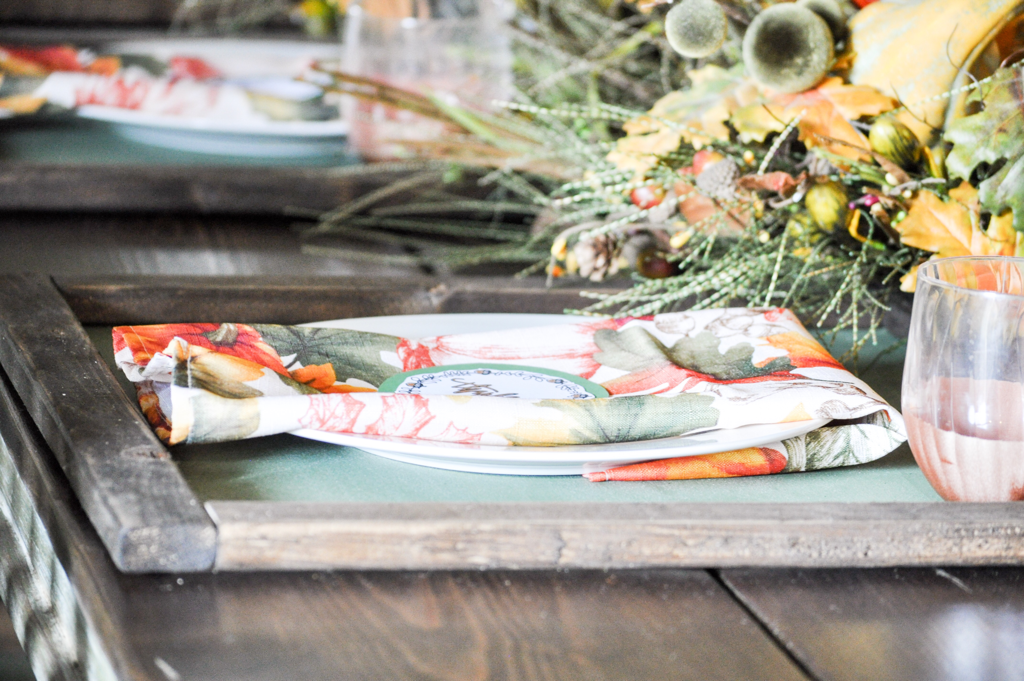 ​I put the center floral arrangement together with a trip to Hobby Lobby (last year). I am big on "shopping" my own home. I knew I had enough Fall decor to pull from without buying anything. The only things I did buy are these AMAZING plastic (can you believe these are plastic) cups from Chinet, these beautiful new white plates from The Dollar Tree, and the perfect linen fall napkins from Bed, Bath, & Beyond.
​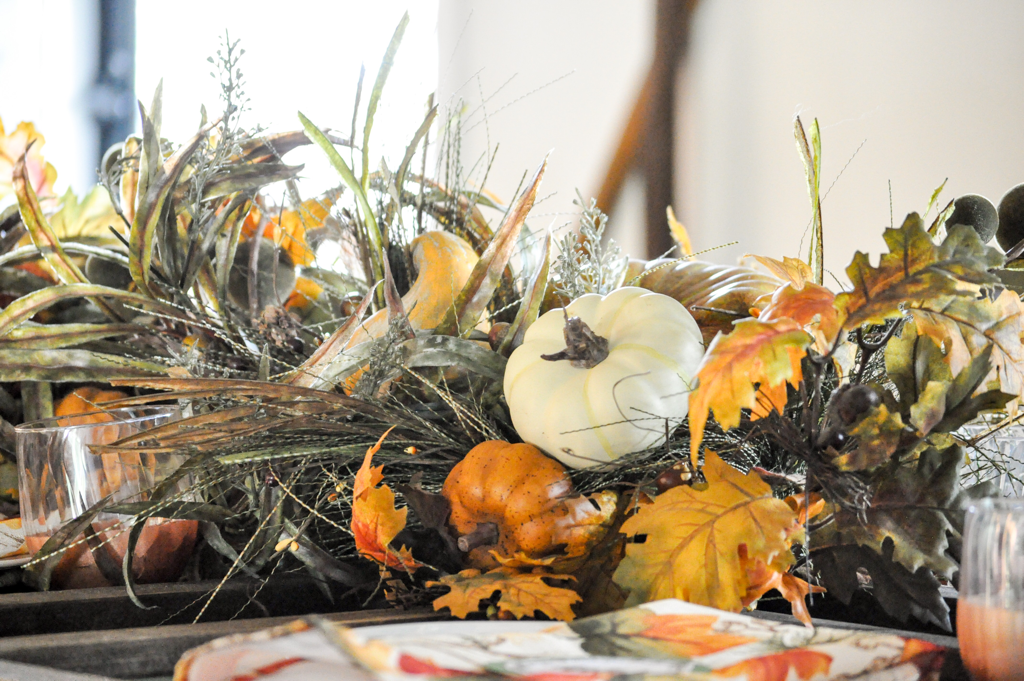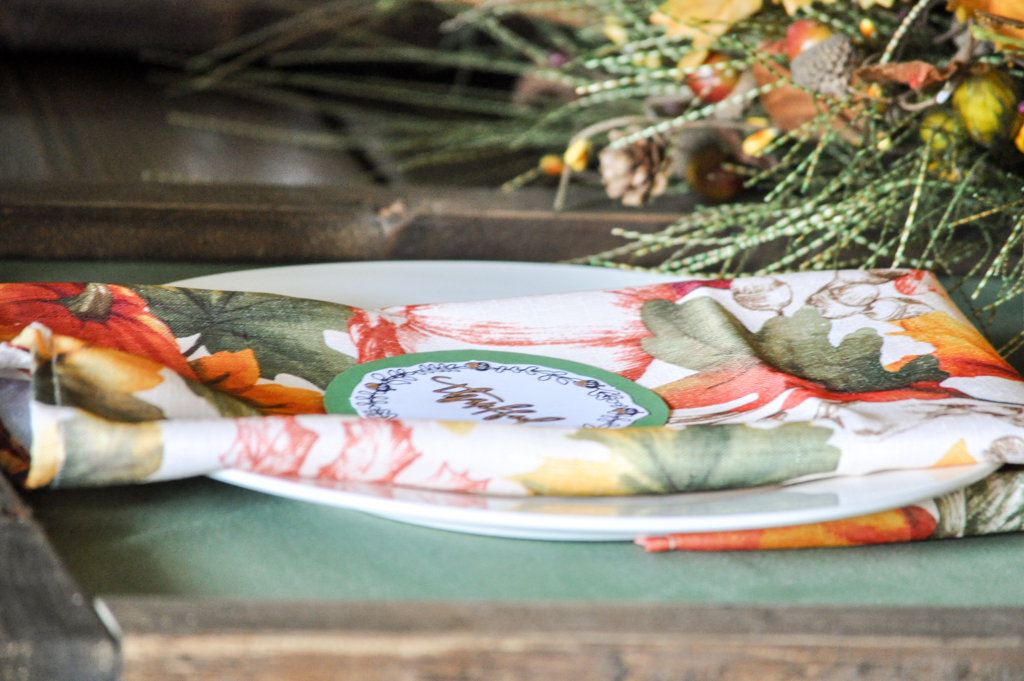 I am pretty in love with how these cups turned out from Chinet. I love that my kids can drink out of them and I don't have to stress that they'll be dropped and broken. I wanted to pull in a bit of copper, so I taped off the cup and painted it with copper craft paint! Aren't they beautiful?!
​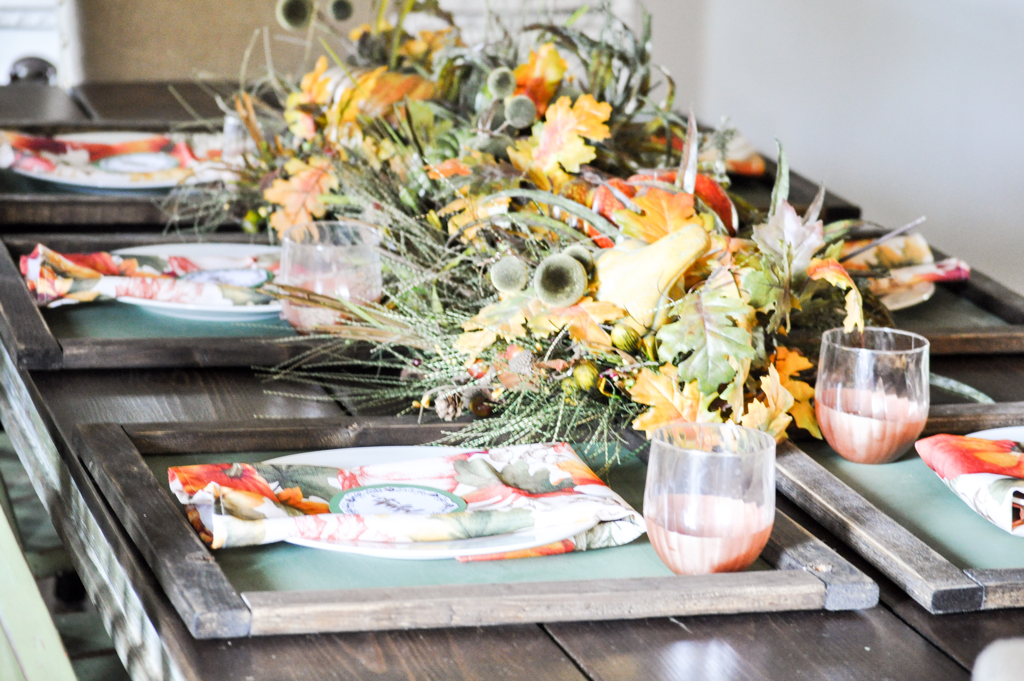 You can easily recreate a Fall tablescape just like this! It is a simple, yet beautiful way to decorate your home for any Fall parties you might be hosting this year. As always, shop your home. Look through your Fall decor and pull out the pumpkins and greenery.
​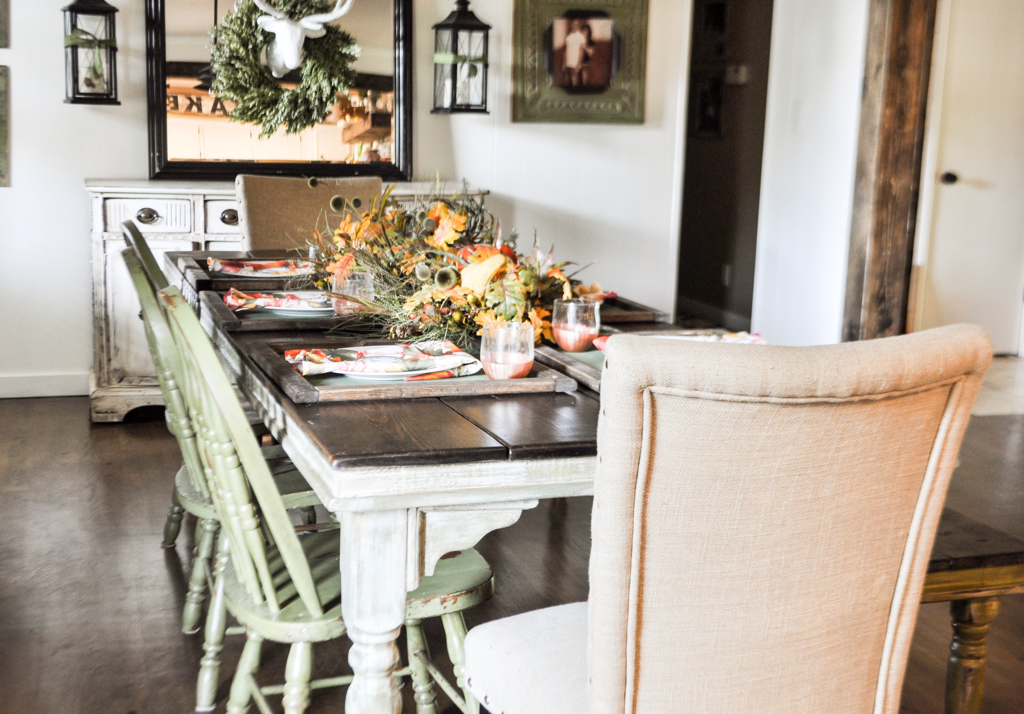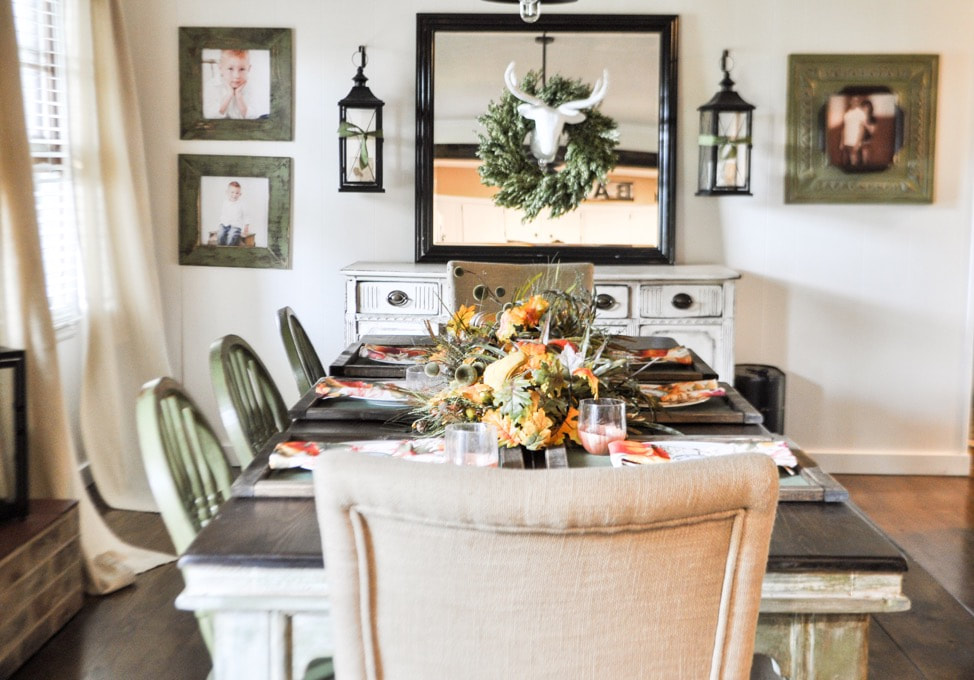 Check out the talented Denise over at 
Happy Haute Home by clicking here
. We promise you will be so inspired!!!
Don't forget to check out the rest of the beautiful tablescapes in the Falling into Autumn Blog Hop linked below!