You probably clicked on this post to see if I was joking.....I'm not! Here's why you should ditch your razor.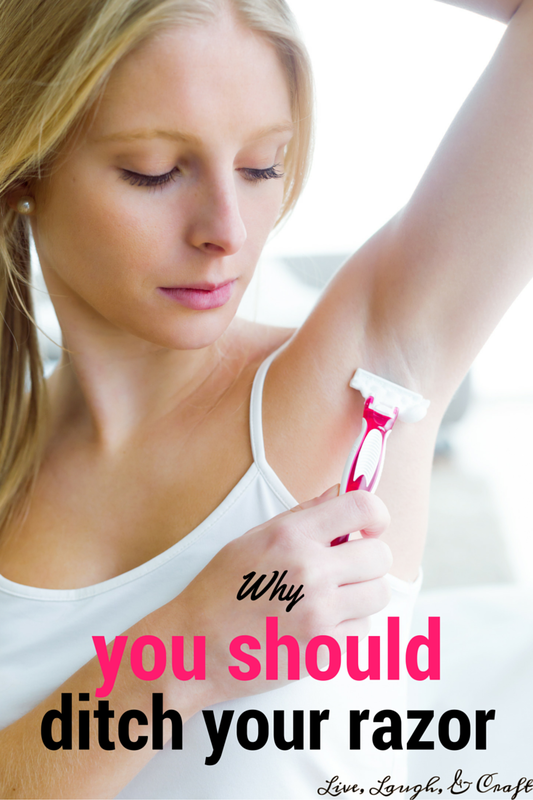 I have 4 good reasons why you should ditch your razor when it comes to your underarms.
Now if you are one of those women who only have like 3 underarm hairs, stop reading. If you are like the rest of the planet and get a 5:00 shadow on your underarms, then this article is for you!
I get the WORST razor rash/bumps on my underarms when I shave them. To the point that it hurts if my shirt rubs on them. It was almost near impossible to get a close shave because my skin was so irritated. If this sounds like you, then I present reason #1, why you should wax and not shave your underarms.
I mentioned the 5:00 shadow above....this is reason #2. NEVER have a 5:00 shadow on your pits again. I can't be the only human being on the planet who feels like this can I?
Reason #3. This one goes hand in hand with reason #2. You know what is nice? Having smooth underarms for weeks. It makes me feel so......womanly!
Love the idea of damaging the hair follicle by consistently waxing? I do! There aren't many things quite as satisfying when it comes to being proactive with getting rid of pesky hair! I present...reason #4. You WILL notice a change in your hair! It will become sparse and will take longer and longer to grow in. It is worth the growing out phase and the teeny tiny amount of pain just for this reason alone.
Most people can't stomach the thoughts of growing their body hair out long enough to be waxed. To properly remove body hair while waxing, hair should be 1/4 in. to 1/2 in. long. It isn't that bad I swear! You need to stop shaving at least 2 weeks before your waxing appointment. Don't even bother getting them waxed if you can't commit to growing your hair out. They won't be smooth.
Getting your underarms waxed is fast and doesn't hurt too bad. If I said it didn't hurt at all, I would be lying. It is however worth it! I always tell clients.....WAX YOUR ARMPITS (I say underarms because its more professional but I am getting sick of saying that word right now). You absolutely won't regret it. It might even change your life! 😉
P.s. Don't wax your own armpits. Sometimes we get these ideas to wax our loved ones or ourselves....don't do it. Leave this one to the professionals! Underarm skin can be very sensitive!