This yummy 7-up jello salad recipe is a big throwback. A retro jello salad complete with shredded cheese on top. If I could share the barfing emoji, I would. Don't worry, we omitted the shredded cheese. Is shredded cheese on jello an Idaho/Utah/Mormon thing? Or was that a worldwide phenomenon? Either way this YUMMY 7-UP jello SALAD is amazing!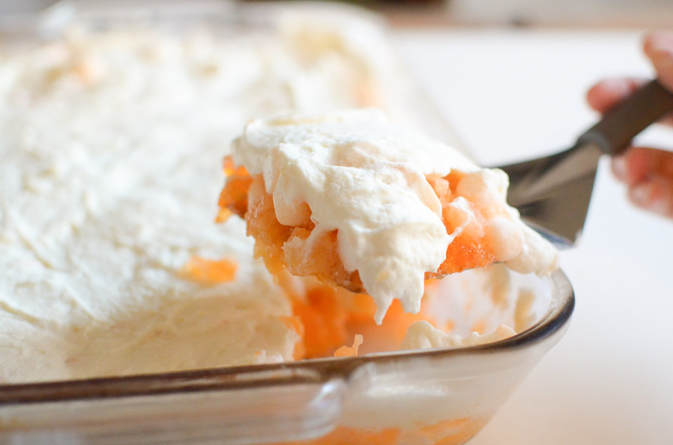 Cassie and I are cooking our way through our family cookbook this year. Our mom, Grandma, and their friend Rhea made this cookbook called Polly's Pantry. Every time we flip through it we see so many hidden gems. We decided that this was our year to share those recipes with you. Be excited about this YUMMY 7-UP SALAD. It's the best!! 
So let's talk about this 7-Up Jello Salad. It has the most incredible pineapple pudding/whipped cream topping. AMAZING! And the jello has a little fizz to it from the soda.
Pineapple Pudding Cream Topping:

1/2 C. Pineapple Juice
1/2 C. Granulated Sugar
1 Tbs. Flour
1 Egg
1 C. Whipped Cream
7-up Salad Instructions: Dissolve jello in 2 cups of hot water in a 5 Qt. Pyrex dish. Allow it to cool. Add 2 cups of 7-up. Let it set until thick (I put mine in the fridge). Once thickened, add 2 cups of crushed pineapple, 3 sliced bananas, and 1 1/2 cups of mini marshmallows.
Topping Instructions: Add pineapple juice, sugar, flour, and egg to a saucepan. Mix well, then turn on your burner to medium high. Cook until it starts to boil, at which point it will thicken. Cool, then fold in the whipped cream. Spread on jello and refrigerate until ready to serve.
Refer to the step by step photos below for clarification.