Why I only use professional
hair styling products, and you should too! Why would anyone want to pay more for their producgt when they can get drugstore products for cheaper? Let's find out!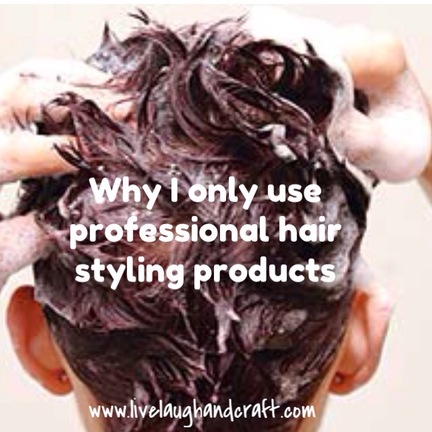 Alright, so I'm not here to sell you any product....just to tell why I will only use the good stuff!
It all started around age 11. My oldest sister had just graduated from cosmetology school. It was then that I was introduced to professional products but wouldn't realize how lucky I was until I was blow drying my hair at a friends house some time later and my hair felt like wax from her shampoo and conditioner. I had never known that the products I used before the good stuff left a film on my hair! YIKES!
My hair was static and it wouldn't curl how I wanted it to. A bad hair day can really wreck your whole day. Today I am here to tell you that it is worth the extra investment to buy professional products from your trusted stylist. 
When you leave the salon, your hair feels light and clean! It curls or straightens perfectly and for some reason you just can't get the same results at home-- well, it's the product and tools! No more, "I just can't get my hair to look like it does when I leave the salon."
The beautiful thing about professional tools: They get hot enough to do the job....while still maintaining the hair integrity. If you want to achieve that perfect curl or the stick straight shiny look then invest in a nice straightener and curling iron. Sure they can be pricey but they will last longer and work  better than the drugstore brands!
My personal favorites:
Shampoo and Conditioner: Pureology or Colorproof (hydrate in both)
| | |
| --- | --- |
| Curling Iron: Hot Tools  | Straightener: Babyliss or Chi |
.....and last but not least.....
Conclusion: You and your hair will really love and appreciate good product and tools. Every day your routine will be easier and you will look like you just walked out of the salon!
Don't try to convert all at once. It can be expensive so make a list and start working through it.
-Start with the shampoo and conditioner. Be sure to stick to using the recommended amount for your hair length because the good stuff stretches farther and lasts longer, saving money in the long run.
-Next, go for the blow dryer.
Then,, start adding styling tools as finances allow.
Watch for sales around the holidays and even if you don't quite need the new bottle, be prepared to get your stock up. Also remember, professional styling tools often have a warranty that if something goes wrong, the company will make it right with you-- once again saving you money in the long run. -Sadie