DIY tissue paper tassel garland is SUCH a cute way to up your party game! Grab a Dr. Pepper and sit down in front of the tv, because we are about to get our craft on!! ps....you can save your garland & reuse it for parties to come!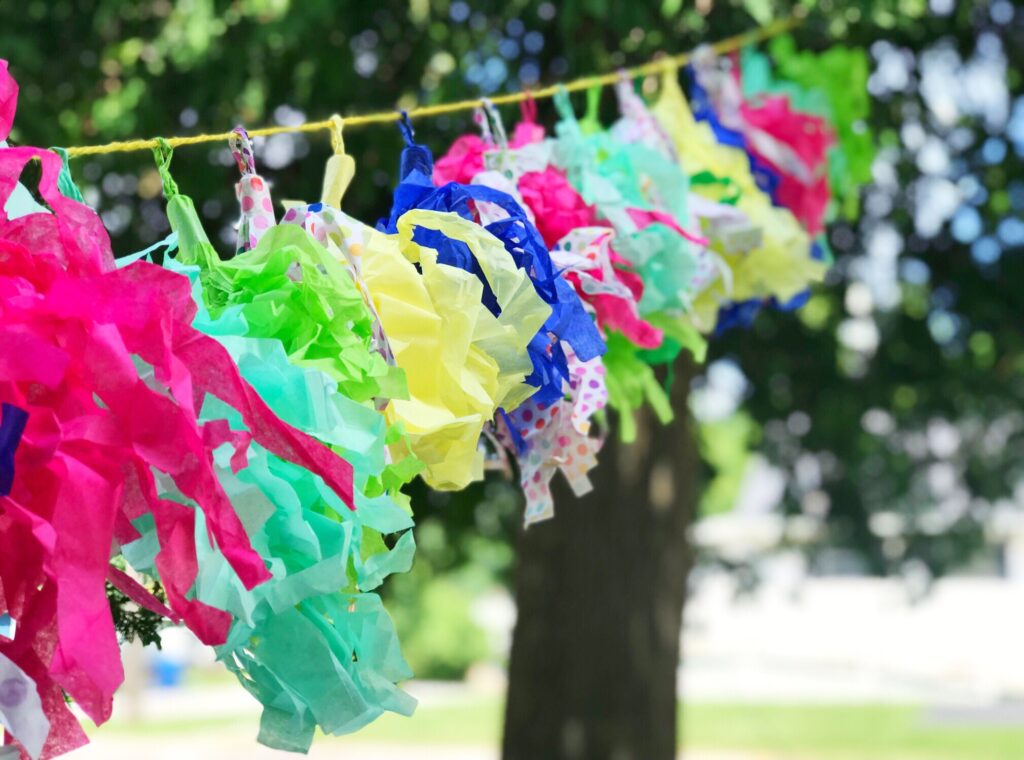 DIY Tissue Paper Tassels
So you're throwing a party and you need some inexpensive, yet bold party decor. Look no further than the tissue paper tassel garland. It doesn't get cuter...have you seen the fringe?
When picking out your tassel colors, go with at least 2 coodinating patterns and 3-5 solid colors. Don't be afraid to mix stripes and polka dots! Have fun and let your creativity flow.
I've made these tassels for St. Patrick's Day, a "Great To Be 8" Baptism Preview for church, and multiple birthday parties. They go with everything!
DIY tissue paper tassels
Tissue Paper- 1 piece makes 1 tassel
Scissors
Tape
String
This post may contain affiliate links. See our full disclosure at the bottom of this post
Fold your tissue paper in half, then in half again so you have a perfect square. (I use 20" x 20" paper, so it measured 10" x 10" after folding)
Cut strips up the 10''x10'' square, leaving 1 1/2" at the top uncut
Unfold the tassel so it's 10" x 20"
Begin rolling the tissue paper along your uncut top border
Pull up two sets of tissue strips out of the roll (this will be the piece that you'll thread the string or ribbon through.)
Next, hold the two strips along the border you are rolling with your right hand. Twist the strips with your left handwith your left hand until they make a tight little rope.
Fold the new rop down to create a loop
Now tape a piece of scotch tape to secure the loop in place
Next, continue rolling along the border, even further securing the loop in place
Aftter the tassel has been rolled, secure the last roll in place with a piece of scotch tape
Fluff the tassel and you're done!!
Thread string through the loops of all of your tissue paper tassels and hang. it. up.
Like to watch DIY tutorials? Check out my video below: **Note that I am using a material called Oly-Fun made by Fairfield World. The same principles apply to both DIY tissue paper tassels and Oly-Fun tassels. Enjoy!
caring is sharing! share the DIY Tissue Paper Tassel pin below!