If you've walked through Walmart, Hobby Lobby, or browsed Pinterest within the last few weeks, you've seen Halloween out and about. So it shouldn't be too revolting that we are talking about it on here right? 😉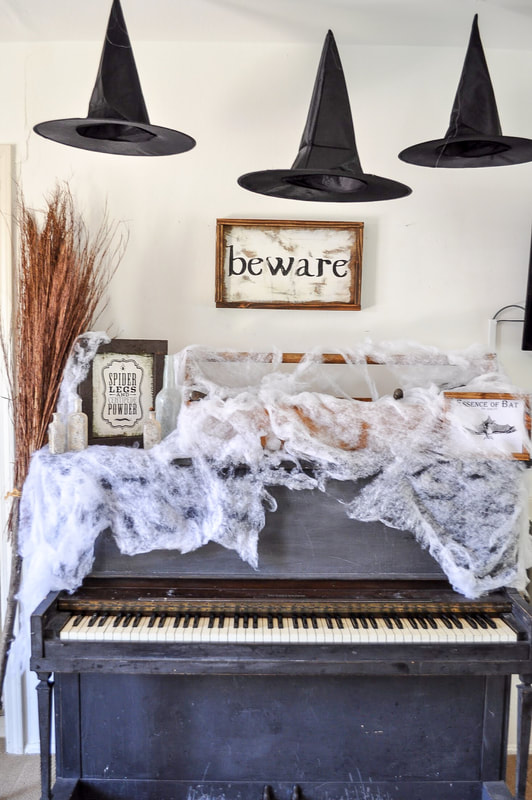 I am so excited to share my Halloween piano today. I keep thinking it is a mantle because that is kind of how I treat it. It is indeed a piano though. I do love to play this piano, but it is really fun to decorate too! Speaking of pianos....if you need a free one, check out the San Francisco Bay Area Craigslist "Free Stuff" section. I could get multiple free pianos a week. Even grand pianos! Craziest thing ever.
This piano here was a free find from Craigslist. I gave it a really easy chalk paint/liming wax makeover and fell in love with it. It will accompany me across the country from here on out to wherever we may end up.
To get these spooky spider webs on your mantle or piano, you will need a Craft Size package of Poly-Fil Quilt Batting from Fairfield World. You can grab it from Joann's, Walmart,
www.fairfieldworld.com
, Amazon...pretty much any major craft retailer.​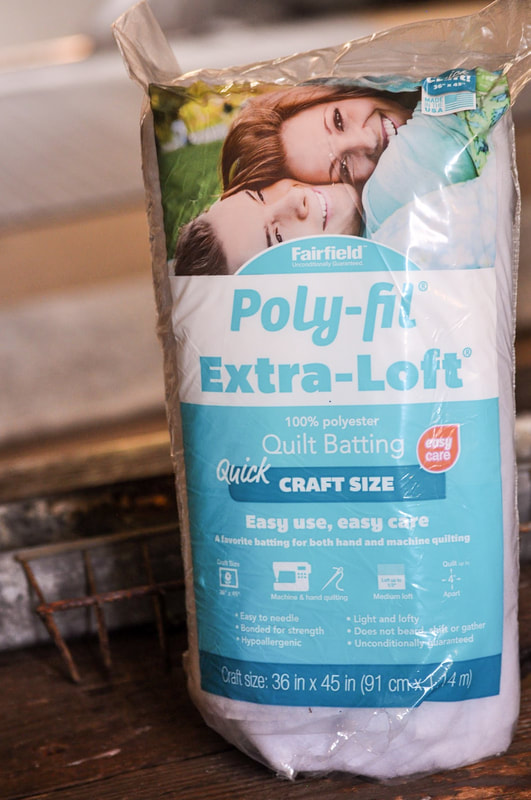 This Craft Size package was the perfect size for the job. Run, don't walk to your nearest craft store so you can get the perfect faux spider webs just like these.
Alright now the first thing you will do is separate the batting by pulling the layers apart. I got 3 layers total pulled apart. I maybe could have gotten another layer but use your judgment on this. The reason you want to separate these layers is because it thins out the batting and gives a more authentic look.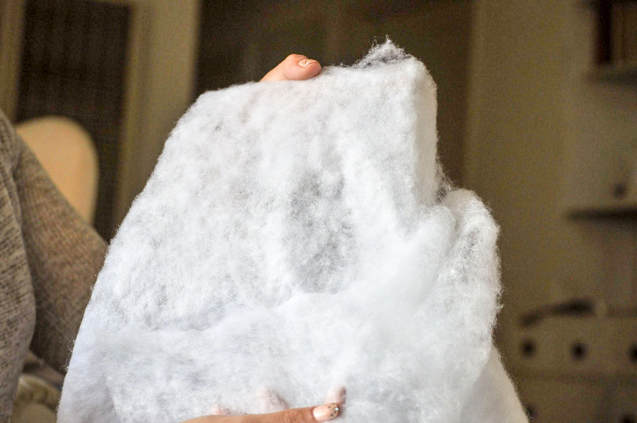 After you have your thin layers separated, started pulling apart each layer.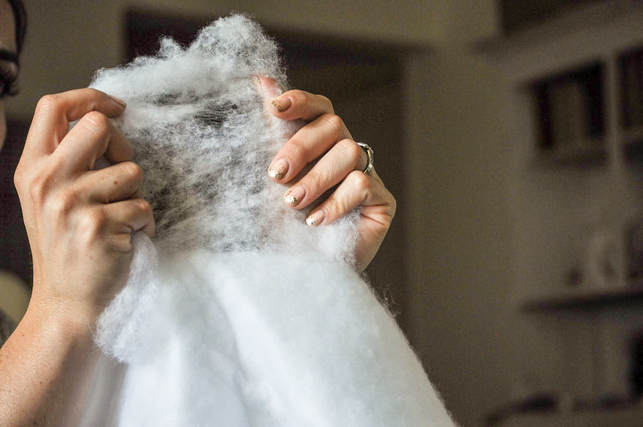 You want a thin look like the photo below, with little holes. Try to pull apart the batting enough that you don't have any thick white spots.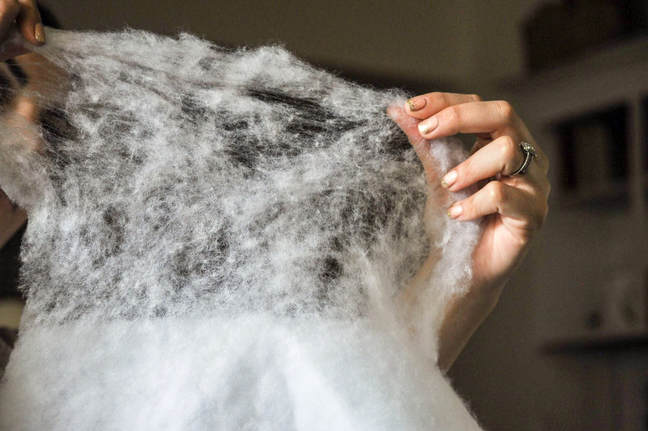 Once you've done this to all 3 layers of batting, start laying it over your mantle or piano. If you need smaller pieces, rip your separated layers into pieces for easier decorating.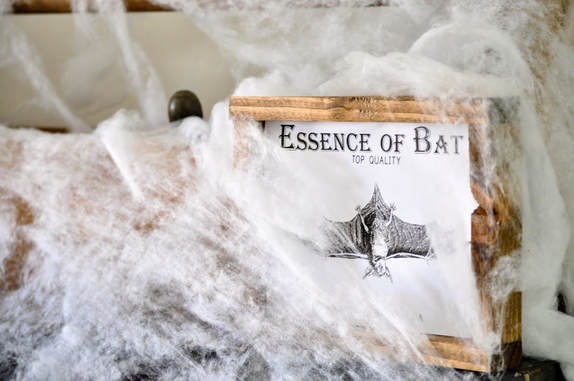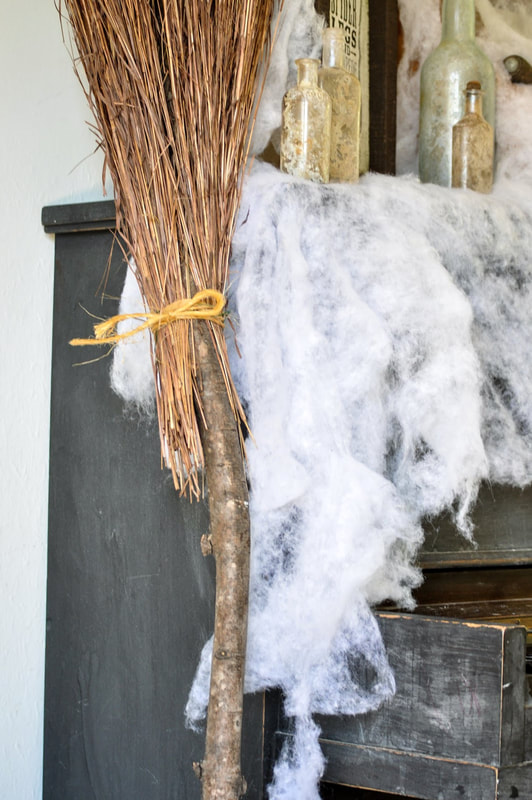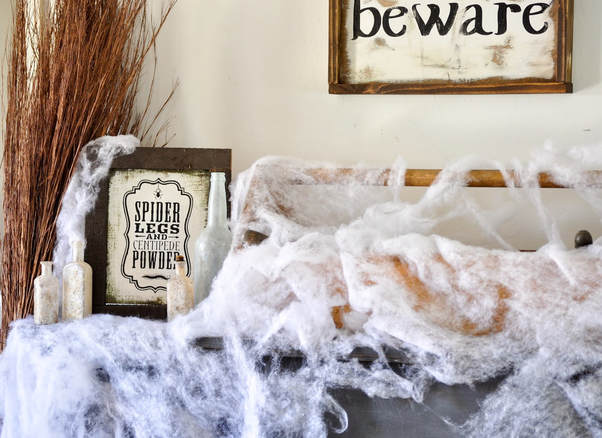 Throw in a few halloween signs and old apothecary jars. FYI I got these jars at an antique store for dirt cheap! They added a lot of character to this look I think!! Definitely worth scoping out your nearest antique shop.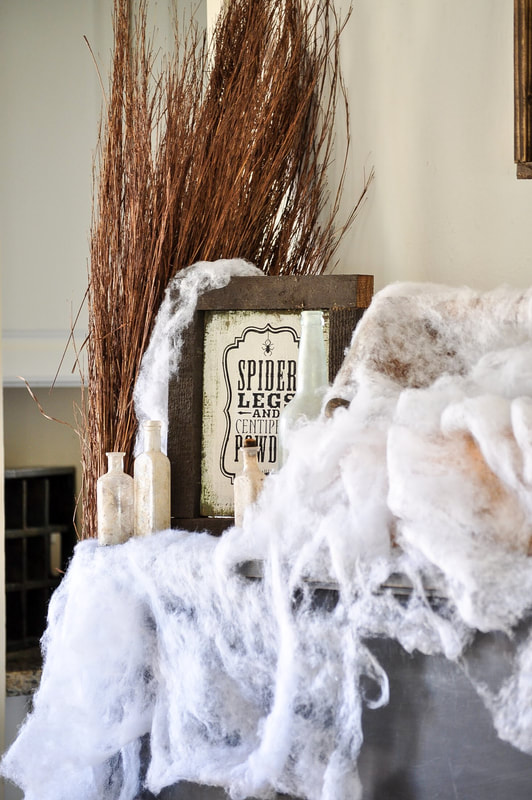 Hang some cheap witches hat from the ceiling with fishing line (and trim yours better than I did so you don't see the string hanging haha).
Buy batting online here.
And as always, if you have any questions, send us a message. If you recreate this look, tag us on one of our social channels so we can see it!!! Don't forget to follow us so you don't miss out on our next project or mouth watering recipe.