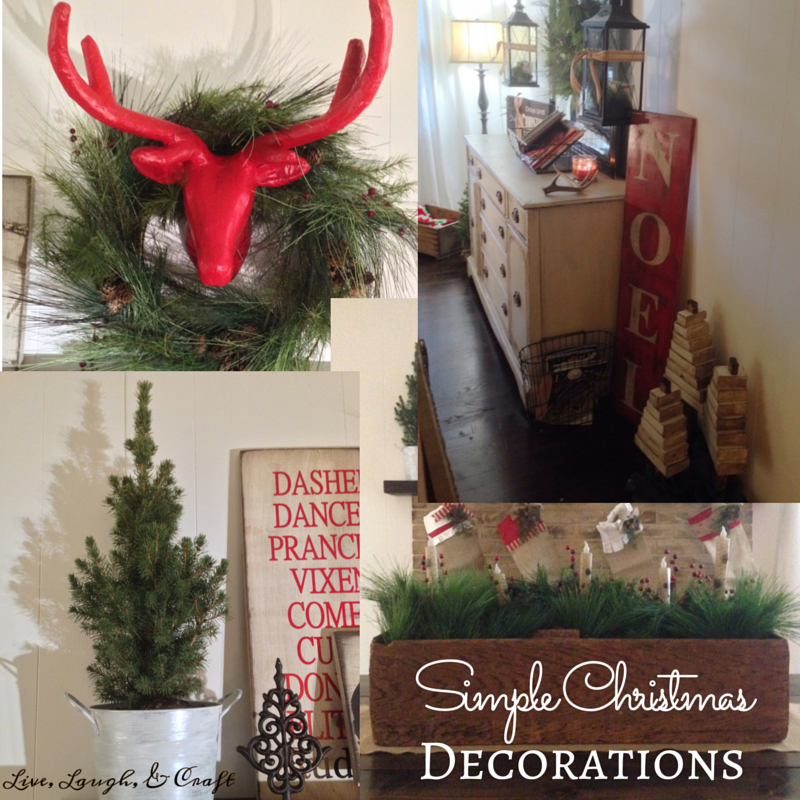 Cassie and I are masters of decorating on a budget. Most every item in our home is thrift-ed and refinished, or built by us. Decorating for Christmas is no different. We are loving simple Christmas decorations this year.
Reindeer names board, O come let us adore him board, and striped picture frame are all easy DIY projects. Santa picture is by Greg Olsen.
We love this wreath! It is faux pine, but it looks real because it is a bit sparse. The deer head is paper mache. It is painted with toll paint. Both are from Hobby Lobby. You can also throw a wreath around any antlers you may already have hanging!
Our favorite place to draw inspiration is from Pinterest. I love to see all of the ideas people come up with! Typically we like to change things about the decorations we find to make them our own. Our go to places are Home Depot and Hobby Lobby.When it comes to Christmas trees, go shopping for ornaments after Christmas in preparation for the next year. This is the cheapest way to decorate a tree. We have found that this is the most budget friendly way of decorating a tree.
Bare trees in galvanized buckets are everywhere this year!!! This tree is from Home Depot ($10), and the bucket is from Target ($3). I did a quick white wash on the bucket to match my decor better. --To white wash, thin out white latex paint and brush it on whatever surface you want painted. A white wash look gives the appearance of the item being old.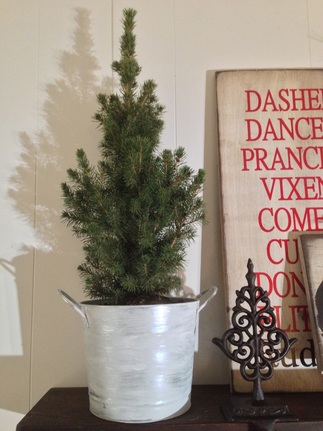 Burlap Stockings--I just came up with these beauties. I love the simple look they have to them.
Wire Basket with vintage children's Christmas books. So simple and cute!
This wood box has been a great investment! It is fun to decorate for different holidays. It doesn't take much to make it look beautiful. The birch wood candles are from Home Depot, and the greenery & berries are from Hobby Lobby. The table runner is burlap.
Christmas decorating does not have to cost a ton of money! Be smart about shopping for your items in off seasons, and pick a theme for your decorations that you can add to year after year. ​​