David's Grandma gifted me this sewing table a few years ago. I got an itch to paint it just this last weekend. I am on a "white" kick right now, so it was only fitting to paint it white! I used the "Vaseline" technique for this project. 
I love this sewing table. I don't have an entry way, but it would go perfectly in one if I had it! The only downside is it is heavy. The sewing machine inside is a heavy piece of equipment.
**Warning– You will see a few toys scattered on the ground, and Netflix playing in the background. That's typically how all of my project play out!
The table was in good shape. It didn't take much prep work. I sanded a few spots that looked uneven. I used the Vaseline technique found
here
. This time I had a squeezable bottle of petroleum jelly instead of digging my fingers into a jar. I wanted a really chipped paint look, so I was generous with the Vaseline. I used a latex based white paint from Behr. It worked beautifully.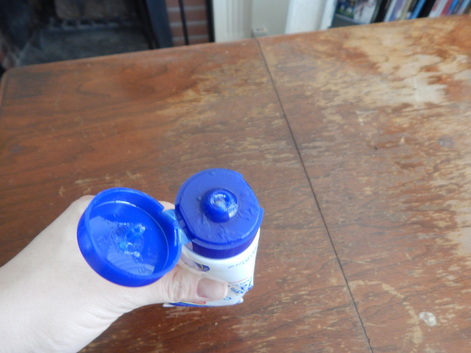 So first, I coated all of the edges with the Vaseline. I also put a few swipes on the top portion.
Next, I painted the entire sewing table with a coat of paint. This is what it looked like with one coat. You can see the Vaseline in a few places. It is crackly looking. 
I did one more coat of paint. Since I am going for an aged look, I didn't want my paint to look perfect. I did a "spot" second coat. Basically I only painted the areas twice that I felt needed a second coat. After it dried for 30 minutes, I wiped off the edges and anywhere else I applied Vaseline. 
Finish it off with a finishing spray, and that is it! It was an easy project and I am pleased with how it turned out!