I wanted a porch sign that would make a statement. An oversized sign. I always have 6 foot fence boards sitting around from a local wood salvage yard. I decided to fashion two of them together to make a porch sign that said NOEL. The result? This beauty below.
This post is going to be a bit different than our other do it yourself posts. I got caught up in the moment and didn't take any step by step pictures. Lucky for me though (and you), this project is super easy so I will be able to talk you through it!
​
First thing is first! Gather up any wood pieces you have or head to your local wood salvage yard. Also a good tip to keep in mind too....fence companies are often times tearing down old fences and will let you either come to the job site, or their establishment to pick up old fence boards. They make great signs! The only problem with fence boards is they tend to not be very wide. That is why I fashioned two of them side by side so my sign was as big as I wanted it to be.
Lay your two fence boards side by side. Next you will be nailing two or three small rails accross both boards to connect them. Once this is done, flip it over and voila! You have a big beautiful slatted piece of artwork that is almost officially your new porch sign.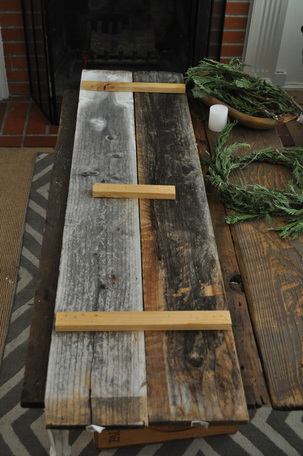 Next item of business is pick the word you want on your sign.
Now you need to decide if you want to stencil and paint the letters, order vinyl from your local vinyl vendor, ooooooor you can use little pieces of wood like mine!
These are 1x2's and I had them sitting around from another project. They rang from 18'' long to 6'' long. I just decided how big I wanted my letters to be, and cut them to size. This part is really up to you because each sign you make from salvaged wood, will most likely be different. Have fun with this part. It doesn't have to look perfect. My letters are far from perfect, and that's just the way I like them!
Next step is to paint your letters. I went with a simple satin finish black paint. After they dried, I used my handy hand sander to sand off the edges so they looked old like my fence boards. Next, I stained them with
this stain here
 FAVORITE color for projects like these.
​Once everything was dry, I nailed them onto the front of my fence boards. I didn't measure anything here. I just eyeballed it. Feel free to go with whichever method you are most comfortable with. You will need to take into account the length of nails you use so they do not go all the way through your wood (like mine did--oops).
Pick a wreath for you "O", or grab some garland like I did, $7 at Trader Joe's, and wire the ends together to make your wreath.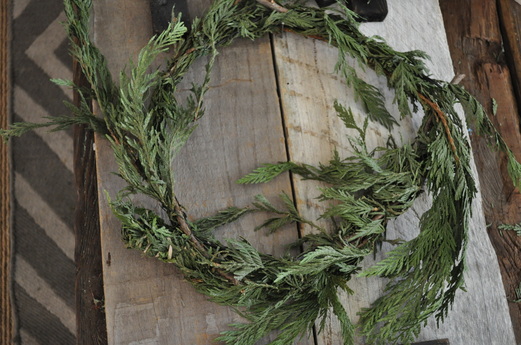 That is it! This project is versatile and you can use any word you'd like! I am happy with how big my sign is, so I am sure I will be making many more oversized porch signs in the future! If you have any questions at all, or make a sign of your own, let us know! We are happy to help AND we love seeing the beautiful things you make!
I used the following supplies for my project.