Tassels add so much cuteness to a party! We usually string them up on the front of the food table. It adds a lot for a little bit of work and money. We typically use tissue paper for our tassels. With tissue paper you have a lot of design pattern and color ideas....there is a downfall though. Tissue paper wrinkles and rips, making the banner a one (maybe two) time use item. We have the perfect solution to this problem. Insert Oly*Fun!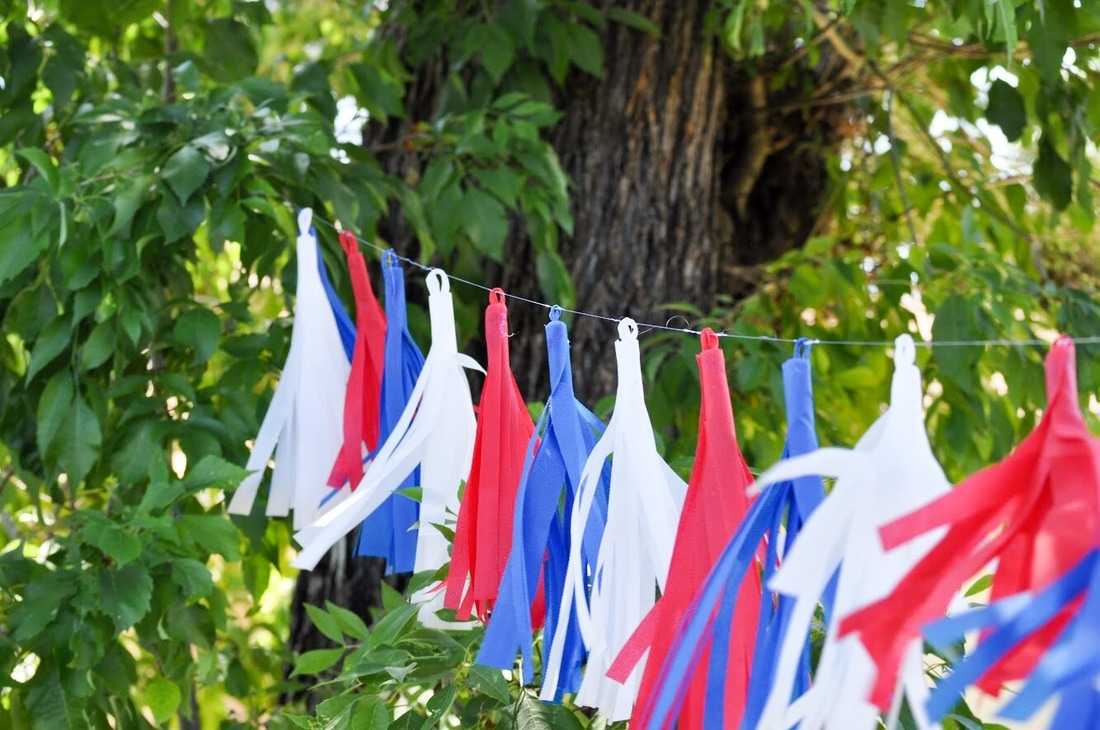 Oly*Fun is a no fray fabric material that is so versatile. The possibilities with this stuff really are endless. If you enjoy crafting, Oly*Fun is a necessity to have around. My favorite pack is below.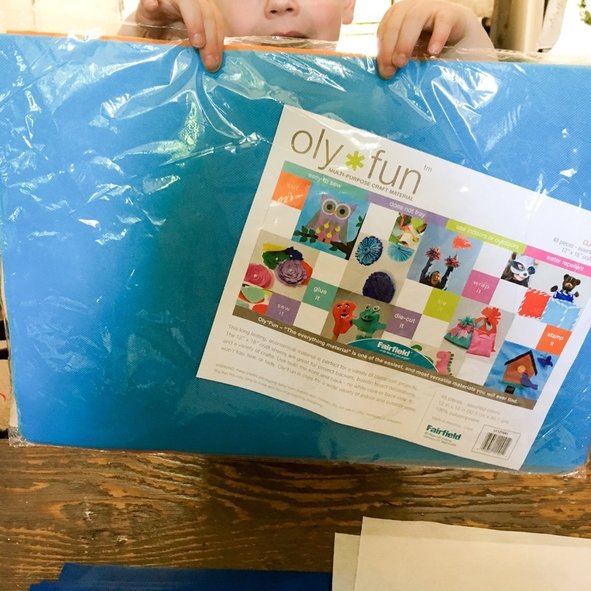 You have a variety of color options and they are in convenient 12"x18" sheets. You can buy Oly*Fun
here.
For this project you will need the following materials:
(12) Oly*Fun 12"x18" sheets. Red, white, & Blue. (4 of each color)
Glue gun
Scissors
Fishing line
*Scroll to the bottom of this post to watch a video tutorial
​
Step by step
-Cut each sheet of Oly*Fun in half hot dog style. You will end up with 2 12''x9'' sheets per 1 sheet of Oly*Fun.
-fold one of the cut sheets in half twice.
-Cut slits up the rolled sheet leaving 1"-1 1/2" at the top uncut.
-Roll out the sheet and you will see your tassels.
-Start rolling the end of your sheet up on the area that was left uncut (this is the 1''- 1 1/2" area)
-Occasionally add a dot of glue as you are rolling to ensure that your tassel won't unravel.
-Once you have rolled the tassel halfway, pull one of the tassels backward and twist it around until it looks like a tightly wound piece of yarn. Fold it back down and roll over it. This leaves a hook for you to put your fishing line through. If this part sounds confusing, look at the photos below and watch our how to video. It is super easy once you see it done.
-Finish off by gluing the last big down by the seam.
-Fluff out the tassel and set it aside while you cut and roll the remaining pieces of Oly*Fun.
-Measure out your fishing line. Mine is 8' long. My tassels are strung and glued on (so they don't move) every 5". I left 6" of slack on each end of the string to tie it to wherever I'll be using it.
-You do not need to glue the tassels to the fishing line, but they will slip around so it isn't a bad idea to glue them.
-You can use any type of wire/jute string to hang these. If it feels like it can support the weight, use it! Use your imagination here and customize this project to match your tastes.
You'll be able to enjoy this cute project for years to come!