These lemon muffins topped with buttery steusel and lemon glaze make for a perfect breakfast or brunch.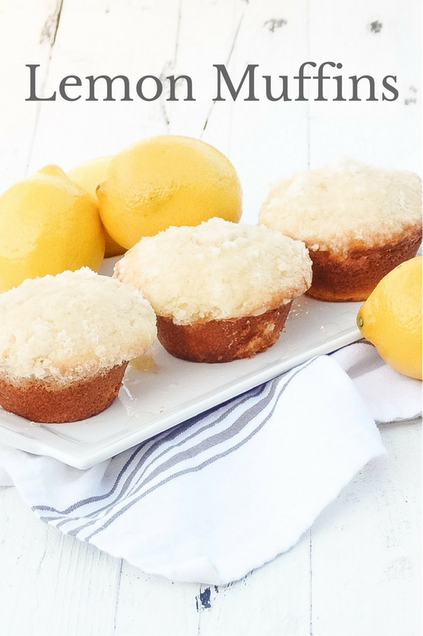 In northeast Ohio, you can find the Pine Tree Barn, a quaint boutique and restaurant. One of my favorite things about this place is it's Christmas year 'round!
The Granary Restaurant overlooks the property and it's stunning!
The Granary is famous for the most delicious Lemon Crumb Muffins! My husband requests these often. I'll be honest......they are a little work, BUT, this recipe makes a ton. Also, the batter will keep in the refrigerator for a week, so that's a plus!
I hope you enjoy these as much as my family does!
Lemon Crumb Muffins
Batter Recipe
2 cups Butter (melted)
2 cups Sour Cream
8 eggs
2 Tablespoons Lemon Juice
6 cups Flour
4 cups Sugar
3/4 teaspoon Baking Soda
3/4 teaspoon Salt
5 Fresh Lemons
Sift all dry ingredients together. Grate the rind of 5 lemons and set aside. Whisk eggs and add sour cream, butter, lemon juice; whisk until smooth. Fold in the lemon rind. Fold all dry ingredients into the egg mixture. Blend well.
Streusel Recipe
1 1/4 cup Sugar
1 1/4 cup Flour
1/3 cup Softened Butter
Sift sugar and flour together, Add softened butter, work into dry ingredients until smooth.
Lemon Glaze Recipe
1 cup Sugar
2/3 cup Lemon Juice
Stir together until all of the sugar is dissolved.
Line muffin tins with liner and fill with batter (I use the large pampered chef scoop, it is 1/4 cup.) Top each muffin with roughly a teaspon of streusel. Bake at 350 degrees for 15 minutes (watch closely so you don't overcook.) When done baking, poke each muffin 15-20 times with either a wood skewer or toothpick, drizzle with the lemon glaze. Store muffins in an airtight container.
Yield 5 Dozen Muffins (regular size)
***Batter can be kept up to one week in the refrigerator
Find the original recipe here!
Pin it!