Well its been a bit since I've given you an update on our kitchen! So many changes and I know you've just been on the edge of your seat waiting for this post! (wink wink). If you haven't been following this transformation, check out my first post so you can get a feel for the kitchen before we started the transformation! You can find that post
here!
Here are a few things we were wanting to tackle at the end of the first kitchen post. Some of them have changed so I'll go over all those dirty details!
​Add cabinets
Paint cabinets
New cabinet hardware
Counter tops
Back splash
Floating shelves
Flooring
Appliances
​
This is our kitchen after the floors, floating shelves, and cabinets were added.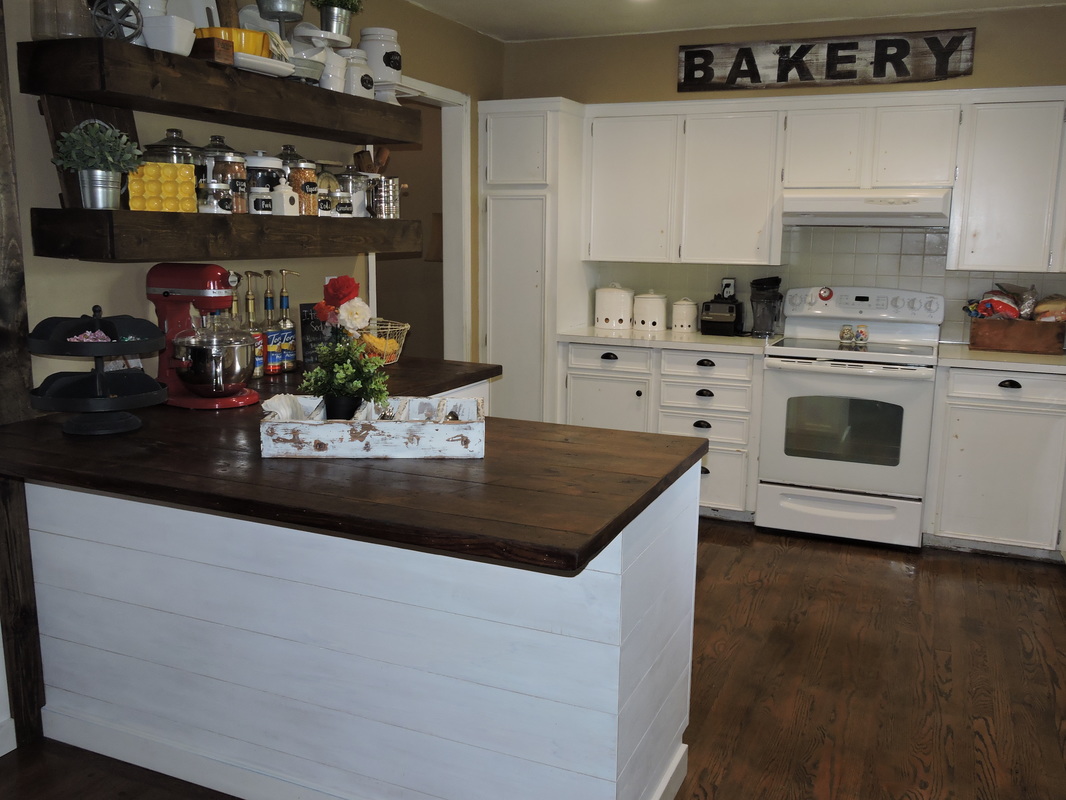 Rex and I decided that adding more cabinets was a must. This little bit that we added more than doubled the usable counter top space. People I'm telling you…..LIFE CHANGING! We added three cabinets.  We were just going to only add two cabinets, but decided on adding a third. So glad we did, it gave me 12″ more of counter space. The corner where they meet has wasted space. We were faced with that decision on spending money on a corner cabinet, adding a shelf on the backside of the cabinets, or closing the space in and the last option won. It was probably foolish, but we are still happy with the decision. We threw a little "time capsule" in the corner area. We put a family picture, a Book of Mormon, a note from me and the boys, and a blog card so they could check out the blog post. haha Hopefully it's a lot of years before that bag is discovered!
If you'll notice the floor is different, we purchased the cabinets and a few weeks later installed them. In the few weeks leading up to the cabinets, We reclaimed hardwood. Poor Rex tried with all he had to convince me that it wasn't going to be worth it and that we should do tile, but I knew better (I mean I didn't have to tear up the old floor from the sketchy house off craigslist!) This was a long exhausting process, but now that it's done we are so happy with the results!
Once the floors were finished we secured the cabinets and finished the detail work on them. We had a piece of MDF board so we used that. It was over kill, but we already had it so It won. After deliberating, we decided on shiplap for the face of our cabinet addition. It was super inexpensive and we love how it turned out!  We ripped a 4×8 foot sanded underlayment  sheet down to 6 inch strips, and used Nickles as spacers. We did not paint the mdf board. This process was super fast.
I filled all the nail holes and applied a couple coats of paint. I didn't do heavy coats because I love the knots showing. Rex added the trim along the bottom of the cabinets and it really finished the space!
I hope this doesn't sound overly dramatic, but I was afraid painting these cabinets would be the end of me. Finally after a few coats they were finished!
The hardware really finished this space off nice!
Here are the projects still left to do…..
Counter tops on the other half of the kitchen
Paint Cabinets
Backsplash
Spray Paint Hinges
Hang Light above sink
Install Farmhouse sink
​New Faucet
Hood Range