Ugh blackheads. The very bane of my existence. Blackheads are a common problem, and typically found in the "T" zone.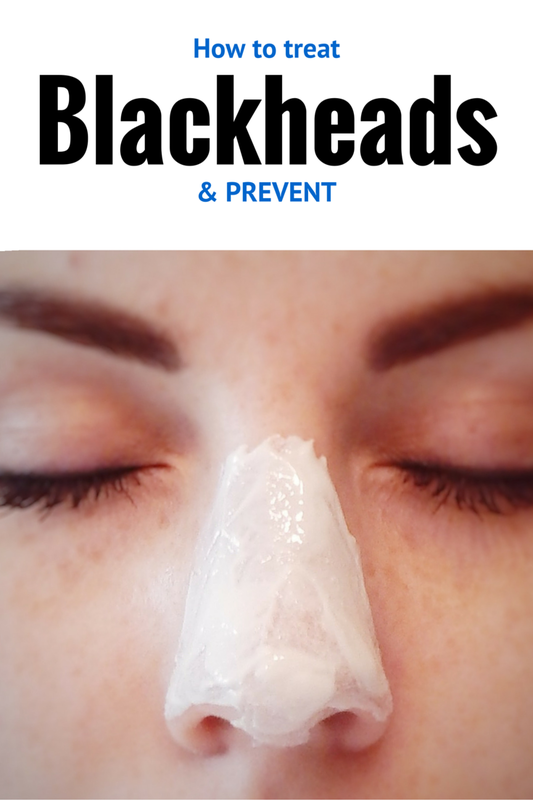 Consistent exfoliating is going to be key when trying to get rid of, and prevent blackheads. You must wash your face every morning and night (especially at night if you wear makeup).
Cleansers with an exfoliating agent in them work great as an everyday exfoliate-er. However, I highly recommend a light scrub be used 2 times a week as well. You should see a great decrease in the amount of blackheads, if you can keep up a consistent routine with cleansing and exfoliating.
Why does exfoliating help? Our skin is constantly shedding. As a baby, our skin sheds and regenerates rapidly, resulting in "baby smooth" skin. As we age, this process slows. By exfoliating, we assist in speeding up this process. By religiously exfoliating our skin, we won't allow the buildup to get too out of hand. With the buildup of dead skin, dirt and debris get trapped in our pores. It is also good to note, that we may think our blackhead problem is more out of hand than it really is. Little dark spots on our pores, called sebaceous filaments, are often confused with blackheads. Either way, both problems can benefit from good old exfoliation.
​
There are a number of other methods of exfoliating on the market. One is called the Clarisonic brush. Looks like
this.
The idea behind the Clarisonic, is that it assists your cleanser in gently exfoliating the skin, and removing impurities and dead skin build up. This can be done at home, and is great if you have troubled skin, and just can't ditch the blackheads no matter how hard you try.
Another
is microdermabrasion. Microdermabrasion is a tried and true method that works. It is a great idea to add a monthly, or every other month appointment for a microderm into your skin care routine. I have had many clients see a dramatic decrease in blackheads when following a routine such as this. What is a microderm? An advanced exfoliation treatment performed by a licensed skin care professional. A tool is used to remove the dead skin off of the epidermis. This can either be done with a rough diamond tip, or small crystals that feel like sand. Both are very effective, and should not be painful. I am sorry to disappoint you, but at home microdermabrasion treatments just aren't as effective as a professional one. 
Blackheads and sebaceous filaments can be very tricky. It may seem like they will never go away. While you may not be able to be rid of all of them, you can definitely improve the situation with exfoliation.