Our mom has been making this delicacy 😉 for years. It is such a simple meal to put together so that is always a plus! Who doesn't love a good hot open faced sandwich?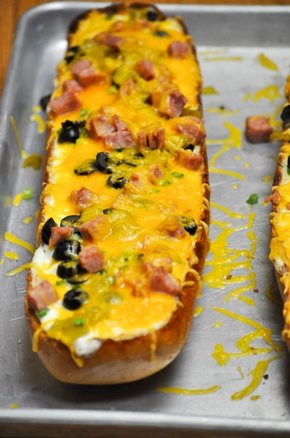 You just need a hangful of ingredients to make this meal. I will share with you how we make it, and feel free to add/remove any toppings! The possibilies really are endless with this recipe. Also note that it is a saucy sandwich. If you aren't big into "sauciness" cut back on the measurements for the sauce portion.
Open Faced French Bread Sandwich
2 cans of ham (it is the chunked ham by the Spam...don't be scared...it is good)
1/2 C. of mayonaise
1/2 C. of sour cream
1 small can of chopped green chiles
1 small can of sliced or chopped black olives
1/2 C. green onions, chopped
2 C. cheddar cheese, shredded
Instructions:
Slice your french bread in half lengthwise. Mix the mayonaise and sour cream in a bowl, and spread it evenly over both halves of the bread. Sprinkle green chiles, cheese, olives, ham, and green onions evenly over bread. Bake at 350 degrees fahrenheit for 10-15 minutes or until cheese is melted and bread is crispy on the outside. Cut into pieces and enjoy!!
​If you are a visual learner, here are some step by step photos below!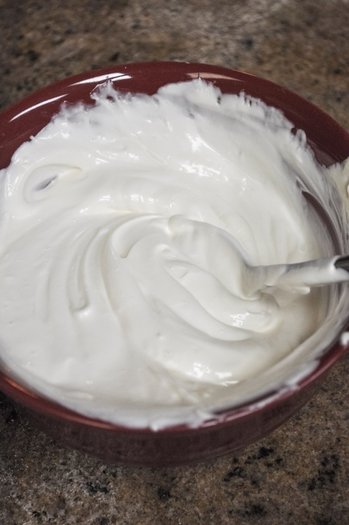 Mix sour cream and mayonnaise.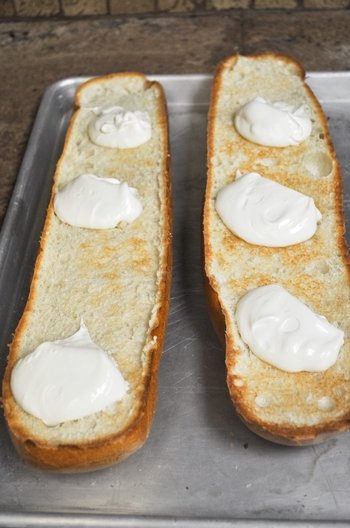 Divide evenly for both halves.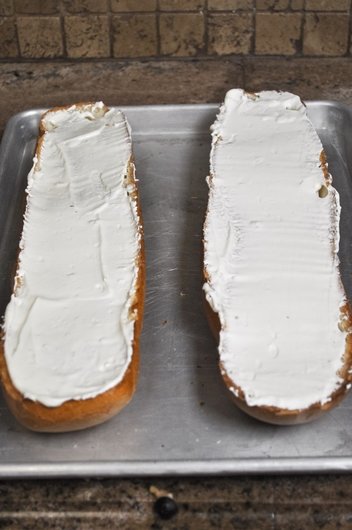 Spread over both halves.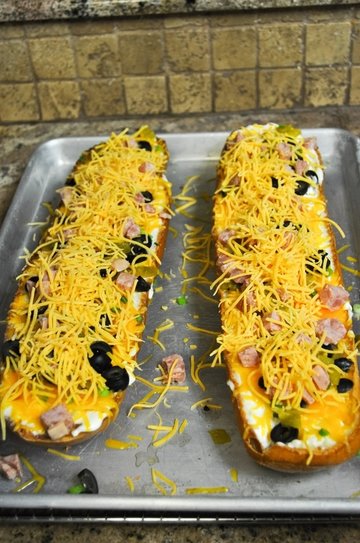 Spread all of your toppings evenly over both halves. Also...don't be scared that I have melted cheese on there. I put it in the oven before adding the ham so I had to whip it out and add the ham and a little more cheese for good measure!

​​Pin it!!