It's only taken me a few years to jump on the chalk paint band wagon. When I was informed you can paint furniture without sanding beforehand, I was all over it!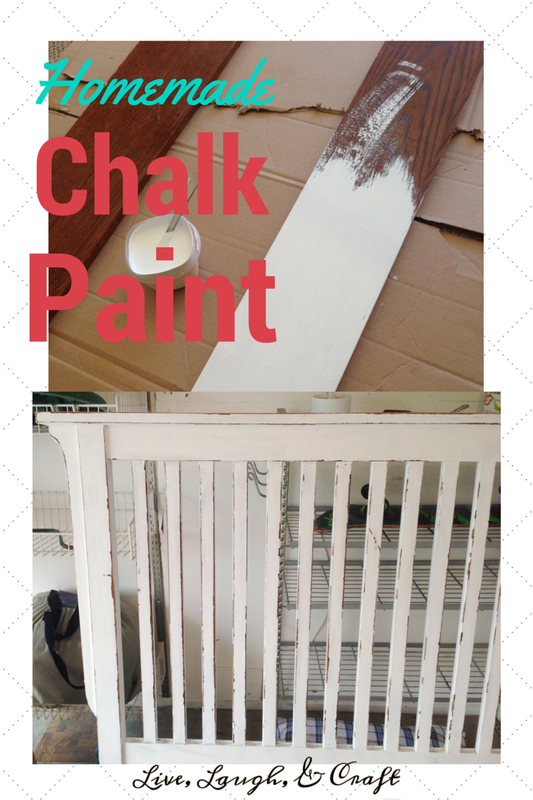 I knew there were a few different recipes out there, so I did a bit of googling, and found one that I could afford/matched my patience level (meaning that I could go buy the ingredients at the store and wouldn't have to wait by ordering online).
We just moved from an apartment, to a house. I took this opportunity to paint my bed (Mom please don't read this, and if you do I'm sorry).
My parents bought me this bed when I was in high school, and the finish was starting to come off, so I decided to paint it white! I wanted a farmhouse look.
I was thinking about doing the Vaseline technique where you put Vaseline on the places you don't want paint to adhere. As far as farm house looks go, the Vaseline technique gets the job done the best in my opinion.
I usually stain the piece I am working on, then add Vaseline to the edges, and then paint it white. Once its dry, you wipe the Vaseline off, and it looks like the paint peeled in that spot. It instantly makes it look old.
Anyway, since I heard that chalk paint can go on a finish without sanding, that eliminated me having to stain my bed before painting it white. So I got the Vaseline look, without all the fuss!
Plaster of Paris Chalkpaint recipe:
1/3 part Plaster of paris to 2/3 part latex paint. 
Make a paste out of the Plaster of Paris, then add the paint and stir. 
I loved painting with it! It was nice and thick, so it covered well. When it dried, the texture sort of wigged me out. I lightly sanded it with fine grit sandpaper, and then sprayed my acrylic finishing spray on it. The texture is now more smooth, and doesn't give me the chills like nails on a chalkboard. I loved the chalk paint so much, that I painted my free piano I got off of Craiglist! That will be another post. 
Cassie is trying a chalk paint recipe with calcium carbonate. We will keep you posted on which recipe we like better. Homemade chalk paint is much more affordable than buying it pre-made. I say, try it!!!!