Our mom can can anything- the stack of food she canned for each of her kids this fall is crazy! Peaches, pears, green beans, plum jelly, grape jelly, and the most recent- applesauce!

These apples are from our Grandma Arave's trees and they are extra delicious! Making applesauce is fairly easy, but takes a little time.
Applesauce
12 lbs apples, peeled, cored, quartered, treated to prevent browning, and drained (about 36 medium)
Water
2 cups granulated sugar or brown sugar, optional
Combine apples with just enough water to prevent sticking in a large saucepan. Bring to a boil over medium-high heat. Reduce heat and boil gently, stirring occasionally, for 5 to 20 minutes (depending on variety of apple used), until apples are tender. Blend in a food processor until desired consistency has been achieved. Return apple puree to the 8 quart pan and add sugar. Stir until sugar is dissolved. Full clean pint size jars, leaving a 1/2" head space. Process in a water bath for 20 minutes.
Step-by-step Instructions
Wash apples, peel, quarter, and core them. Put in an 8 quart pot with 2 cups water and cook until tender.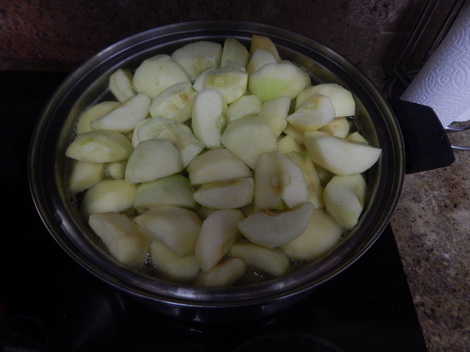 Drain water and blend apples in blender until desired texture is achieved. My mom used her ninja and it worked great!