This Home Depot Halloween Style Challenge was so fun for Cass and I to put together!! Check out how we made my front porch super spooky with The Home Depot.
The following post is sponsored by The Home Depot and contains affiliate links.
Images are by Boom Photography. Visit their website here.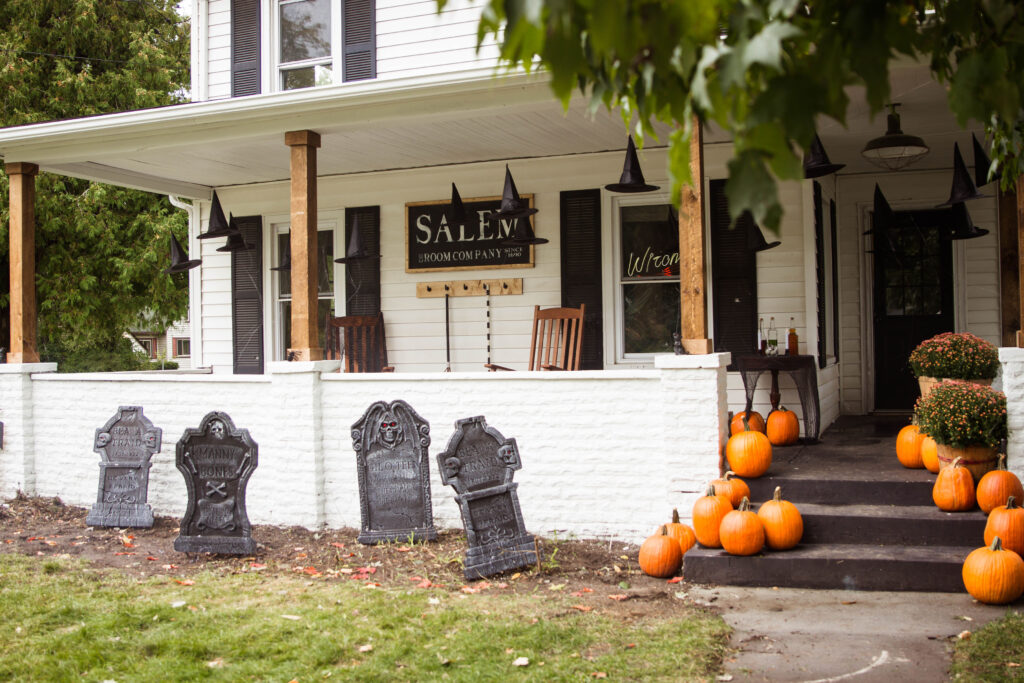 A month ago Cassie and I got the email of a lifetime...a chance to partner with The Home Depot on spooky outdoor space. A few tears of excitement may have been shed, maybe not. Needless to say, We.Were.Ecstatic!!!! Without further A due....our HOME DEPOT HALLOWEEN STYLE CHALLENGE!
Typically when we start a project, we like to come up with a theme. We love Witches so that is what we decided to base all of this around. We knew we wanted the porch to be spooky, but also not tacky. You know how Halloween decor can ride that fine line between cute and tacky? Naturally, we needed to make a sign because we ALWAYS do that. A homemade sign can be such a statement piece. Especially when it 2'x4'...which is huge. This was the first thing we put out on the porch and I can promise you that a few of my neighbors wondered what kind of business I was setting up in my house. A broom company??? Guaranteed.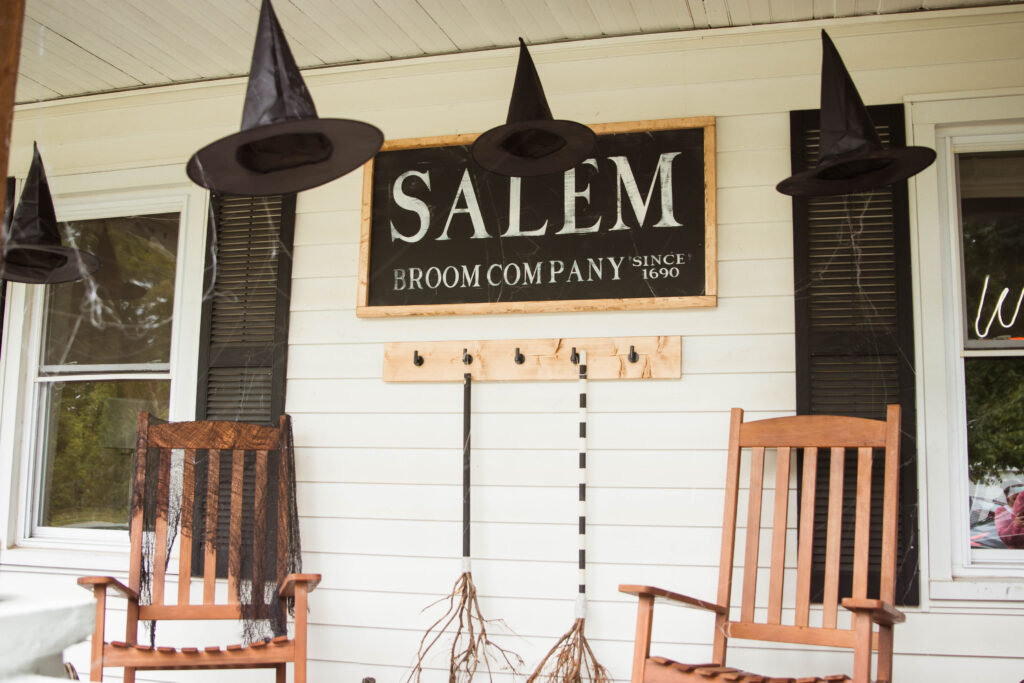 This broom company sign set the tone for our whole theme. We knew we needed pumpkins, brooms, and hats. We found the pumpkins at Home Depot and for a dramatic effect, we got a TON. Also, those stairs have been begging for pumpkins since I took the green turf off of them. Also, can you even consider putting out pumpkins and not Mums? As Joanna Gaines would say, plants/greenery liven up space...so thats what we did. The vintage apple baskets we placed the mums in really kicked our look up a notch.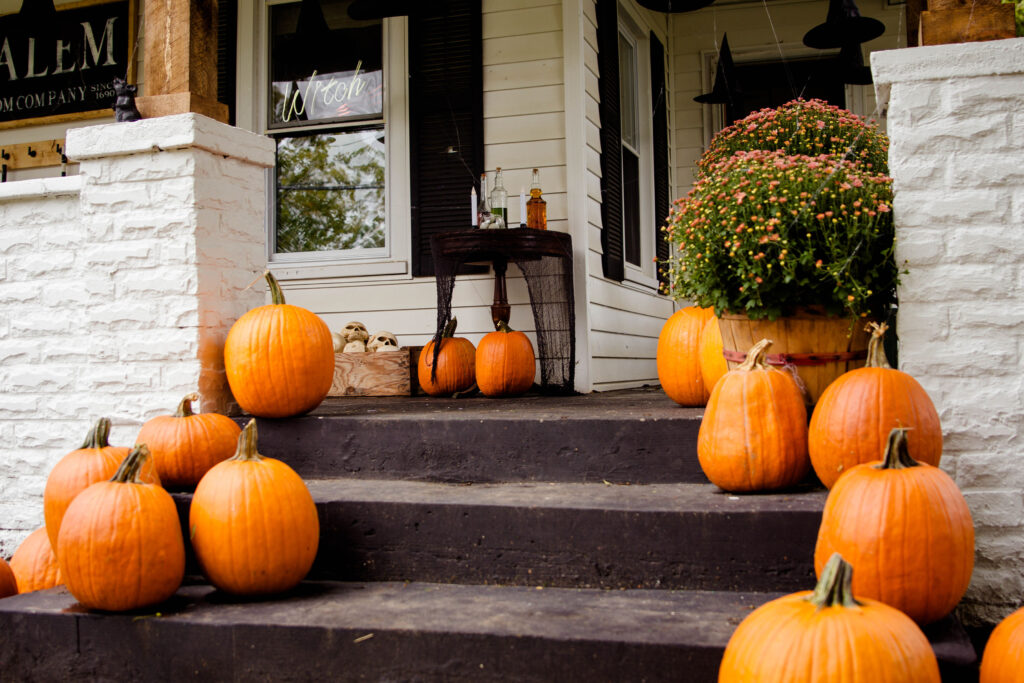 Next up was making a broom hook and brooms to place under our broom company sign. Both were easy projects you can easily do in a few hours. We used 1'' dowels from Home Depot, cut them to a size we felt was good, and tied a "bunch" of twigs we found around my yard to bottom. The broom hook is made out of a 1x6 pine board stained with Golden Oak by Varathane. The hooks were found on the hardware aisle at our local Home Depot.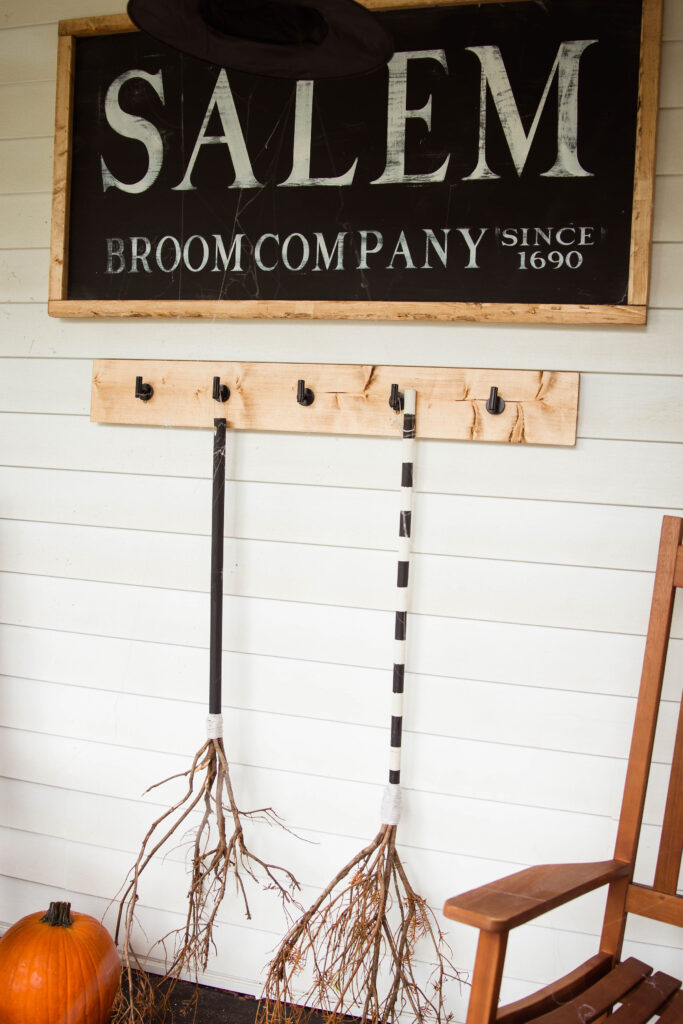 If you look closely at these photos, you'll see my very favorite element to this spooky space....the spider webs!!! We use a Webcaster Glue Gun from Home Depot. Not only were they fun to cast, but they look amazing!!!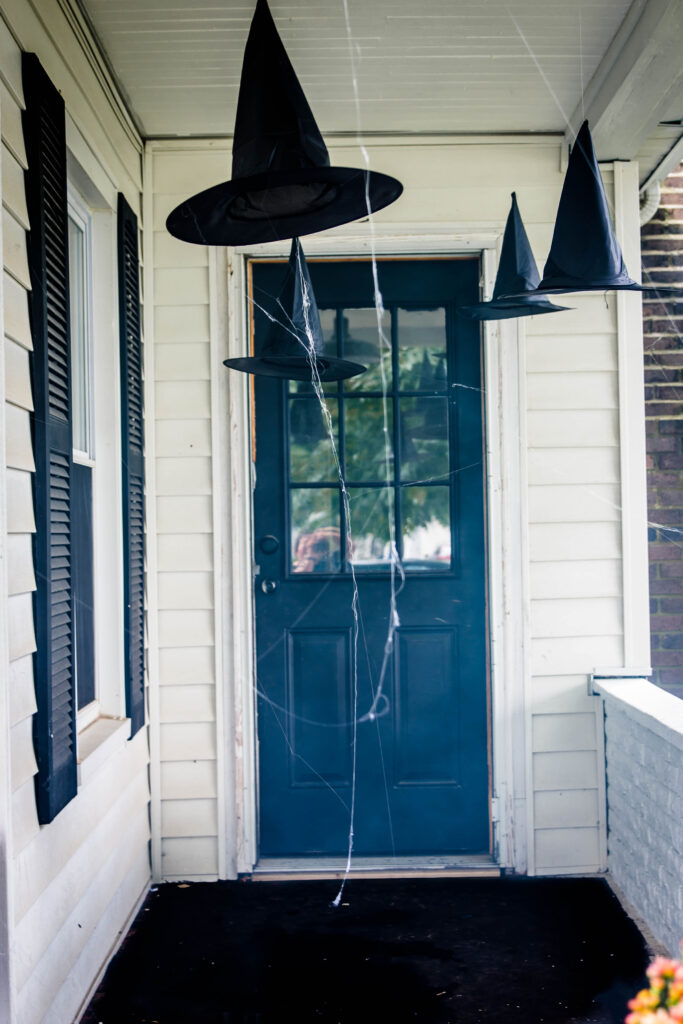 We got the 20 hanging witch hats off of Amazon. 11 pack for $11. We simply strung fishing line through the top and used a thumbtack to attach them to the ceiling.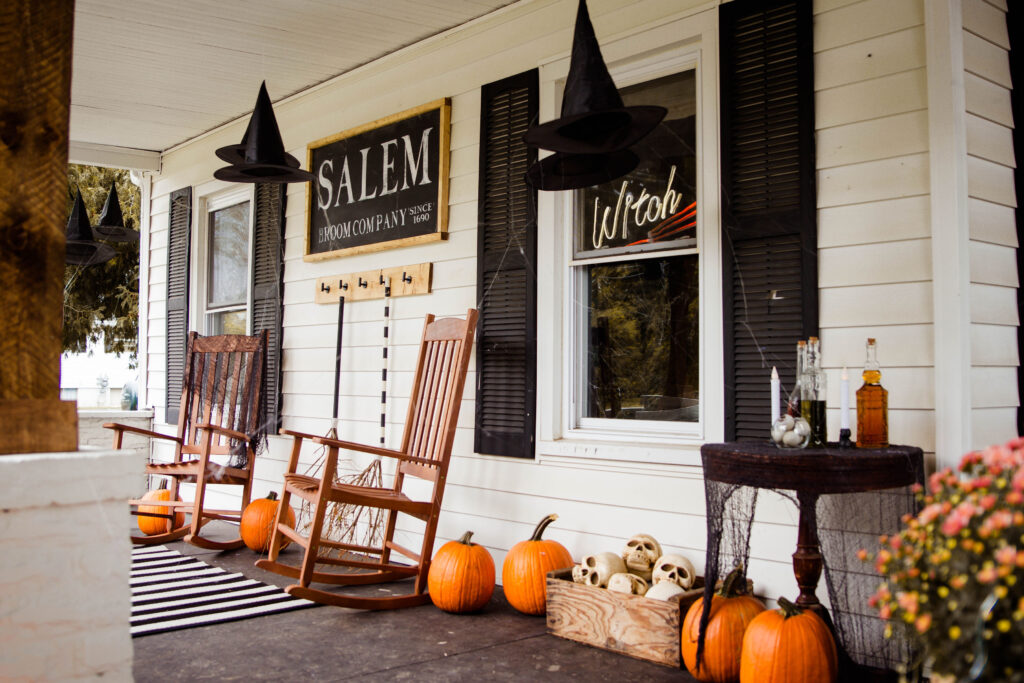 Next is the graveyard section. We got the tombstones and fog machine from Home Depot and they did a great job of looking creepy and covering up my lack of landscaping on the front of my porch.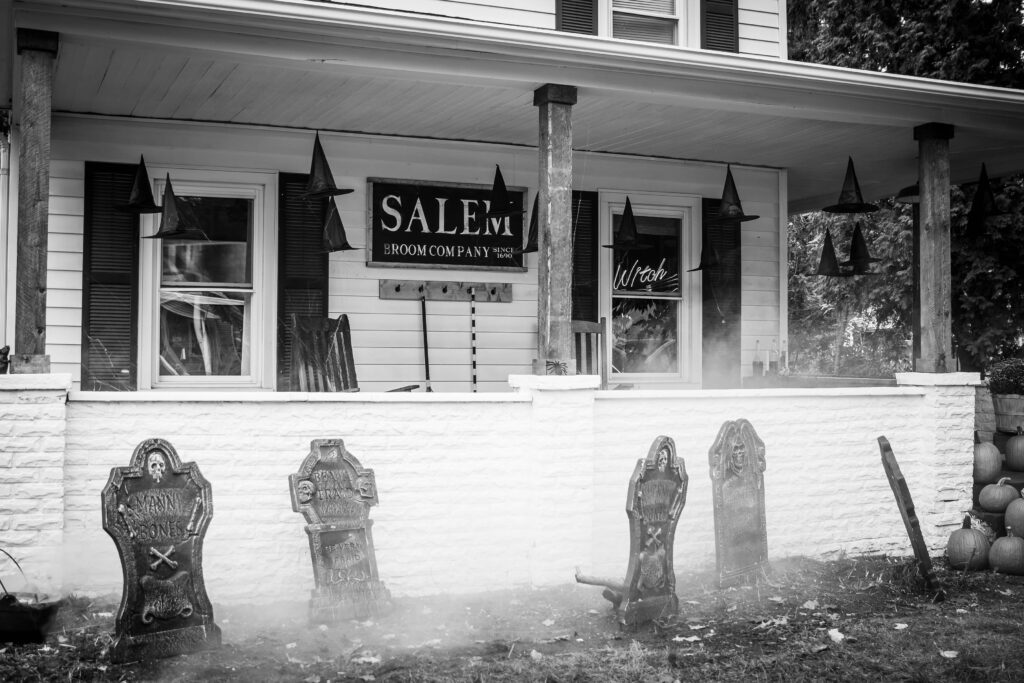 Last but not least in the light projection show we turn on every night. It has multiple colors and even has a remote to turn it on/off and change the colors.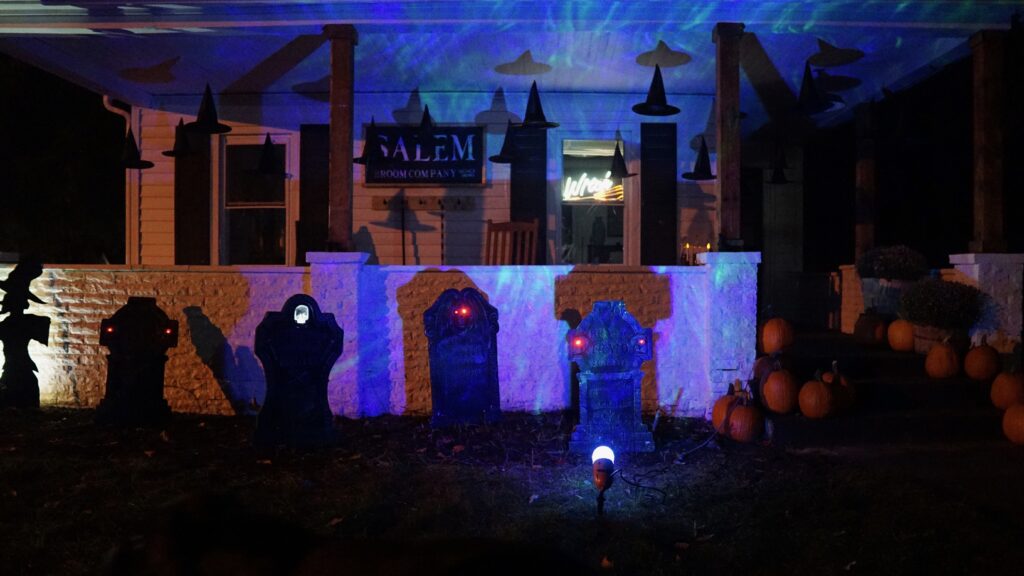 We had so much fun putting this together and our kids LOVE it!!
Pin it!