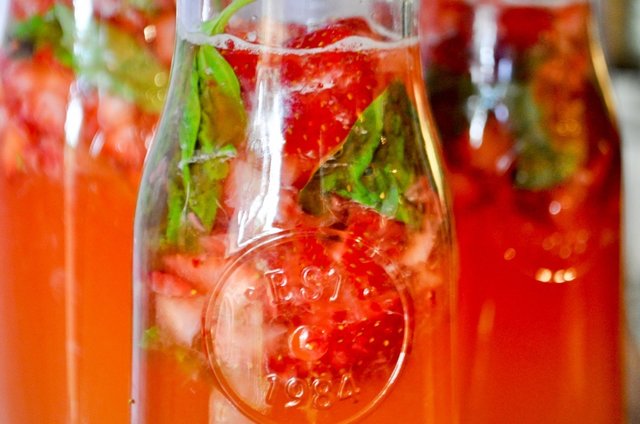 When Rex came home raving about this strawberry basil lemonade he had at a rep dinner, I threw up a little in my mouth. Seriously, who puts basil in a drink?? I'm here to tell you that I'm a brat and I was wrong. This lemonade is one of the BEST drinks I've ever tasted, and my husband thinks I'm the bomb.com.....so I'd say that's a win!
Strawberry Basil Lemonade
2 1/2 cups freshly squeezed lemon juice (this was about 12-14 lemons, but will vary by size)
2 1/2 cups sugar
4 cups hot water (helps the sugar dissolve quickly)
large pitcher that is at least 2 1/2 quarts
3 cups fresh strawberries (more or less depending on your preference)
1 container fresh basil
additional waterSqueeze lemons until you have 2 1/2 cups juice. I prefer to have a little pulp in my lemonade so I take the spoon and push the extra juice and some of the pulp through the juicer. Next add 2 1/2 cups sugar and 4 cups hot water in a large pitcher and stir until sugar is dissolved. Mine has measurements on the side so it makes the next part super easy! Add enough water that you have 2 1/2 quarts of lemonade. Stir and refrigerate until chilled. Wash and chop the strawberries. Once mashed/chopped, I had enough to put 1/2 cup in each glass pitcher. Wash basil and add 3-5 leavers per pitcher, then evenly divide the 10 cups of lemonade. Sometimes we get wild and crazy and have plain lemonade for the kids. Rex and I like it more concentrated so the ice in our cup doesn't water it down. If it's too tart and sweet for you then add more water. The basil flavor is faint, but more noticeable if you let it sit for several hours before serving. Enjoy!
​**I purchased my glass pitchers in the Target dollar spot on clearance for $1.50 each, but they have them again for $3 which is still a steal!!