This post is going to be short and sweet….but you only came here for the free stuff anyway right?! 😉 😉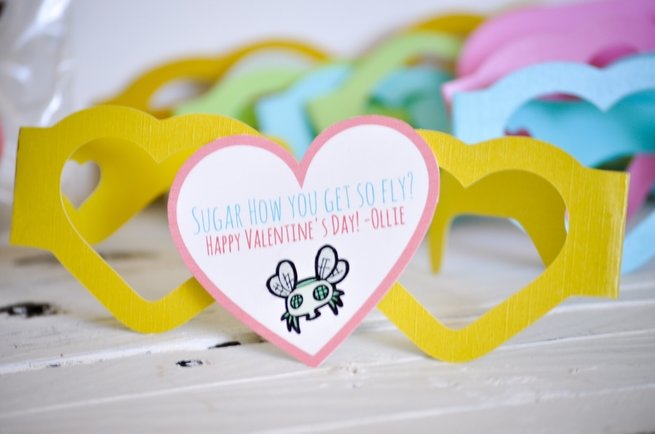 Here are a few last minute ideas for those who like to procrastinate like me! I printed mine out on a thick white cardstock that had a bit of a sheen to it.
My favorite thing about homemade Valentine's….they are original! No one else in the class will have them!
There are 6 Valentine's to a page. Simply print, cut out, and sign your child's name at the bottom. If you want to include candy with it, grab some washi tape and tape it to the edge or back.
​So simple and cute!
I originally wanted to include a sugar cookie with the "sugar how you get so fly?" Valentine, but I didn't want the Valentine's and glasses to get greased up. Any kind of "sugar" will do though! If you prefer a candy-less idea, these paper glasses are adorable and so "fly"! I used a Silhouette Cameo to cut them out. If you hav
e a Silhouette, the ​Design ID is #115611. 
Also…these are for my 3 year old so I put a fly on the printable….however I wasn't able to include it on the free printable. It is still cute without though I promise!!
​
The next printable valentine is "friends gotta stick together". I taped a pixy "stick" to mine, but a s'more kit would also be so cute because s'mores gotta stick together right?!
​
​I cut these arrows out with my Silhouette too. If you love crafting, you need a Silhouette. Just sayin.
Super simple and sweet! Just the way like it! The files can be found below. Happy Valentine's Day! Enjoy!