To say I'm obsessed with the Amy Howard paint line would be a huge understatement! I'm ready to redo all the furniture in my house! The process of distressing is achieved with products rather than a sander so I twitch now when I look at my furniture that has been sanded!This Farmhouse table was the first "real build" that I did solo and I have always loved the table, but I wasn't in love with the paint job. I can honestly say that is no longer the case and I'm so excited to share the process with you!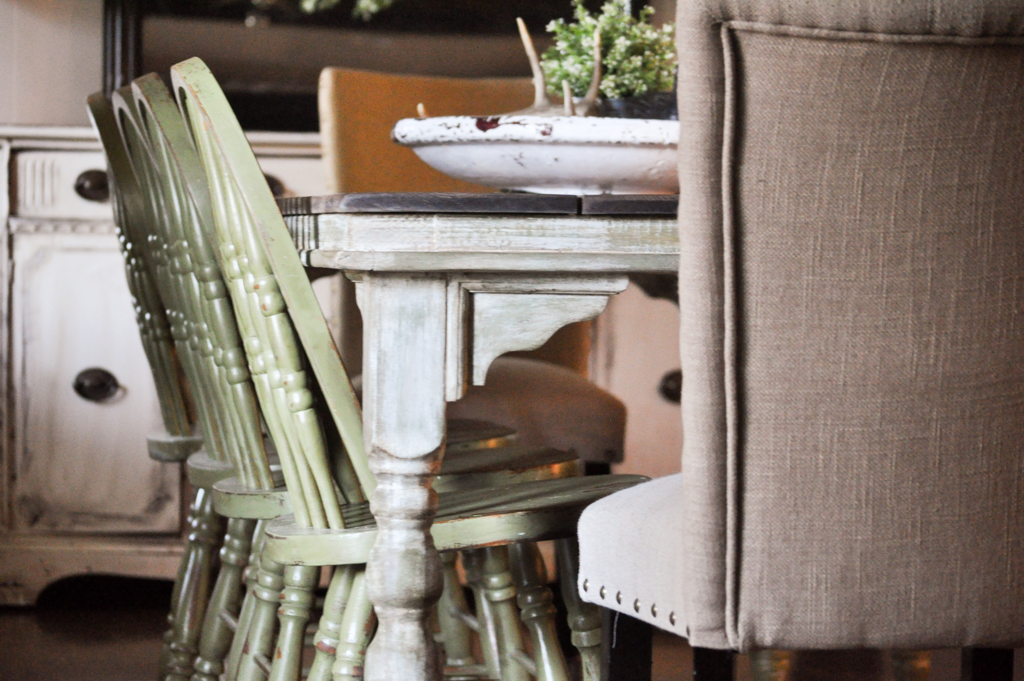 Supplies Needed:
Stain
Matte Finishing Spray
Latex Paint
Amy Howard Toscana Milk Paint-
Strasbourg White
Amy Howard
Cracked Gesso
​Amy Howard
Antiquing Glaze
Amy Howard
Light Wax
Amy Howard
Dark Wax
Amy Howard
2" Round Hog Hair Paint Brush
Amy Howard
1.5" Flat Paint Brush
Cheesecloth
Measuring cup
Airtight Container
So I wish I could say I started with raw wood, but I didn't! I sanded off the original finish so I could lighten the wood. Once the table was prepped, I stained the wood to give it a nice solid layer. My poor husband thought I had lost my mind. I knew it would all be worth it!
Once the table was stained I lightly went back through with green paint. This was a latex paint that I had on hand. After some research I discovered that the next step wouldn't work if I used oil based or acrylic paint so it was worth a shot to try the acrylic and it worked great! I'm anxious to see if I'll get more "cracks" when I use the Amy Howard Milk Paint instead!When you look at the pictures below, the areas where the stain is showing are the areas I avoided with the paint. There was no sanding at this point.
Next step is the Amy Howard Cracked Gesso. You mix this by using equal parts water and powder. I used 1/2 cup of each and it was way too much for my 8 foot table. It is recommended you mix the Gesso the night before, allowing it to reach proper consistency. I try to be a "rule follower" so I mixed mine the night before.They initial layer of paint needs to be completely dry before you apply the Gesso. Using your 1.5" straight brush paint the Gesso onto your piece of furniture. Avoid going over the same area and maintain a consistent pattern. This will ensure proper cracking! I did one coat on my table but you can do a couple if you want more crackles!
Let the Cracked Gesso dry completely, then with 400 grit sandpaper very lightly buff the granules away.Mixing your milk paint is easy.....so easy so don't be intimidated! You can use equal parts water and paint powder, but I like a thicker paint so I did two parts powder to 1 part water. After it was completely mixed I poured the paint into another container that had cheesecloth on it. This helped remove any lumps that I may have missed.
Using a 1.5" straight brush, paint your table! I varied how thick I painted on the milk paint. I only did one coat so the green and stain would really show!
Isn't that bit of crackle amazing! I love it!! This next step is where the antiquing really starts to show! You will pour some of the antiquing glaze into a container. I used about 1/2 of a cup. You'll also want a bowl of water for this next step.
Using your 1 1/2" straight brush, dip in the antiquing glaze, then dab it onto cardboard or a paper plate to get rid of some of the excess solution. Then working your finger up from the back of the brush to the front, flick the glaze onto the piece. The milk paint will react with this antiquing glaze; lifting and cracking the paint from the Gesso!
Dip your "natural sponge" into water so it is back to its natural state of being spongy. Ring out any excess water, then dip into your antiquing glaze and dab onto your furniture piece. You will be removing your paint, so dip your sponge often to keep it clean! Learn from my mistakes- I used the back and forth motion too much. Dab at the area to avoid the streaking.
Work your way around the entire piece until you're happy with the aging results. Then admire your work!!
I waited 24 hours before I applied my wax, but you just need to make sure it's dry. First, brush the light wax onto your piece by pressing the round brush hard into the wax, then remove any extra wax by rolling the brush onto cardboard or a paper plate.
I allowed the light wax to dry for a couple hours. Then I finished it off with the Dark Wax. I wasn't sure if I wanted to use the dark wax because I loved the white on the table. I watched a couple of Amy's tutorials and realized that I wasn't "antiquing" the whole table. The purpose of the dark was was to darken in spots to enhance the aged look. I was on board 100% at this point! I can't even begin to express my obsession with the dark wax! It took my table to a whole new level!Remember when antiquing, you can do as much as you'd like. On my table I settled for the "less is more" theory. When applying the dark wax use the 1.5" straight brush. Like the light wax application, you will dip in the wax then "off load" on the plate by dabbing and moving your brush. Then lightly antique the areas you want to look more aged!
***I tested my colors on a piece of scrap wood to ensure I loved the final result! I recommend you doing the same! Have fun with the process! I can't wait to show you the other projects I'm updating!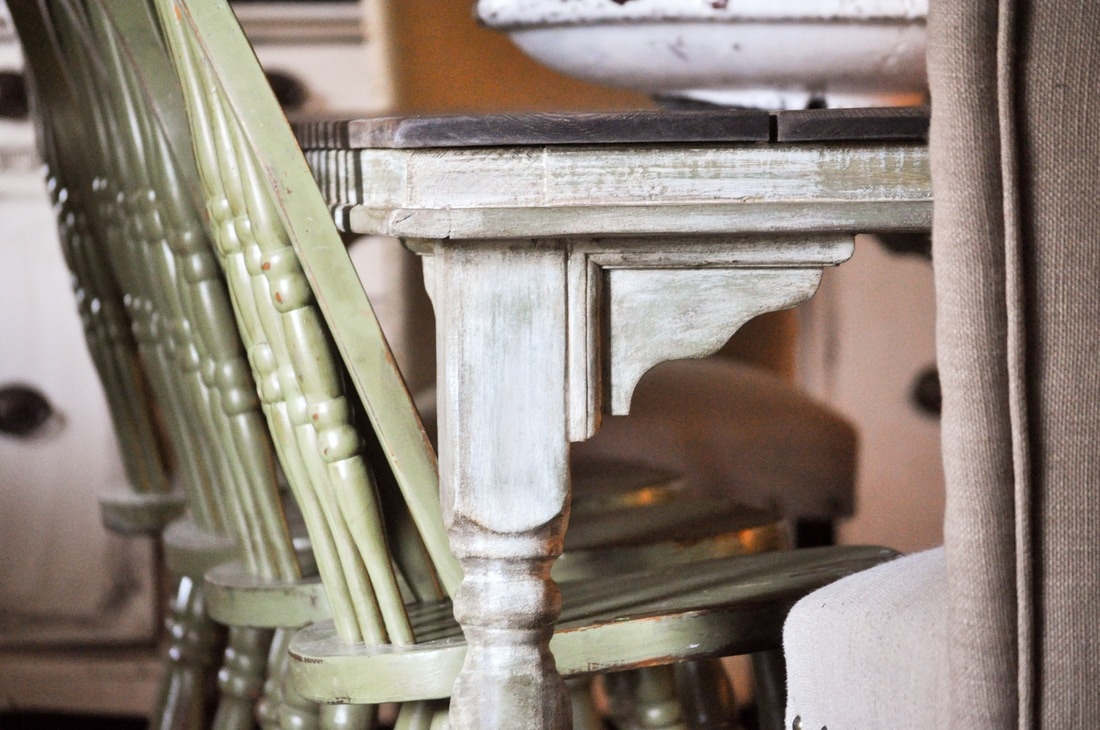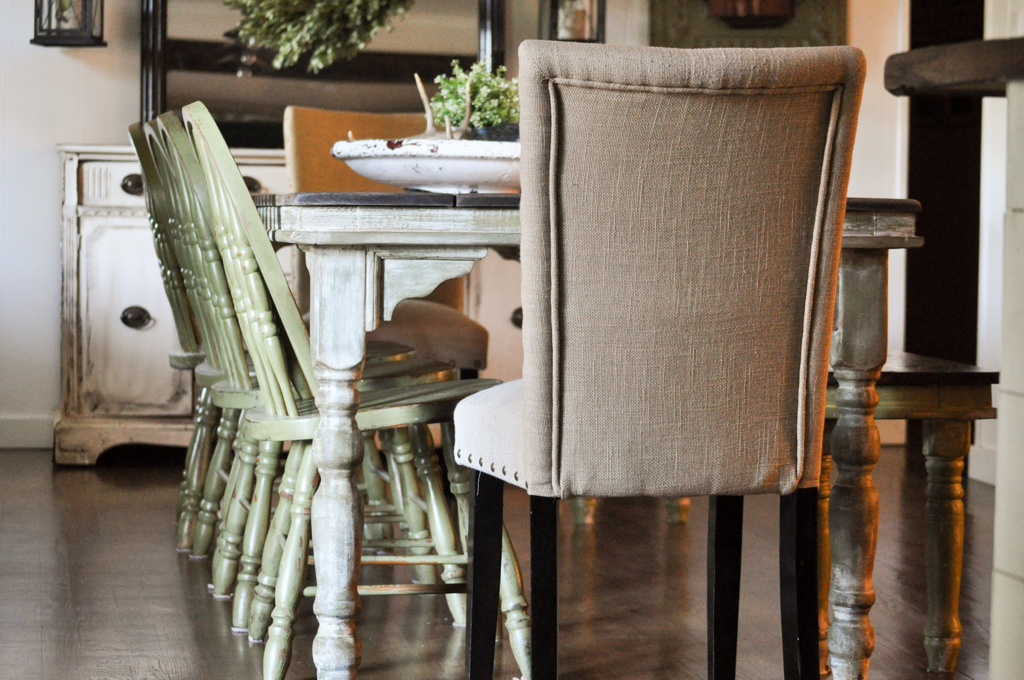 This is an affiliated post--we get paid a percentage for the product you buy. We only represent products and companies that we stand behind 100%. We know you will LOVE this phenomenal product just as much as we do!