Simple Christmas tablescape with natural elements and moody dark reds. Create a beautiful Christmas tablescape with a few inexpensive key elements.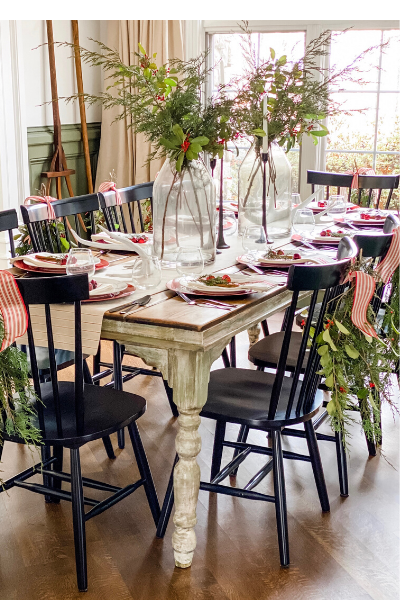 Cass and I put together a last minute Christmas tablescape. Let's be honest, everything we do is last minute. I don't know if you can relate to this mentality or not, but it's just how we roll. Last minute decided to "paint the whole house"? Last minute "decided to renovate the kitchen"? Yeah. that's us to a T.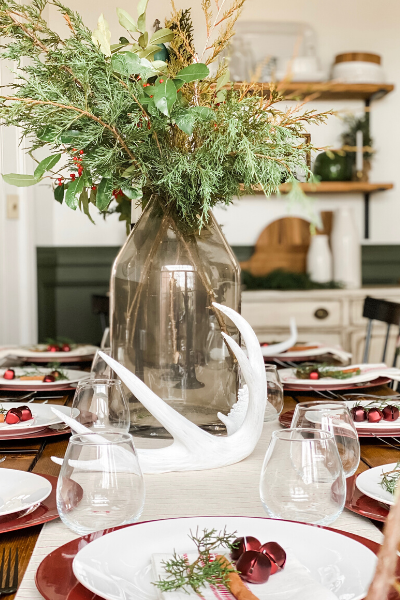 Christmas Tablescape elements
Naturally our first thought was greenery. There is no better way to liven up decor, than with fresh greenery. This is where it can get expensive. Our number one suggestion is to walk around your yard and see if you can trim off anything to use on your table. Trees, bushes, flower beds. Look at it all. Even on December 23rd we were able to find 5+ bushes/trees that would work for our table.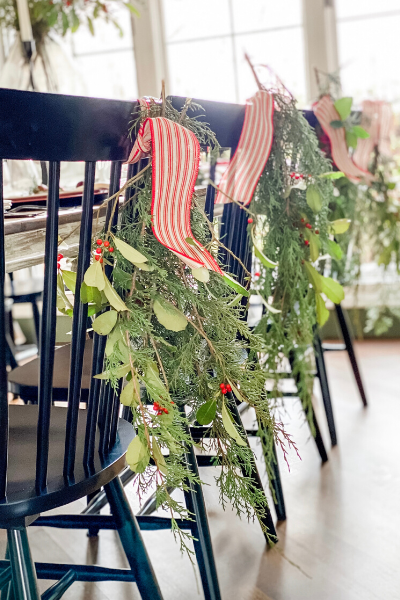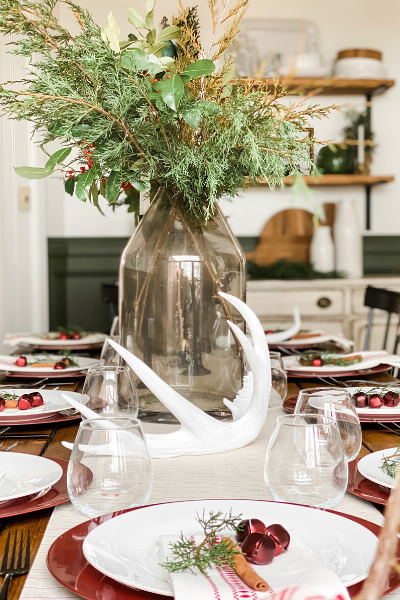 How to use greenery in your Christmas Tablescape
There are many ways to incorporate fresh winter greenery into your tablescape. Here are a few ideas:
Make your own garland with cedar or pine
Add a small piece of winter pine trimming to your napkin, plate, etc.
Make a swag for the back of chairs
Add tall trimmings to big vases- use 2-3 vases in the center of the table
Use multiple small vases and smaller trimmings on the table- 5+
Make a small wreath to put on the back of each chair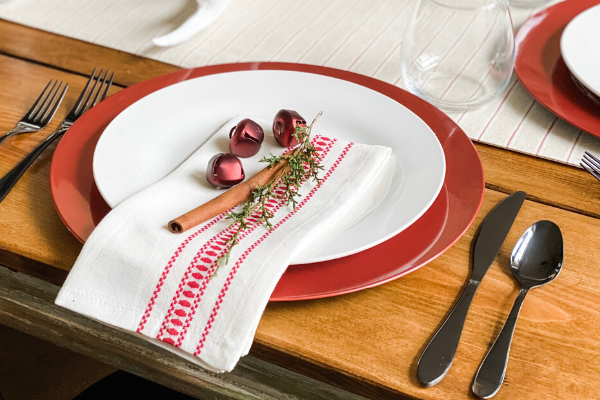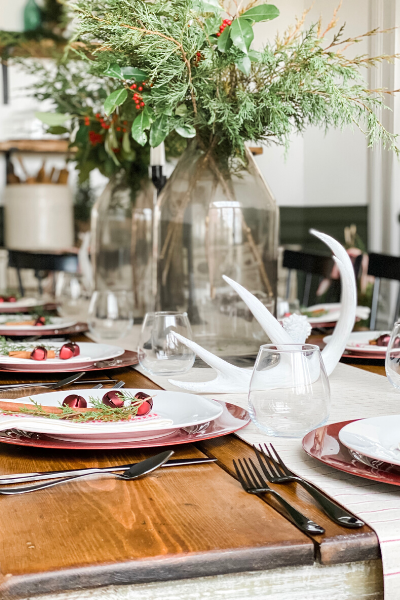 There really are so many options here. These are few ideas we came up with on the fly for our winter themed tablescape.
Use your staple pieces
We typically use the same plates, bowls, and silverware. Choose a set that is neutral and versatile to last through each season. A nice white set will be timeless. Look for something with not a lot of detail that will also stand the test of time. As crazy as this sounds, the Dollar Tree has a beautiful collection of plain white plates that we've used again and again .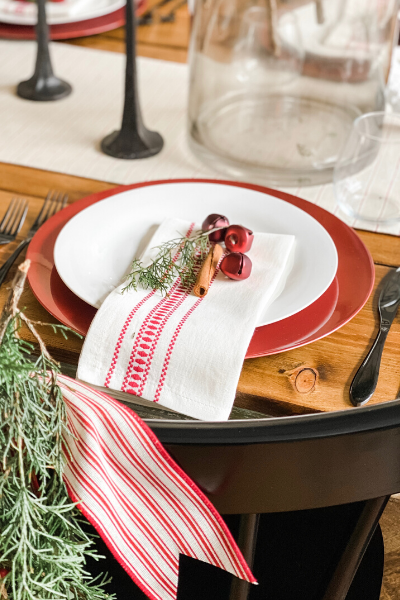 Invest in a few different sets of cloth napkins. A nice white, off white, or linen color will virtually go with any type of tablescape. With that in mind, note that it can be fun to add pops of color or patterns with napkins too.
We purchased these wine glasses from Target for just under $2 a piece. SO cheap and perfect for each holiday.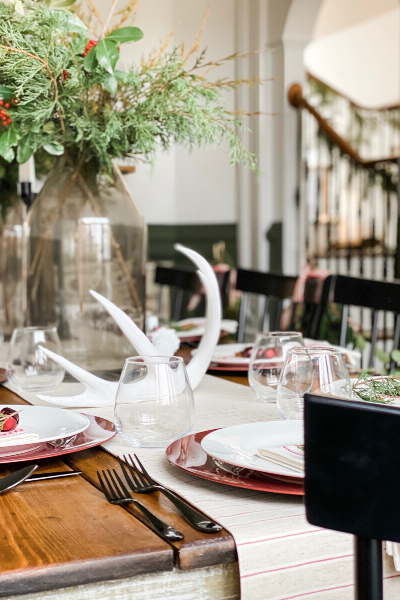 Invest in a neutral table-runner to use for each occasion.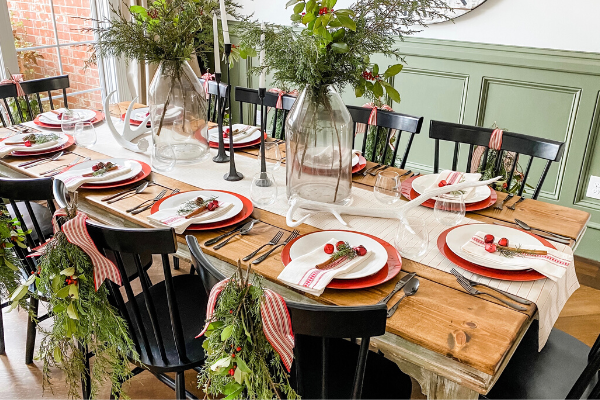 Pull from decor you already own!! We are ALWAYS "shopping our houses".
Have fun with the chargers
Chargers can be crazy expensive, but they can also be $2 a piece, just like the deep red ones here on our table. If you can't find the exact color you want, spray paint them!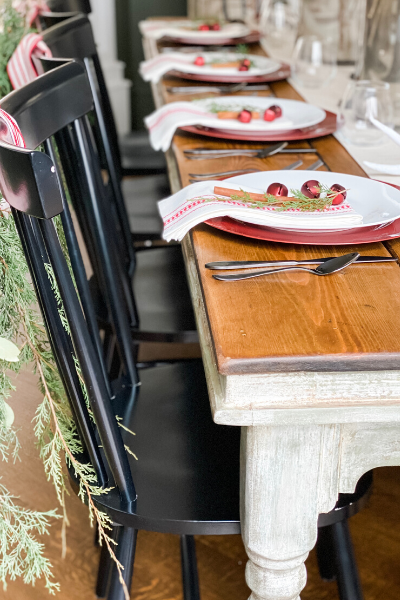 How to elevate your tablescape
You can add height to make you table look visually better with cake stands, tall flowers and vases, putting shorter items on wood boxes, vintage books, candlesticks, and tall greenery.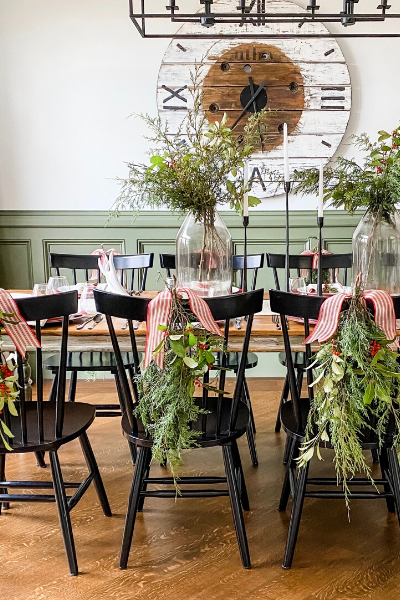 Just go for it
Never ever underestimate your ability to create something beautiful! You don't have to go all out and spend a fortune to have a "put together" table. Pick a color theme and run with it!! You can totally do this. As a rule of thumb, think simple! Keep it simple and add to it once everything is in place if you feel like your table needs more height or color.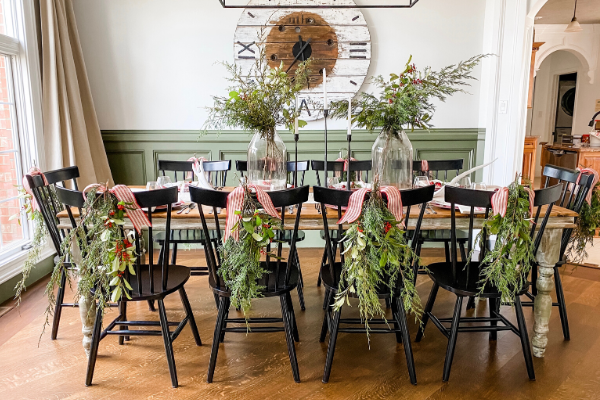 Pin it!!