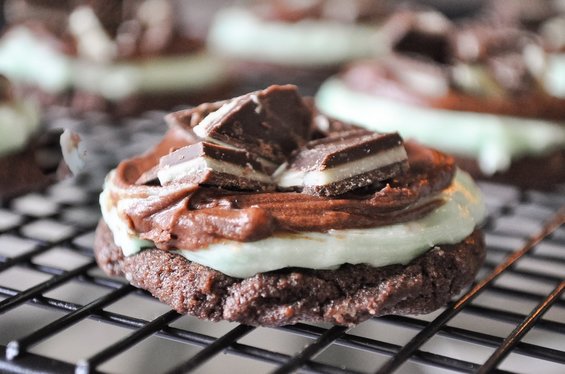 If you love chocolate and mint this recipe will not disappoint you! The next best thing to these tasting amazing is that the base cookie is from a box cake mix! That's right...a cake mix! There are three ingredients in the chocolate cookie and they are so easy!!!

Chocolate Cake Mix Cookie
1 box chocolate cake mix
2 eggs
1/2 cup vegetable oil
Instructions: Mix until incorporated. Place either parchment paper or a silicone mat on a jelly roll cookie sheet. Using a small cookie scoop place 12 dough balls on your sheet about 1.5-2" apart. Bake at 350 degrees for 8 minutes. I like to tap my cookie with my spatula a little bit right when I pull them out of the oven. Transfer to a cooling rack and continue baking the remaining dough. I was able to get 3.5 dozen.
​
Mint Buttercream Frosting
1 cup butter, softened
1 tsp mint flavored extract
4 cups powdered sugar
2-4 Tbsp cream
green food coloring
*This will make about 2 1/4 cups frosting
Instructions: Whip all ingredients together until fluffy. Spread on cooled chocolate cookie and top with chocolate frosting.
​
Chocolate Frosting
6 Tablespoon butter, softened
1/2 c. cocoa powder
2 2/3 c. pwd. sugar
1/3 c. milk or cream
1/2 tsp vanilla extract
Instructions: Cream all ingredients together. Frost over the mint frosting. I like a little of the green mint frosting to show, but frost any way you'd like.
Step-by-step
​
​Chocolate Cookies
Mix cake mix, oil, and eggs until combined.
Using a small cookie scoop (approx. 1 inch diameter) place 12 dough balls on either a parchment or silicone lined jelly roll pan.
Bake at 350 degrees for 8 minutes. I like to lightly tap my cookies after I pull them out of the oven. If you want a smaller fluffier cookie don't do this... but it holds more frosting if you do!

​Mint and Chocolate Frosting
With an electric mixer, combine the list of ingredients and whip until fluffy. Frost cookies with mint frosting followed with the chocolate frosting. Top with chopped Andes Mints.