This is a sponsored post written by me on behalf of Hunter Fan Company for Hunter Fan Company. All opinions are 100% mine.
ROOM REFRESH IN 6 EASY STEPS THAT CAN BE DONE IN NO TIME! You too can achieve this look with paint, a new Hunter Fan Company ceiling fan, a few decor pieces, and a super simple wall treatment!
In January, Sadie and I both made a commitment to completely finish one room in each of our homes every month. While I save my pennies for the big rooms, I've been tackling rooms that just need a little refresh. Quick and inexpensive. Here's my guest ROOM REFRESH IN 6 EASY STEPS THAT CAN BE DONE IN NO TIME!
This sad little guest room was a weight room once upon a time. It's a pretty small room and does not have a window. I always feel bad telling guests that this will be their room while they are in our home because of that. The plan was to lighten the walls, add an easy accent wall, new ceiling fan, build side tables, paint doors, and minimally decorate it. It's a must to show the before of this room so you can fully appreciate the after!
STEP ONE
I painted the room with Behr "Ultra Pure White". I always use the Behr Express service and highly recommend you use this service too! The convenience of it will change your life and the way you paint!
STEP TWO
I added a super simple wall treatment. The total cost for this lumber was under $20, that's a win if you ask me. I purchased (9) 1x4x8 boards and (2) 1x2x8 boards. I cut (7) 1x4x8 boards into 4ft. long pieces and spaced them out along my wall every 19 inches. **this will vary by the length of YOUR wall.
I then added a 1×4 to trim to the top of the wall. I finished off the accent wall by adding a 1×2, and another 1×4 to create a shelf! I attached all the boards using my Dewalt 18 gauge nailer with 2″ nails. I Caulked all my seams and painted with one coat of "Eden" from the Kilz Magnolia line. I LOVE how this wall turned out! It also gives the vibe of a headboard which is a win in my book!!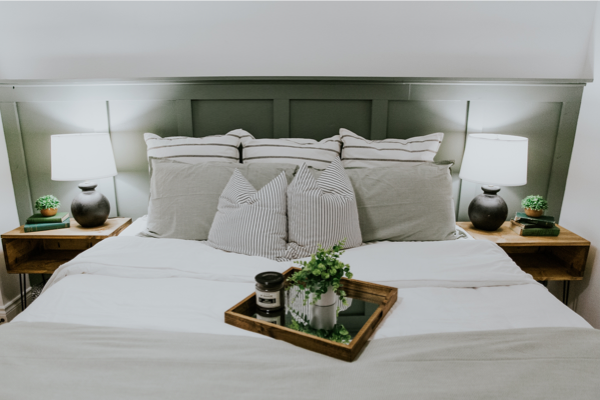 STEP THREE
Easily the biggest change and the biggest bang for my buck is my new fan! A ceiling fan was a must for this space for a couple of reasons. I need air movement in here since there are no windows. Second, I HAD to get rid of the fluorescent light. I knew a Hunter Fan Company ceiling fan was my one and only option here! When we purchased our home, 7 of the 9 ceiling fans were Hunter; the quality is very impressive!
I wanted a clean black ceiling fan that would fit seamlessly with the decor of this room. The 52-inch SureSpeed Guarantee Beck From Hunter Fan Company in Matte Black finish was the perfect fan that met all my requirements! You can find that HERE!
Our Hunter fans throughout our home are seriously whisper quiet and wobble free! I have to admit the Hunter fans that were already in our home are older models and I'd love to swap them out for a more modern model. However, they are all in pristine condition so I don't see that happening anytime soon! A girl can dream though!
Have you ever been laying in bed, trying to drift off to your sleepy slumber, but instead you lay there listening to your creaky old fan? I have and it's all-consuming and sadly sometimes the house is so hot that the creaky fan wins (Luckily, as I mentioned above, my fans are all in good shape but this hasn't been the case in past homes I've lived in).
Back to squeaky fans…
Did you know Hunter's fans are all engineered with Whisper Wind to ensure that both of those nuisances are a thing of the past? Hunter's fans also provide an impressive amount of airflow that ensures a constant, comfortable air temperature, which allows for steady body temperature levels. This, my friends, is exactly why I chose Hunter Fan for my windowless guest room! The installation went very smoothly. Below you'll see some step-by-step photos. If you aren't familiar with electrical work, we recommend you hire a professional.
I want to dive into our fan for a quick minute. Have you ever heard of the "SureSpeed Guarantee" before? I hadn't either, but I'm here for this!
SureSpeed is a guarantee, created exclusively by Hunter Fan Company to help identify specific products in the Hunter line that offers an optimized level of airflow for customers and set a new standard of quality/performance.
Designers and engineers in Hunter Fan Companies design and testing facility in Memphis, TN worked to create this technology using abundant research and testing.
There are three main points that set a SureSpeed fan apart:

Precision Blades – The contoured, specially designed blades push air more efficiently than standard flat blades. SureSpeed blades are made for durability and more long-lasting cooling and because of their design, they produce a more uniform flow of air.
Optimized Motor – The smaller motor in the SureSpeed fan means less material goes into production. The improved design leads to higher performance with less energy used. It is also covered by Hunter's limited lifetime warranty (like ALL Hunter fans). The motor is 10% smaller than the traditional Hunter motor.
Airflow- These fans create 20% more airflow velocity than other competitors.
Rex and I were both literally and figuratively "blown away" last night when we tested out the new fan! It is the most incredible fan we've ever witnessed! Watch a bit of the video below. We start the fan out at the fastest speed, then the middle speed, and finished at the lowest.
[wonderplugin_video iframe="https://vimeo.com/398037666″ lightbox=0 lightboxsize=1 lightboxwidth=960 lightboxheight=540 autoopen=0 autoopendelay=0 autoclose=0 lightboxtitle="" lightboxgroup="" lightboxshownavigation=0 showimage="" lightboxoptions="" videowidth=600 videoheight=400 keepaspectratio=1 autoplay=0 loop=0 videocss="position:relative;display:block;background-color:#000;overflow:hidden;max-width:100%;margin:0 auto;" playbutton="https://cloverlaneblog.com/wp-content/plugins/wonderplugin-video-embed/engine/playvideo-64-64-0.png"]
When it comes to aesthetics, I spend a chunk of time making sure all of the decor and accessories flow together… decisions about ceilings fan shouldn't be any different.
Finding the right finish to complement a space is a top priority and Hunter has hundreds of designs to match any taste or preference. This is why many choose Hunter Fans!
I want our guest room to be an escape from the partying when our guests need a quick breather. A place of tranquility and comfort. For this reason, I chose the SureSpeed Guarantee Beck From Hunter Fan Company in Matte Black finish, this beautiful fan compliments my room without overpowering the space.
STEP FOUR
I built these super quick and inexpensive side tables. I used 1x8x10, my trusty KregJig, stain, wax, saw, sander, power drill, and hairpin legs. I'll have a more detailed post soon on the side tables.
STEP FIVE
Next, I painted both of the doors black! I love a good refresh that costs zero money! Such a fun change and a huge impact!
STEP SIX
Finally, I was able to decorate this space. I'm sure you can tell that three walls are left bare. There is reason to this madness. There aren't many things in the world I hate more than when there are too many "things" in a room. I kept this space very clean and simple with the bed, side tables, and decor above the bed. I wanted the focus to instead be on the bedding, fan, and the few decorations. I hope this is a space where guests feel welcomed and comfortable! I want my guests to return!
Thanks so much for stopping by! As always please reach out with any questions you may have!
As a little treat here's a code you can use for 20% off your order! Use CLOVER20 at Hunterfan.com.
**This coupon code is 3/23/2020- 4/30/2020Beck from Hunter Fan Company